Copper red reduction glaze at cone 9 reduction
Courtesy of Angela Walford.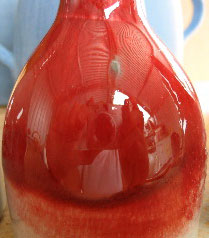 Links
Articles
Copper Red Glazes
A study of the mechanism behind the color in color red glazes by Karl Platt.
Materials
Copper Oxide Black
Glossary
Copper Red
The color red is very difficult to achieve in ceramics. The most vibrant red within the reach of the average potter is the color produced by copper in reduction firing.
Glossary
Reduction Firing
A method of firing stoneware where the kiln air intakes and burners are set to restrict or eliminate oxygen in the kiln such that metallic oxides convert to their reduced metallic state.
---
---


https://digitalfire.com, All Rights Reserved
Privacy Policy