More problems measuring glaze specific gravity using a hydrometer
Potters sometimes call this a "floating thingy". Maybe, because of the problems it presents, it does not make a big enough impression to remember the name! Because of the length of the hydrometer the only container we have is this graduated cylinder. I have to fill it just the right level so it reads near the top. OK, fine. But the hydrometer needs to bob up and down to find home. However, this glaze has our desired thixotropy, which prevents free movement. OK, I will carefully help it find home by pushing it down a little. But then it doesn't want to bob back up! Ok, I'll pull it up ... then is doesn't want to go back down to where it should float. Not great. Next problem: The glaze is opaque, I can't see the reading. Yikes! A better way would be to throw out the hydrometer and just tare the empty cylinder on a scale, fill it to 100 and read the SG as the weight/100. Or fill it to any mark and divide the weight by that.
Related Pictures
Measuring glaze slurry specific gravity
Tap picture for full size and resolution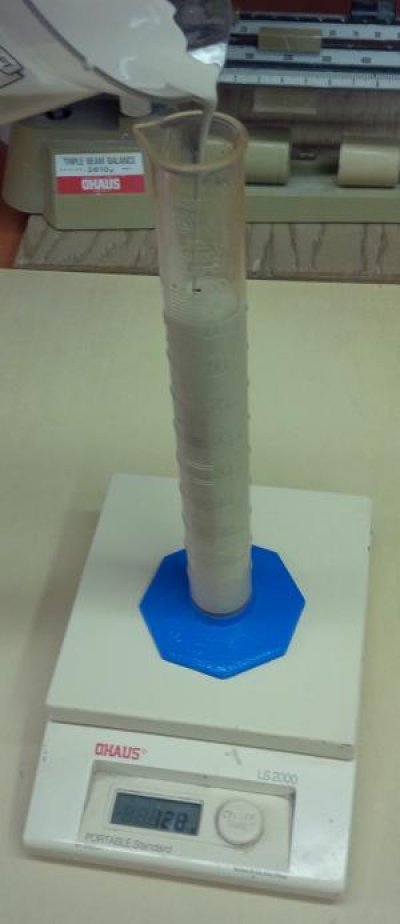 This is the easiest way to measure the specific gravity of a glaze if it is not in a container deep enough to float a hydrometer (or if it is too viscous to enable free movement). Just counterbalance the empty graduated cylinder to zero (you can buy these at amazon.com), fill it to the 100cc mark and the scale reading divided by 100 is the specific gravity. Be careful on cheap plastic graduated cylinders like this, check them with water and mark the true 100cc mark if needed. You could actually use any container, just fill it with water and mark the level, then fill to the same level with slurry and divide the slurry weight by water weight.
Links