Agglomeration
The fine mineral, oxide and clay particles used in ceramics often aglommerate during storage or even in the latter stages of production. These must be broken down later.
Details
The fine mineral, oxide and clay particles used in ceramics often aglommerate during storage or even in the latter stages of production. These must be broken down for use in bodies and glazes for serious problems can result (e.g. fired speckle).
Related Information
Comparing the fired glaze specks from different iron oxide brands
Five different brand names of iron oxide at 4% in G1214W cone 5 transparent glaze. The glazes have been sieved to 100 mesh but remaining specks are still due to agglomeration of particles, not particle size differences.
4% iron oxide in a clear glaze. Unscreened. The result: Fired specks.
Iron oxide is a very fine powder. Unfortunately it can agglomerate badly and no amount of wet mixing seems to break down the lumps. However putting the glaze through a screen, in this case, 80 mesh, does reduce them in size. Ball milling would remove them completely. Other oxide colorants have this same issue (e.g. cobalt oxide). Stains disperse much better in slurries.
Wollastonite containing glazes should be sieved
Screen a glaze to break down the wollastonite agglomerates (which often form in storage). This is an 80 mesh plastic sieve (the actual screen is a metal insert inside), I am using a spatula to encourage it to pass through the screen. If you do not do this, the small lumps you see on the freshly glazed piece will fire to surface bumps and ruin the glaze.
This is how New Zealand kaolin powder agglomerates
These balls are easily broken down by the propeller in a slurry mixer. But they do not break down easily in a dry mixer, even when in a mix with other materials (like silica and feldspar). They just bounce around on a vibrating screen. That means that without some sort of finishing device in the dry material feed stream to break down these lumps before the pugmill, it is difficult to manufacture homogeneous plastic body employing it.
Blue specks in a pugged porcelain. Be careful when adding stain.
This is the cut-line on a wet, plastic slug of porcelain. These specks are agglomerates of a blue stain and existed even though the porcelain was dispersed under a powerful slurry mixer for ten minutes. Pure cobalt, if used to stain a porcelain, is known to do this. So stain is often used as an alternative. Some stains disperse much better than others (and do not agglomerate like this). The lesson is to test the colors of the stain available to you to make sure and use one that does disperse well.
The difference propeller-mixing a glaze can make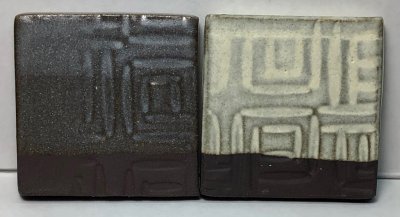 The glaze has 5% added titanium dioxide. These were fired at cone 6. The titanium in the one on the left remained agglomerated, it did not disperse in the slurry during hand mixing (the agglomerates can be seen as white particles floating in the glass). On high-speed propller-mixing the effect on the right was produced! This incredible difference occurs because the mixer is able to break up the titanium agglomerates, dispersing and wetting all the surfaces of the incredibly tiny particles. In this state they do their magic during the firing, opacifying and variegating the otherwise transparent base matte glaze.
Links
Glossary
Dust Pressing
Many ceramic products, especially tile, are formed by pressing high-moisture or binder-containing dust or pelletized dust into steel molds at high pressures.
By Tony Hansen

---
---


https://digitalfire.com, All Rights Reserved
Privacy Policy