Heavy duty mixer mounted on a steel pole
It is adjusted so the shaft is at an angle (rather than straight up and down) to pull less air bubbles into the slurry. It can mix up to 5 gallons of viscous glaze or body slurry. The motor is very powerful enabling the mixing of low water content slurries (this means that amounts of less than about 2 gallons of slurry can splatter quite a bit). The 1/2 inch shaft is 22 inches long and the propeller is mounted up from the end of the shaft.
Related Pictures
Testing your own native clays is easier than you think
Tap picture for full size and resolution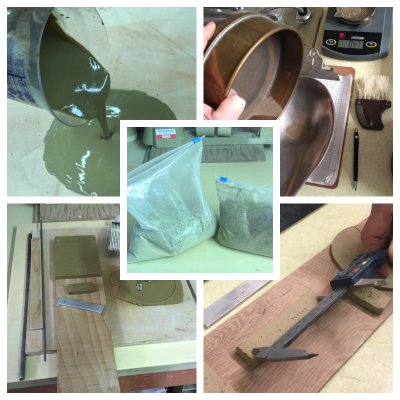 Some simple equipment is all you need. You can do practical tests to characterize a local clay in your own studio or workshop (e.g. our SHAB test, DFAC test, SIEV test, LDW test). You need a gram scale (preferably accurate to 0.01g) and a set of callipers (check Amazon.com). Some metal sieves (search "Tyler Sieves" on Ebay). A stamp to mark samples with code and specimen numbers. A plaster table or slab. A propeller mixer. And, of course, a test kiln. And you need a place to put all the measurement data collected and learn from it (e.g. an account at insight-live.com).
Links