Insight-Live Shares (also referencing this recipe)
These add technical detail, development info, variations and improvements.
G1214Z1 - Cone 6 Calcium Matte v2
Modified: 2023-06-19 19:38:59
This glaze was born as a demonstration of how to use chemistry to convert a glossy cone 6 glaze into a matte.
Notes
This is an adjustment to the original G1214Z recipe. The chemistry of this is the same, but the 37 raw kaolin in the original has been split to a combination of raw:calcined kaolin to reduce drying shrinkage (preventing cracking as it dries and crawling during firing). If unavailable, you can make your own calcined kaolin by roasting the powder in a container in a bisque firing.

For 3000 grams we use 2600 water to get 1.45 specific gravity and good flow properties (no Epsom salts should be needed to gel the slurry, it is naturally thixotropic).
Related Information
5% titanium dioxide in G2934Y matte, G1214Z1 matte, G2926B glossy
Tap picture for full size
The body is Plainsman M390. The firing schedule is Plainsman PLC6DS.
Partially and fully opacified cone 6 G1214Z1 matte glaze
Tap picture for full size
This is a calcium matte base (as opposed to the magnesia matte G2934). The clay is Plainsman M390. 5% Zircopax was added on the left (normally 10% or more is needed to get full opacity, the partially opaque effect highlight contours well). 5% tin oxide was added to the one on the right (tin is a more effective, albeit expensive opacifier in oxidation). The PLC6DS firing schedule was used.
G1214Z1 on M390 and Plainsman Coffee Clay at Cone 6
Tap picture for full size
Double-layered on top half. Fired with the PLC6DS schedule.
Incredible Titanium Dioxide in a calcium matte
Tap picture for full size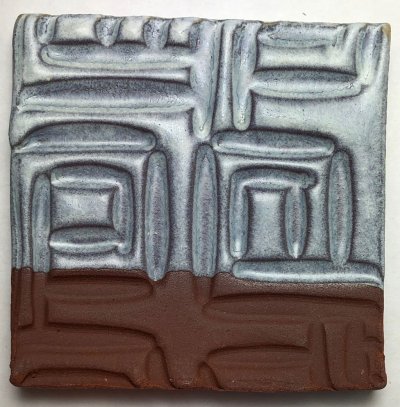 The glaze is G1214Z1 cone 6 base calcium matte on Plainsman M390 fired at cone 6 using the PLC6DS schedule. 5% titanium dioxide has been added. Titanium can create reactive glazes, like rutile, with no other colorants added. This effect also works well on matte surfaces, but the glaze needs good melt fluidity (that is good because functional mattes melt well). Calcium mattes host crystallization and work particularly well. Because titanium dioxide does not contain iron oxide lighter colors and better blues are possible compared to rutile (iron is still needed by it is coming from the body here). Like rutile, the effects are dependent on the cooling rate of the firing, slower cools produce more reactivity. Even application without drips is important (mixing as a thixotropic dipping glaze is best). This appearance also depends on using dark burning body or engobe.
G1214Z1 at cone 6 with 10% Zircopax and 5% tin oxide
Tap picture for full size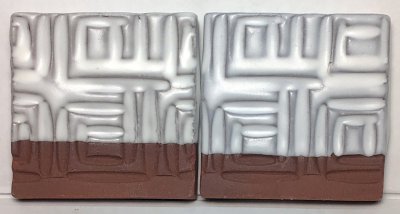 The body is Plainsman M390. The firing schedule is Plainsman PLC6DS. The tin is on the right.
Our base glazes plus opacifiers on a dark burning body at cone 6
Tap picture for full size
The body is Plainsman M390. These are commonly-used base glazes. The top one is an MgO matte, next down is a calcium matte. They react very differently to these additions. Notice also the difference when titanium dioxide is applied thickly. Tin oxide fires whiter than zircon (e.g. Zircopax). Each opacifier has issues. Tin is expensive. Titanium is difficult to mix into the slurry (screening required), not as white or opaque, variations in thickness produce more difference in results and it can turn blue. Zircon is more likely to cutlery mark, twice as much is required and it amplifies the color of any iron present.
A functional matte cone 6 glaze should melt as well as a glossy
Tap picture for full size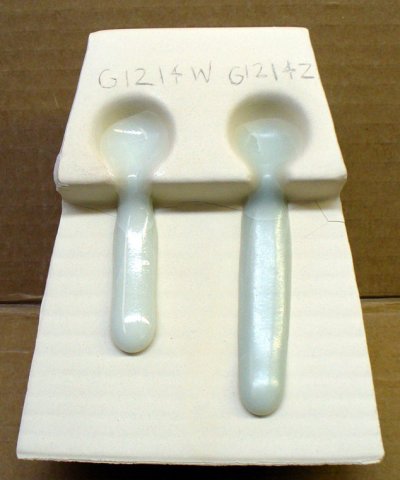 True functional mattes have fluid melts, like glossy glazes. They need this in order to develop a hard, non-scratching durable glass. The mechanism of the G1214Z1 matte on the right is high Al2O3, it is actually melting more than the glossy glaze on the left (G1214W).
Comparing two glazes having different mechanisms for their matteness
Tap picture for full size
These are two cone 6 matte glazes (shown side by side in an account at Insight-live). G1214Z is high calcium and a high silica:alumina ratio. It crystallizes during cooling to make the matte effect and the degree of matteness is adjustable by trimming the silica content (but notice how much it runs). The G2928C has high MgO and it produces the classic silky matte by micro-wrinkling the surface, its matteness is adjustable by trimming the calcined kaolin. CaO is a standard oxide that is in almost all glazes, 0.4 is not high for it. But you would never normally see more than 0.3 of MgO in a cone 6 glaze (if you do it will likely be unstable). The G2928C also has 5% tin, if that was not there it would be darker than the other one because Ravenscrag Slip has a little iron. This was made by recalculating the Moore's Matte recipe to use as much Ravenscrag Slip as possible yet keep the overall chemistry the same. This glaze actually has texture like a dolomite matte at cone 10R, it is great. And it has wonderful application properties. And it does not craze, on Plainsman M370 (it even survived a 300F-to-ice water IWCT test). This looks like it could be a great liner glaze.
Surface wrinkling of G1214Z cone 6 ceramic glaze
Tap picture for full size
The reason for this rather strange-looking wrinkling, experienced by one potter, is not obvious. But we are suspicious that the issue occurs at the application stage, and that substituting the calcined kaolin for raw kaolin in the recipe will thus resolve it. The G1214Z matte base glaze contains a high percentage of clay, kaolin to be specific. That can increase drying shrinkage enough for cracking to occur, leading to crawling. To reduce shrinkage we supply the kaolin as a mix of raw and calcined. The original recipe called for 36 kaolin, we supplied that with 20 EPK and 14 calcined kaolin. But that only adds up to 34, not 36. Why? Kaolin experiences a 12% LOI (weight-loss on firing). That means that 14 calcined kaolin supplies the same oxides as 16 raw EPK (14/0.88=16). Would this glaze work with 36 kaolin? For most people it would. As long as the bisque is porous enough to absorb water quickly, the glaze slurry does not have too much water and glaze is not applied too thickly. Adding a small amount of CMC gum, e.g. 0.1%, would also help if cracking occurs.
Tap picture for full size
G1214Z golden glaze sample from Lilly Ann Hume
Tap picture for full size
1214Z over Ravenscrag slip at cone 6 gives mottled surface
Zircopax, tin oxide, titanium as opacifiers in four base glazes
Tap picture for full size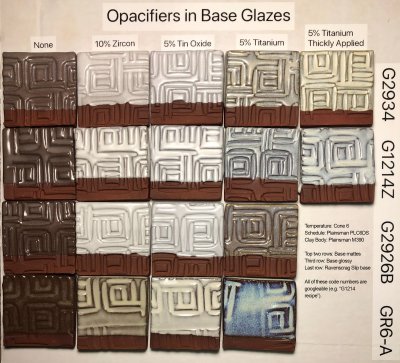 The body is Plainsman M390. Firing is the cone 6 PLC6DS schedule. Each horizontal row is a commonly-used base glaze. The top one is an MgO matte, the next one down is a calcium matte, row 3 is G2926B glossy and row 4 is Ravenscrag Slip+frit. The two mattes behave very differently from each other with the additions of opacifier. Thickly applying an opacified glaze will obviously affect visual character (column 4). Tin oxide fires whiter than zircon (e.g. Zircopax). If you like the G2934 recipe, consider the G2934Y variant for better melting.
Tap picture for full size
G1214Z blue glaze from Lilly Ann Hume
Links
XML to Paste Into Desktop Insight
<recipes>XML not functional: We are working on this problem.</recipes>
By Tony Hansen
Follow me on

Got a Question?
Buy me a coffee and we can talk
---


https://digitalfire.com, All Rights Reserved
Privacy Policy