A hazard of using titanium opacifier in a glaze
The rustic and variegated effect have been achieved. However, notice that the drips from drainage during glazing are visible. This is because this type of variegation is produced by variations in the glaze thickness. These can be intended, like the thinning that occurs on the edge of contours, but also unintended (like drips and runs).
Related Pictures
Zircon, tin oxide, titanium as opacifiers in four base glazes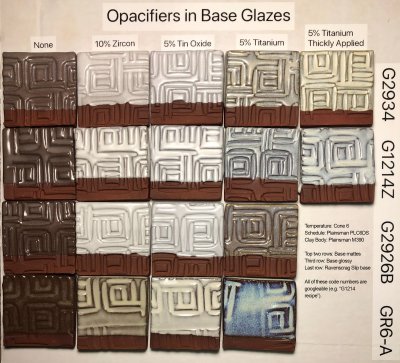 The body is Plainsman M390. Firing is the cone 6 PLC6DS schedule. Each horizontal row is a commonly-used base glaze. The top one is an MgO matte, the next one down is a calcium matte, row 3 is G2926B glossy and row 4 is Ravenscrag Slip+frit. The two mattes behave very differently from each other with the additions of opacifier. Thickly applying an opacified glaze will obviously affect visual character (column 4). Tin oxide fires whiter than zircon (e.g. Zircopax). If you like the G2934 recipe, consider the G2934Y variant for better melting.
Links