Soluble Salts
In ceramics, certain compound in clays and glazes can dissolve into the water, then on drying these are left on the surface.
Details
In ceramics, certain compounds (e.g. calcium or magnesium sulphate) in clays and glazes can dissolve into the water of the plastic material, then on drying these are left on the surface as the water evaporates. For more information, see the topic Efflorescence.
Related Information
Particle size drastically affects drying performance
These DFAC testers compare the drying performance of Plainsman A2 ball clay at 10 mesh (left) and ball milled (right). This test dries a flat disk that has the center section covered to delay its progress in comparison to the outer section (thus setting up stresses). Finer particle sizes greatly increase shrinkage and this increases the number of cracks and the cracking pattern of this specimen. Notice it has also increased the amount of soluble salts that have concentrated between the two zones, more is dissolving because of the increased particle surface area.
Various cone 10R clays with soluble salts on the surface
These disks concentrate the solubles on the outer edge (because of the way they are dried). Soluble salts can enhance the visual appeal of a fired clay but they can also do the opposite.
How bad can efflorescence of soluble salts of fired ceramic surfaces be?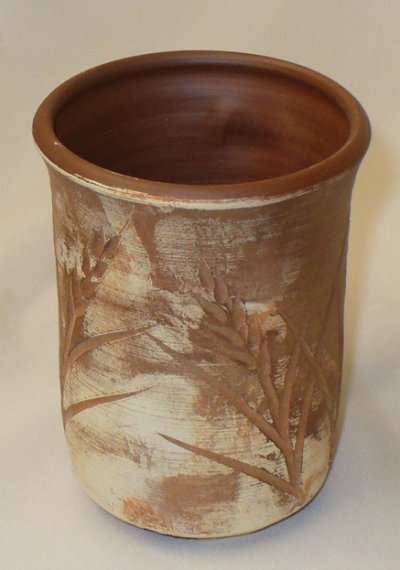 Like this! This terra cotta clay vitrifies here at 1957F (cone 03). This problem is common in many terra cotta materials but can also surface in others. Barium carbonate can be used to precipitate the salts inside the clay matrix so they do not come to the surface on drying.
Plucking in a cone 10R stoneware body having soluble salts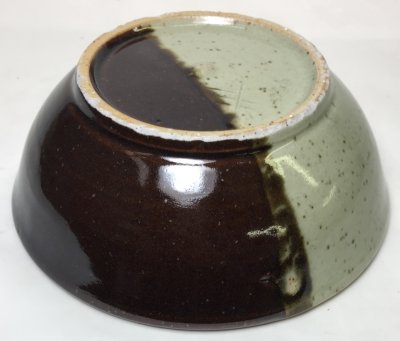 The soluble salts have formed the brown coloration on the bare clay foot ring. While the actual salts layer is very thin, it is glassy and enough to glue parts of the base to the kiln shelf (the latter did not have adequate kiln wash or sand). The glaze line is close to the foot and this complicates the problem. There are a couple of solutions. Sand the foot ring at the dry stage to remove the soluble salt layer. Use a more refractory kiln wash that offers a powdery, non-stick surface.
Soluble salts on a porcelain mug are causing plucking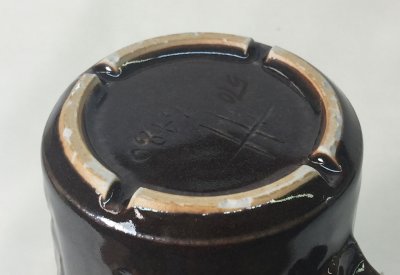 Fired to cone 10R. The porcelain contains bentonite and a plastic kaolin, both are contributing iron-stained solubles that come to the surface during drying. They tend to concentrate on this foot ring. The solution is to employ a little barium carbonate in the porcelain recipe to precipitate the salts. These could also be sponged or sanded off in the dry state.
Red burning, customer-found terra cotta clays charachterized
We tested four different clays (brought in by customers). One is from BC and three from Alberta. These fired sample bars show rich color, low soluble salts and high density and strength at very low temperatures. L4233 (left): Cone 06 to 3 (bottom to top). Reaches stoneware-density at cone 02 (middle bar). Plasticity is very low (drying shrinkage is only 4.5%). But, it is stable even if over-fired. L4254 (center bottom): Cone 04,02,3,4 (bottom to top). Very fine particled but contains an organic that is gassing and bloating the middle two bars. L4243: Fires lighter and looks stable here (cone 02,01,1,2 shown) but melts suddenly less than a cone above the top bar (well before vitrification is reached). L4242 (right): Hyper-plastic, with 12% drying shrinkage! Already melting by cone 02 (third from top). Achieves almost zero porosity (porcelain density) at cone 04 (#2 bar). Even when mixed with 20% kaolin and 20% silica it still hits zero porosity by cone 1. What next? I'll mix L4233 (left) and L4242 (right), that should produce stoneware density at cone 02 (about 1% porosity).
Links
Glossary
Efflorescence
A common problem with dry and fired ceramic. It is evident by the presence of a light or dark colored scum on the dry or fired surface.
Glossary
Plucking
A firing issue in ceramics where the foot rings of vitreous ware stick to the kiln shelf. Removing them leaves sharp fragments glued to the shelf.
Articles
Formulating a body using clays native to your area
Being able to mix your own clay body and glaze from native materials might seem ridiculous, yet Covid-19 taught us about the need for independence.
By Tony Hansen

---
---


https://digitalfire.com, All Rights Reserved
Privacy Policy