Glaze at 1.7 specific gravity on green-ware. Way too thick!
This is G2926B clear cone 6 glaze deflocculated with Darvan. Because the Darvan is thinning it, 2.5kg of glaze powder is suspended in only 1100g (1100ml) of water (half the normal amount). While the slurry in the bucket flows well and appears like it should work, a one-second dip produces twice the desired thickness. It dries slowly and it is very difficult to prevent runs. The lesson: Make sure the specific gravity (SG) of your glazes is right. What should the SG be? Measure it when your glaze is working well. Or take note of it in instructions that come with the recipes you use. For bisque ware: 1.43-1.45 with a flocculant (like Vinegar or powdered Epsom Salts) added to gel the slurry slightly.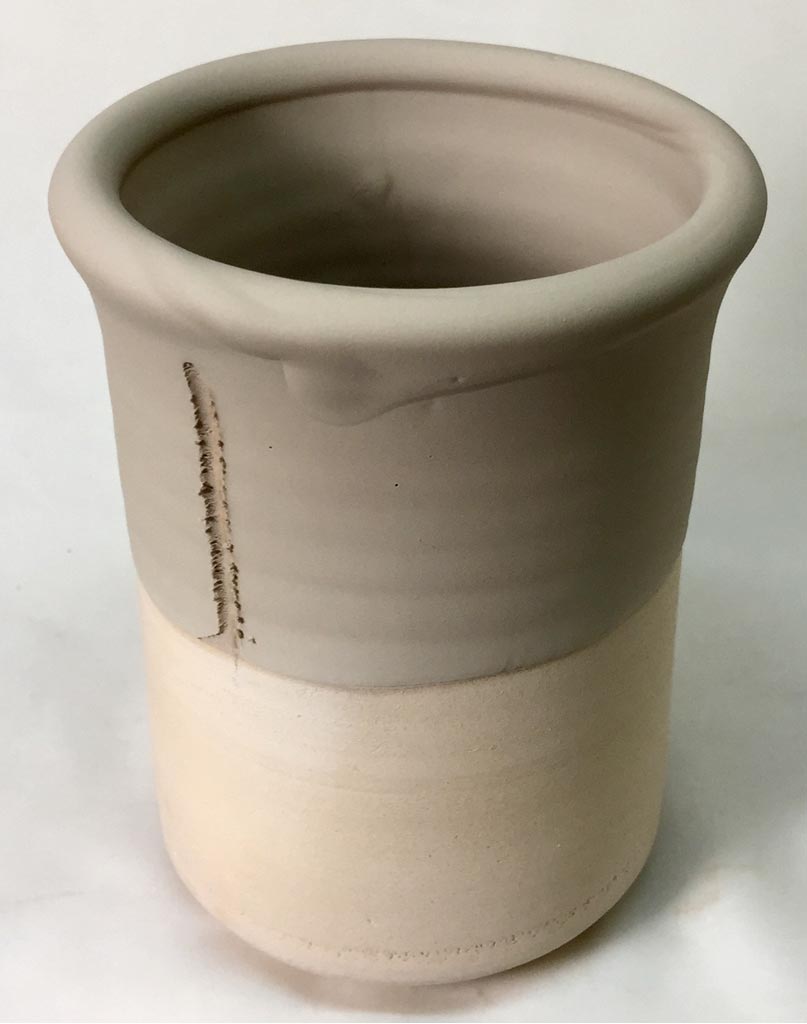 Related Pictures
Drip glazing and bare outsides: Deceptively difficult.
Why? Glaze fit. These are available on Aliexpress (as Drip Pottery) and they are made by a manufacturer that has close control of body maturity (and thus strength) and a dilatometer to precisely match the thermal expansion of the glaze. The glaze has to fit better than normal because of the absence of an outside glaze. Too low an expansion and it's compression (outward pressure) will fracture body (because these are thin-walled pieces). Too high and it will craze. And that thick glaze? It will shiver or craze with far less forgiveness than a thin layer. And how did they get the glaze on this thick? They deflocculated it, up to 1.7 or more, glazed the inside, let it dry, then glazed the outside. These pieces are a visual and technical achievement. If you are a potter you had best think twice before attempting the same.
Links
Glossary
Specific gravity
In ceramics, the specific gravity of casting slurries and glazes tells us their water-to-solids. Body slurries especially require tight control of this property for performance reasons.
Glossary
Once fire glazing
Refers to the practice of firing ceramics in one firing (rather than two) to produce a fully glazed product. This practice requires more technical expertise.
Glossary
Deflocculation
The deflocculation process is the magic behind the ceramic casting process. It enables you to make a slurry of far lower water content and thus lower shrinkage.
---
---


https://digitalfire.com, All Rights Reserved
Privacy Policy