Insight-Live Shares (also referencing this recipe)
These add technical detail, development info, variations and improvements.
G2934 - Matte Glaze Base for Cone 6
Modified: 2021-11-23 20:51:24
A base MgO matte glaze recipe fires to a hard utilitarian surface and has very good working properties. Blend in the glossy if it is too matte.
Notes
A cone 6 boron-fluxed MgO matte developed at Plainsman Clays by Tony Hansen (a link below will take you to its page there). This page contains technical and mixing information about the recipe.

This recipe has the best suspension and application properties when it is thixotropic (that involves mixing it thinner than normal and gelling it using Epsom salts). Target a specific gravity of 1.43-1.44 (about 90 water to 100 powder, by weight; that means that in 1900g of slurry there is 900 water and 1000 powder). Then about add 1g of Epsom salts per 1000g powder to increase thixotropy. This should make it creamy and it should gel after a few seconds on standing still (add more Epsom salts if needed, but be careful, it is easy to over-do it).

Screen through 80 mesh (there are tiny agglomerates that will not break down without screening).

Important note: The degree of matteness is very dependent on the cooling rate of the firing. In our circumstances, fast cooling (e.g. free-fall in a lightly-loaded or smaller kiln) produces the desired silky matte surface and slow cooling (e.g. a heavily loaded kiln) produces a matter and drier surface. The G2934Y version of this recipe (a chemistry-equivalent that sources much of the MgO from a frit) is also subject to this. Do test firings to determine if your cooling rate will accommodate this or whether you need to blend in some glossy G2926B to shine it up a little (for example, try 75% matte and 25% glossy, the mixing can be done by simply pouring together, volumetrically, the two slurries). One more thing: Certain colors will matte this more than others, so specific adjustments might be needed. Again: Be sure to control production firings so their rate-of-cooling matches that of the test firings you do to develop a glaze.

In the silky state that we prefer it does not cutlery mark and has good (but not too much melt flow). The development process for this glaze showcases the value of looking at glazes as formulas of oxides rather than recipes of materials and paying close attention to firing schedules.

The calcined kaolin is needed (if you use all raw kaolin the glaze will shrink and crack during drying and crawl during firing). If you do not have calcined kaolin make your own by bisque-firing a container of kaolin powder. If you do not have EP Kaolin, just substitute another. If it settles convert some of the calcined kaolin to raw. If it does not dry hard enough or does not suspend well, use more raw kaolin and less calcined.*

Although this is a matte glaze it flows well (it is well melted). If fired ware has pinholes the solution lies elsewhere. Bisque ware as high as possible. If you gel the slurry a little, or preheat the ware, you can bisque even higher. Try applying a thinner glaze layer and use whatever technique necessary to get an even and quality laydown. If still needed, consider using the double-soak firing schedule.

Plainsmanclays.com makes this recipe as a premixed powder.

*If you adjust raw:calcined kaolin proportions more than 5%: Raw kaolin has 12% weight loss on firing, more is needed to supply the same amount of SiO2 and Al2O3 to the fired glaze. For example, if you drop the calcined kaolin by 5 you need to increase the raw kaolin by 5.6 to maintain the same overall chemistry (5 + (5 x 12% / 100 = 5.6). If your kaolin is not too plastic you might be able to use all raw kaolin (18.3 + 13.9 + (13.9 x 12% / 100) = 34.
Related Information
An ordinary white mug: More difficult to make than you think!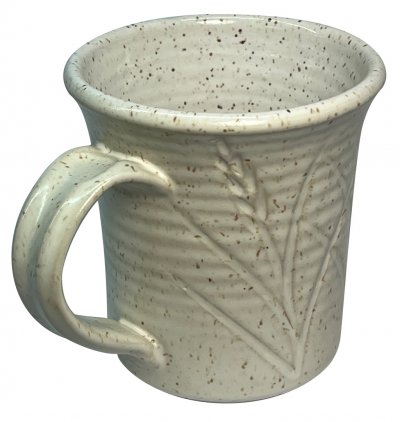 This is M340S with G2934 matte white outside and G2926B glossy white inside. Consider what can go wrong. White matte glazes tend to crawl. No wait - they love to crawl! This would happen on every single mug unless I add CMC gum to make it a base coat to adhere well to the bisque (the tin oxide version is worse than zircopax). The clay has granular manganese added to produce the speck, if accidentally over-fired, even half a cone, it will bloat. And the clay body: The outer glaze is ugly on dark-burning clays. And it is drab on porcelains. It does not even look good on this same body if the speckle is not there. Another difficulty: Controlling the degree of matteness. I blend in about 20% of the glossy, otherwise it would fire too matte. And the firing schedule: PLC6DS - its drop-and-hold step is critical, without it the surface would be full of pinholes. Another problem: If the kiln is heavily loaded and cools slower than the programmed ramp-down, the surface will be too matte. Finally, glaze thickness: If it is too thin it will look washed out and ugly. Too thick it will bubble and look pasty.
Mason stains in the G2934 matte base glaze at cone 6
Stains can work surprisingly well in matte base glazes like G2934. But they perform differently in a matte host glaze. The glass is less transparent and so varying thicknesses do not produce as much variation in tint. Notice how low many of the stain percentages are here, yet most of the colors are still bright. A good reason to minimize stain concentration is to avoid leaching. We tested 6600, 6350, 6300, 6021 and 6404 overnight in lemon juice, they passed without any visible changes. It is known that MgO mattes, like this one, are less prone to acid attack that CaO mattes. A down-side to the MgO-matte-mechanism is that chrome-tin stains do not work (e.g. 6006), high CaO content is needed in the host glaze to develop the color. The inclusion stains 6021 and 6027 work very well in this base. As do the 6450 yellow and 6364 blue. And the 6600 produces an incredible gunmetal black. The 6385 is an error, it should be purple (that being said, do not use it, it is ugly in this base). The degree-of-matteness can be tuned by blending in some G2926B glossy base.
Our base glazes plus opacifiers on a dark burning body at cone 6
The body is Plainsman M390. These are commonly-used base glazes. The top one is an MgO matte, next down is a calcium matte. They react very differently to these additions. Notice also the difference when titanium dioxide is applied thickly. Tin oxide fires whiter than zircon (e.g. Zircopax). Each opacifier has issues. Tin is expensive. Titanium is difficult to mix into the slurry (screening required), not as white or opaque, variations in thickness produce more difference in results and it can turn blue. Zircon is more likely to cutlery mark, twice as much is required and it amplifies the color of any iron present.
G2934 Cone 6 Matte with 10% zircon and 5% tin oxide
The body is Plainsman M390. The firing schedule is Plainsman PLC6DS.
Partially and fully opacified cone 6 G1214Z matte glaze
This is a calcium matte base (as opposed to the magnesia matte G2934). The clay is Plainsman M390. 5% Zircopax was added on the left (normally 10% or more is needed to get full opacity, the partially opaque effect highlight contours well). 5% tin oxide was added to the one on the right (tin is a more effective, albeit expensive opacifier in oxidation). The PLC6DS firing schedule was used.
G2934 with pinholes on three cone 6 clay bodies
This was a fast firing. The glaze is G2934, a silky matte. But that does not mean it is pinhole-prone, it has good melt mobility. The clay on the right is Plainsman Coffee Clay. It contains 10% raw umber, that generates plenty of gases during firing. The centre one is Plainsman M390, not normally difficult to fire defect-free. The left one, M332, should be the worst, but is the best! What is needed to fire these without pinholes? The drop-and-hold and slow-cool C6DHSC firing schedule. It is extra effort to program your kiln controller, but well worth it. If you don't have a kiln controller then by a little experimentation you can develop a switching pattern to produce the same effect.
Tuning the degree of gloss in a colored matte glaze
Matte glazes have a fragile mechanism. That means the same recipe will be more matte for some people, more glossy for others (due to material, process and firing differences). In addition, certain colors will matte the base more and others will gloss it more. It is therefore critical for matte glaze recipes to have adjustability (a way to change the degree of gloss), both for circumstances and colors. This recipe is Plainsman G2934 base matte with 6% Mason 6600 black stain added. It has been formulated to be on the more matte side of the scale so that for most people a simple addition of G2926B (M370 transparent ultra clear base recipe) will increase the gloss. That means users need to be prepared to adjust each color of the matte to fine-tune its degree of gloss. Here you can see 5:95, 10:90, 15:85 and 20:80 blends of the matte:gloss recipe bases.
Tune your matte glaze to the degree of matteness you want
G2934 is a popular matte for cone 6 (far left). The mechanism of the matteness is high MgO content (it produces a more pleasant surface that cutlery marks and stains less than other mechanisms such as crystallization or insufficient melting). But what if it is too matte for you? This recipe requires accurate firings, did your kiln really go to cone 6? Proven by a firing cone? If it did, then we need plan B: Add some glossy to shine it up a bit. I fired these ten-gram GBMF test balls of glaze to cone 6 on porcelain tiles, they melted down into nice buttons that display the surface well. Top row proceeding right: 10%, 20%, 30%, 40% G2926B added (100% far right). Bottom: G2916F in the same proportions. The effects are similar but the top one produces a more pebbly surface.
Adding an opacifier can produce cutlery marking!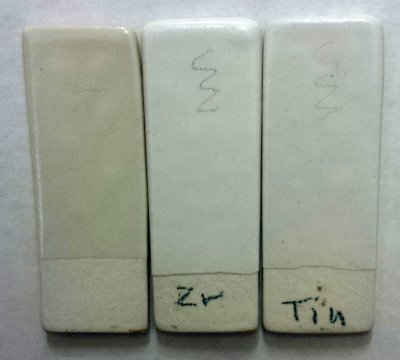 G2934 cone 6 matte (left) with 10% zircopax (center), 4% tin oxide (right). Although the cutlery marks clean off all of them, clearly the zircopax version has the worst problem and is the most difficult to clean. To make the best possible quality white it is wise to line blend in a glossy glaze to create a compromise between the most matteness possible yet a surface that does not mark or stain.
An incredible silky matte surface supports wild colors at cone 6 oxidation
On the right is the G2934Y matte base recipe with only 8% Cerdec Orange encapsulated stain. G2934Y employs a frit-source for the MgO (as opposed to G2934 which sources the MgO from dolomite). If this was a glossy glaze the required percentage of stain would be higher. Other colors (like yellow, red, blue, black), are equally vibrant. But not all (e.g. purple), testing is needed. The porcelain is Plainsman Polar Ice.
Matte cone 6 glazes have identical chemistry but one melts more. Why?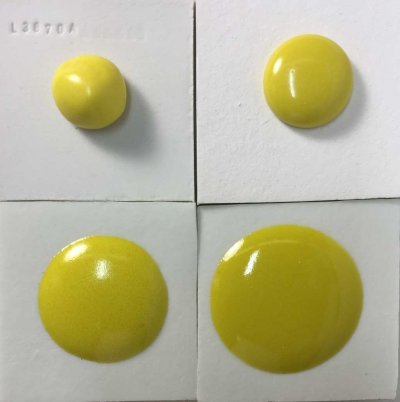 These are 10 gram GBMF test balls that we melted on porcelain tiles at cone 4 (top two) and cone 6 (bottom two). They compare the melt fluidity of G2934 (left) and G2934Y (right). The Y version sources its MgO from frit and talc (rather than dolomite). It is a much more fluid melt because the frit is yielding the oxides more readily. But Y has a key benefit: It has a much lower LOI, producing fewer entrained air bubbles and therefore fewer surface defects. And, even though it runs much more, it has the same matte surface! As long as it is applied at normal thickness, the extra melt fluidity does not cause any running. And it has another benefit: Less cutlery marking issues. It is actually a very durable and practical food surface glaze, having a low thermal expansion that fits almost any body. Although these appear glossy here, on ware they have the identical pleasant silky matte surface.
A glaze incompatible with chrome-tin stains (but great with inclusion stains)
Left: a cone 6 matte glaze (G2934 with no colorant). Middle: 5% Mason 6006 chrome-tin red stain added. Right: 5% Mason 6021 encapsulated red stain added. Why is there absolutely no color in the center glaze? This host recipe does not have the needed chemistry to develop the #6006 chrome-tin color (it lacks sufficient CaO and has alot of MgO). Yet this same matte glaze intensifies the #6021 encapsulated stain at only 5% (using 20% or more encapsulated stain is to develop the color is not unusual).
Stunning black silky matte glaze at cone 6
This contains 6% Mason 6600 black stain (Mason 6666 gives dark brown, don't use it). The base recipe, G2934, is an excellent balanced-chemistry host for a wide range of stains to produce equally stunning reds, yellows, oranges, etc. The fritted version of the recipe, G2934Y, provides an even better host. This glaze is affected by the clay it is on. The body on the right is highly vitreous, this has produced a finer texture that glistens in the light. The body on the left is a whiteware having 1% porosity (Plainsman M370). Firing schedule is also a factor, slower cooling will dull the color more. We use the PLC6DS firing schedule.
G2934 Cone 6 matte on Plainsman P300 porcelain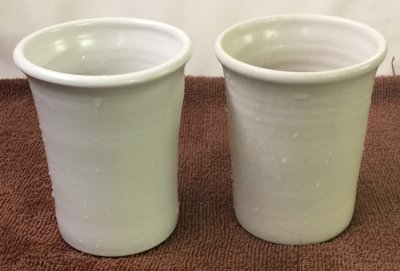 These mugs have just finished immersion into ice water from 300F (IWCT test). Twice. The LA Matt is crazing but the G2934 is still good. And its surface is more silky and more pleasant to the touch. It is whiter because of a 4% tin oxide addition. This is a glaze surface that would be excellent on most cone 6 porcelains. Remember, if you need to adjust the matteness, just add a little glossy to the batch.
Matte glaze cutlery marks. Add 10% glossy glaze to it. No marking.
This is G2934Y (a version of the G2934 cone 6 matte base recipe that supplies much of the MgO from a frit instead of dolomite). Like the original, it has a beautiful fine silky matte surface and feels like it would not cutlery mark. But, as you can see on the left, it does! The marks can be cleaned off easily. But still, this is not ideal. The degree of matteness that a glaze has is a product of its chemistry. But can we fix this without doing any chemistry? Yes. By blending this with G2926B clear glossy (90:10 proportions) the marks are gone and the surface is only slightly changed.
A good matte glaze. A bad matte glaze.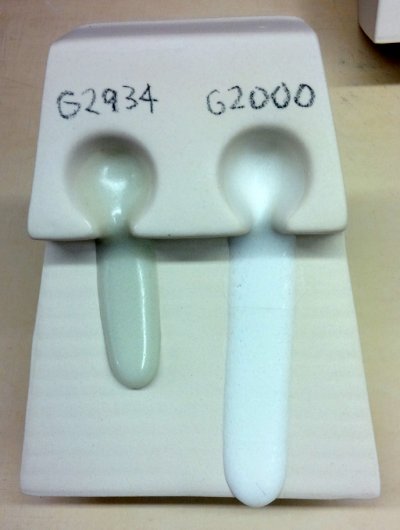 A melt fluidity comparison between two cone 6 matte glazes. G2934 is an MgO saturated boron fluxed glaze that melts to the right degree, forms a good glass, has a low thermal expansion, resists leaching and does not cutlery mark. G2000 is a much-trafficked cone 6 recipe, it is fluxed by zinc to produce a surface mesh of micro-crystals that not only mattes but also opacifies the glaze. But it forms a poor glass, runs too much, cutlery marks badly, stains easily, crazes and is likely not food safe! The G2934 recipe is google-searchable and a good demonstration of how the high-MgO matte mechanism (from talc) creates a silky surface at cone 6 oxidation the same as it does at cone 10 reduction (from dolomite). However it does need a tin or zircon addition to be white.
G2934 using Fusion Frit F-19 instead of Ferro 3124
G2934B is a popular recipe and there has been alarm recently because of the difficulty in getting the Ferro frit. This motivated us to get a supply of the Fusion equivalent, F-19. We have done much testing in glazes and with melt fluidity tests like this and so far it is looking good.
Zircon, tin oxide, titanium as opacifiers in four base glazes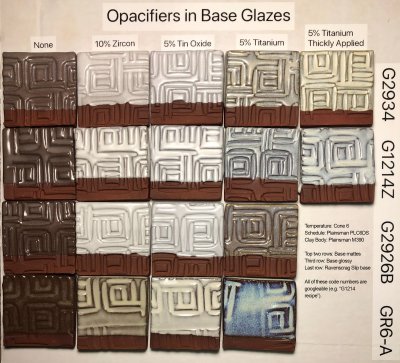 The body is Plainsman M390. Firing is the cone 6 PLC6DS schedule. Each horizontal row is a commonly-used base glaze. The top one is an MgO matte, the next one down is a calcium matte, row 3 is G2926B glossy and row 4 is Ravenscrag Slip+frit. The two mattes behave very differently from each other with the additions of opacifier. Thickly applying an opacified glaze will obviously affect visual character (column 4). Tin oxide fires whiter than zircon (e.g. Zircopax). If you like the G2934 recipe, consider the G2934Y variant for better melting.
A true matte is still matte when you over fire it
The top glaze is VC71, a popular matte cone 6 glaze used by potters. Bottom is G2934 matte, a public domain recipe produced by Plainsman Clays. The latter is a high-MgO matte, it melts well and does not cutlery mark or stain easily. As evidence that it is a true matte, notice that it is still matte when fired to cone 7 or 8. VC71, while having a similar pleasant silky matte surface at cone 6, converts to a glossy if fired higher. This suggests that the cone 6 matteness is due to incomplete melting. For the same reason, it is whiter in color (as soon as it begins to melt and have depth the color darkens).
Yikes. Cutlery marking this bad on a popular glaze!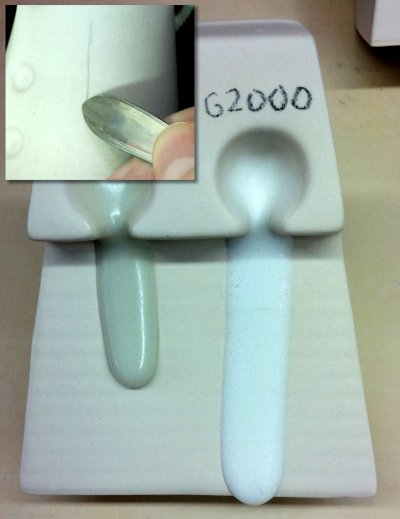 An example of how a spoon can cutlery mark a glaze. This is a popular middle temperature recipe used by potters. The mechanism of its matteness is a high percentage of zinc oxide that creates a well-melted glaze that fosters the growth of a mesh of surface micro-crystals. However these crystals create tiny angular protrusions that abrade metal, leaving a mark. Notice the other matte flow on the left (G2934), it not only has a better surface (more silky feel) but also melts much less (its mechanism is high MgO in a boron fluxed base). It is does not cutlery mark at all!
Do your functional glazes do this? Fix them. Now.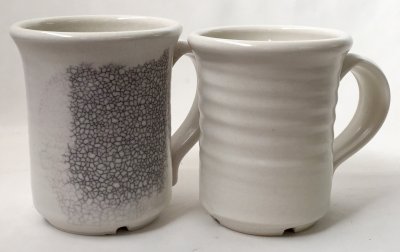 These cone 6 porcelain mugs have glossy liner glazes and matte outers: VC71 (left) crazes, G2934 does not (it is highlighted using a felt marker and solvent). Crazing, while appropriate on non-functional ware, is unsanitary and severely weakens the ware (up to 300%). If your ware develops this your customers will bring it back for replacement. What will you do? The thermal expansion of VC71 is alot higher. It is a product of the chemistry (in this case, high sodium and low alumina). No change in firing will fix this, the body and glaze are not expansion compatible. Period. The fix: Change bodies and start all over. Use another glaze. Or, adjust this recipe to reduce its thermal expansion.
G2934 fired at cone 7 on Plainsman M370, P300 and M340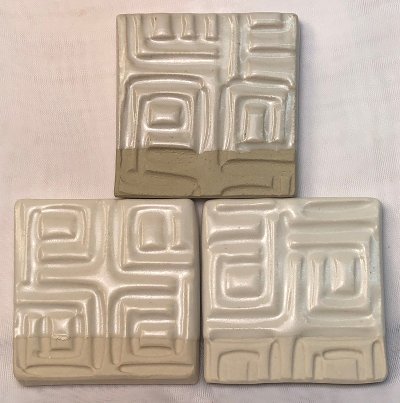 These bodies all fire more vitreous at cone 7. And the glaze melts to a more pleasant silky surface, looking very similar to the G2934Y version.
Get ready for supply interruptions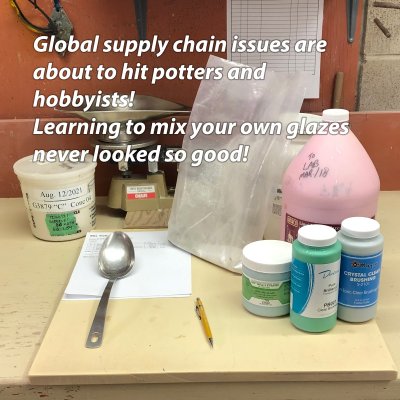 Material prices are sky rocketing. Prepared glaze manufacturers have complex international supply chains. It is only a matter of time until you are affected. We are happy to sell you bottled glazes, if we can get them! But now might be the time to start learning how to weigh out the ingredients to make your own. Armed with good base glazes that fit your clay body (without crazing or shivering) you will be more resilient to supply issues. Add stains, opacifiers and variegators to the bases to make anything you want. That being said, ingredients in those recipes may become unavailable! That underscores a need to go to the next step and "understand" glaze ingredients. And even improve and adjust recipes. It is not rocket science, it is just work accompanied by organized record-keeping and good labelling.
Links
Articles
G1214Z Cone 6 Matte Base Glaze
This glaze was developed using the 1214W glossy as a starting point. This article overviews the types of matte glazes and rationalizes the method used to make this one.
Articles
Where do I start in understanding glazes?
Break your addiction to online recipes that don't work. Get control. Learn why glazes fire as they do. Why each material is used. Some chemistry. How to create perfect dipping and drying properties. Be empowered. Adjust recipes with issues rather than sta
Articles
Reducing the Firing Temperature of a Glaze From Cone 10 to 6
Moving a cone 10 high temperature glaze down to cone 5-6 can require major surgery on the recipe or the transplantation of the color and surface mechanisms into a similar cone 6 base glaze.
Articles
Concentrate on One Good Glaze
It is better to understand and have control of one good base glaze than be at the mercy of dozens of imported recipes that do not work. There is a lot more to being a good glaze than fired appearance.
Articles
The Right Chemistry for a Cone 6 MgO Matte

Recipes
G1214Z - Cone 6 Silky Matte
This glaze was born as a demonstration of how to use chemistry to convert a glossy cone 6 glaze into a matte.
Recipes
G2934Y - Cone 6 Magnesia Matte Low LOI Version
The same chemistry as the widely used G2934 but the MgO is sourced from a frit and talc instead of dolomite. It has a finer surface, less cutlery marking and staining.
Recipes
G2928C - Ravenscrag Silky Matte for Cone 6
Plainsman Cone 6 Ravenscrag Slip based glaze. It can be found among others at http://ravenscrag.com.
Recipes
G2000 - LA Matte Cone 6 Matte White
A silky zinc-fluxed matte used historically across North America
Recipes
G2926B - Cone 6 Whiteware/Porcelain Transparent Base Glaze
A base transparent glaze recipe created by Tony Hansen for Plainsman Clays, it fires high gloss and ultra clear with low melt mobility.
Glossary
Limit Formula
A way of establishing guideline for each oxide in the chemistry for different ceramic glaze types. Understanding the roles of each oxide and the limits of this approach are a key to effectively using these guidelines.
Glossary
Base Glaze
Understanding your transparent glaze and learning how to adjust its melt fluidity, thermal expansion, color response, etc is a base on which to build all your other glazes.
Glossary
Thixotropy
Thixotropy is a property of ceramic slurries. Thixotropic suspensions flow when you want them to and then gel after sitting for a few moments. This phenomenon is helpful in getting even, drip free coverage.
Glossary
Cone 6

Glossary
Matte Glaze
Random material mixes that melt well overwhelmingly want to be glossy, creating a matte glaze that is also functional is not an easy task.
Glossary
Dolomite Matte
Dolomite matte glazes have the potential to be very silky and pleasant to the touch, while at the same time being hard, durable and non-crazed (if they are formulated correctly).
Firing Schedules
Cone 6 Drop-and-Soak Firing Schedule

Media
Thixotropy and How to Gel a Ceramic Glaze
I will show you why thixotropy is so important. Glazes that you have never been able to suspend or apply evenly will work beautifully.
URLs
https://insight-live.com/insight/share.php?z=y9rvvqsPy4
G2934Y variations for fired hardness, COE adjustment, less crawling, etc
G2934Y is a popular recipe used worldwide in industry and by potters and hobbyist. This page shows it, and four variations, that adjust for different purposes. All have the same chemistry, but source the needed oxides from different materials.
URLs
https://plainsmanclays.com/data/index.php?product=12925
G2934 Cone 6 Matte at PlainsmanClays.com

XML to Paste Into Desktop Insight
<recipes>XML not functional: We are working on this problem.</recipes>
By Tony Hansen

---
---


https://digitalfire.com, All Rights Reserved
Privacy Policy