The ball clay you use to suspend your glaze is important!
Notes
I poured 4 teaspoons of two glazes onto a board and let them sit for a minute, then inclined the board. The one with Gleason Ball clay (right, much higher in coal and finer particle size) has settled and the water on the top of running off. The one with Old Hickory #5 ball clay has not settled at all and the whole thing is running downward. Below I have begun to sponge them off. Old Hickory No. 1 Glaze Clay is even better than #5 for suspension. The most amazing thing about this: There is only 7% ball clay in the recipe.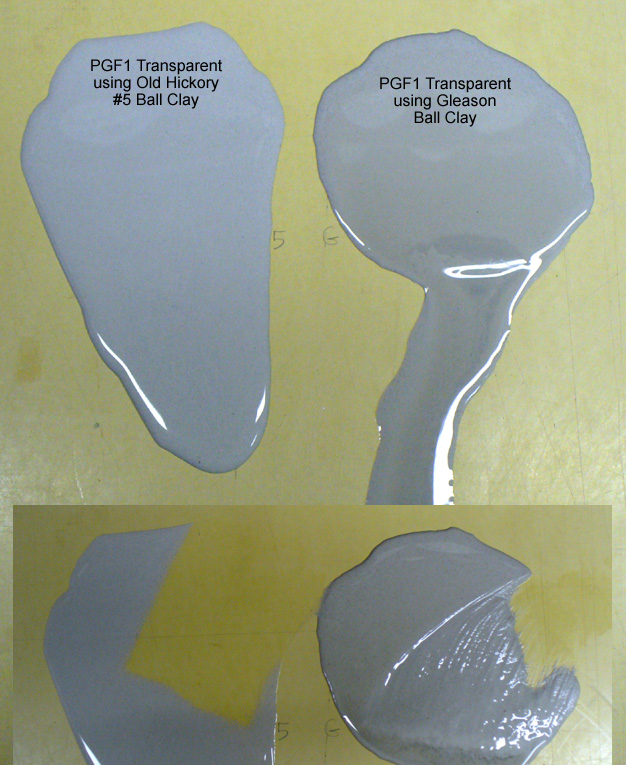 Links
Glossary
Suspension
In ceramics, glazes are suspensions. They consist of water and undissolved powders kept in suspension by clay particles. You have much more control over the properties than you might think.
Materials
No. 5 Ball Clay
Materials
No. 1 Glaze Ball Clay
Materials
Ball Clay
Troubles
Glaze Slurry is Difficult to Use
Understanding glaze slurry rheology is the key to solving problems and creating a suspension that does not settle out, applies well, dries crack free.
---


Copyright 2008, 2015, 2017 https://digitalfire.com, All Rights Reserved