Opacifier
Glaze opacity refers to the degree to which it is opaque. Opacifiers are powders added to transparent ceramic glazes to make them opaque.
Key phrases linking here: opacification, opacifiers, opacifier, opacify - Learn more
Details
A glaze additive that impart opacify, transforming an otherwise transparent glaze into an opaque one. Common opacifiers are tin oxide and zircon compounds. Opacifiers typically work by simply not dissolving into the melt, the white suspended particles thus reflect and scatter the light. Since they do not participate in the chemistry of the melt, rather than being factored into chemistry calculations they are typically rationalized at the recipe level (their effect on thermal expansion, development of colors and glaze hardness are obvious factors).

Another mechanism of opacity is crystallization, this can occur when a crystallizing ingredient is super saturated into the mix (e.g. TiO2) or when slow cooling a glaze to encourage crystallization of less saturated oxides that crystallize easily (e.g. boron blue). This mechanism is more likely to produce a glass that cutlery marks.

A third mechanism is suspended micro-bubbles that cloud the glass. These are often candidates for being able to use less opacifer percentages.

Opacified glazes can be more subject to cutlery marking. This can be a product of the glaze simply not melting to as smooth a surface because of the addition of refractory opacifier, or it can occur because jagged sharp edges of the tiny particles protrude out of the surface.

When opacifiers are added to colored glazes, the depth of color is lost. This is an advantage in that color stays more even despite changes in thickness. It is a disadvantage in that higher percentages of stain are needed and colors are not as bright.
Related Information
G2926B cone 6 transparent with 10% Zircopax and 5% tin oxide
Tap picture for full size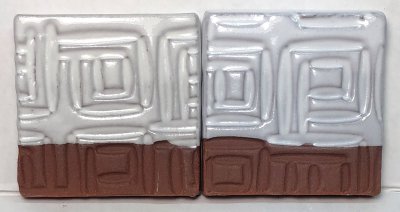 The body is Plainsman M390. The firing schedule is Plainsman PLC6DS.
G1214Z1 at cone 6 with 10% Zircopax and 5% tin oxide
Tap picture for full size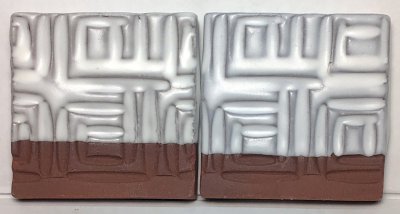 The body is Plainsman M390. The firing schedule is Plainsman PLC6DS. The tin is on the right.
5% titanium dioxide in G2934Y matte, G1214Z1 matte, G2926B glossy
Tap picture for full size
The body is Plainsman M390. The firing schedule is Plainsman PLC6DS.
G2934 Cone 6 Matte with 10% Zircopax and 5% tin oxide
Tap picture for full size
The body is Plainsman M390. The firing schedule is Plainsman PLC6DS.
The right amount of opacity highlights the incised design
Tap picture for full size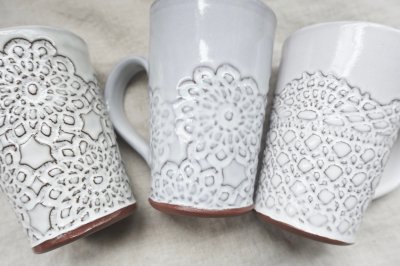 The mug on the left is a commercial brushing glaze. The mechanism of this effect is that the glaze is much thinner on the edges of the design, thin enough that its opacity is mostly lost. The potter is attempting to mix her own equivalent (center and right). Her glaze adds 4% tin oxide to a transparent. However, as you can see, she has added too much. Further testing using lower percentages will find the right balance between the opacity needed to cover the brown body on the flat areas and the transparency needed to expose it on the contours.
How do you turn a transparent glaze into a white?
Tap picture for full size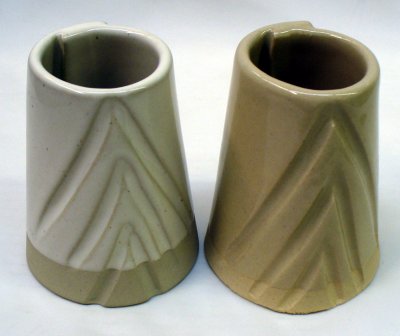 Right: Ravenscrag GR6-A transparent base glaze. Left: It has been opacified (turned opaque) by adding 10% Zircopax. This opacification mechanism can be transplanted into almost any transparent glaze. It can also be employed in colored transparents, it will convert their coloration to a pastel shade, lightening it. Zircon works well in oxidation and reduction. Tin oxide is another opacifier, it is much more expensive and only works in oxidation firing.
How well zircon glaze can cover
Tap picture for full size
This sanitary ware tank lid was made in China. Notice how thick the white glaze is being applied to cover the iron containing body below. This is a testament to how opaque a zircon opacified glaze can be. Of course, high percentages create a stiffer glaze melt and conditions can more often combine to produce crawling like this.
White spots and blisters in a high zircon glaze at cone 6
Tap picture for full size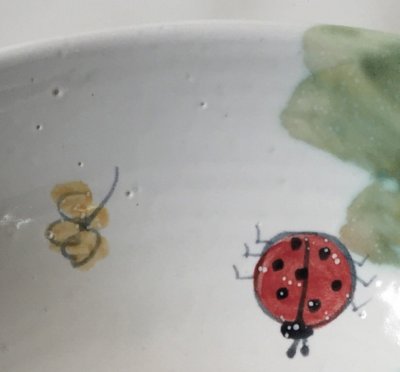 This is also a common problem at low fire on earthenware clay (but can also appear on a buff stonewares). Those white spots you see on the beetle also cover the entire glaze surface (although not visible). They are sites of gas escaping (from particles decomposing in the body). The spots likely percolate during soaking at top temperate. Some of them, notably on the almost vertical inner walls of this bowl, having not smoothed over during cool down.

What can you do? Use the highest possible bisque temperature, even cone 02 (make the glaze thixotropic so it will hang on to the denser body, see the link below about this). Adjust the glaze chemistry to melt later after gassing has finished (more zinc, less boron). Apply a thinner glaze layer (more thixotropy and lower specific gravity will enable a more even coverage with less thickness). Instead of soaking at temperature, drop 100 degrees and soak there instead (gassing is much less and the increasing viscosity of the melt overcomes the surface tension). Use a body not having any large particles that decompose (and gas) on firing. Use cones to verify the temperature your electronic controller reports.
Toilet bowl glaze vs. variegated glaze
Tap picture for full size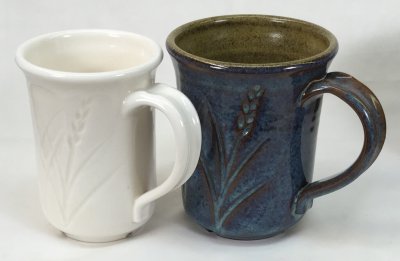 Most artists and potters want some sort of visual variegation in their glazes. The cone 6 oxidation mug on the right demonstrates several types. Opacity variation with thickness: The outer blue varies (breaks) to brown on the edges of contours where the glaze layer is thinner. Phase changes: The rutile blue color swirls within because of phase changes within the glass (zones of differing chemistry). Crystallization: The inside glaze is normally a clear amber transparent, but because these were slow cooling in the firing, iron in the glass has crystallized on the surface. Clay color: The mugs are made from a brown clay, the iron within it is bleeding into the blue and amplifying color change on thin sections.
Titanium as an opacifier
Tap picture for full size
This is a lithium glaze fired at cone 6. It has 6% titanium. This effect will also work in other types of transparent recipes. There should be more blue with slower cooling. Mixing some rutile in (e.g. 4 titanium, 2 rutile) should enhance also. 6% is pushing the edge of how much titanium should be in a recipe. Any more, or cooling too slow, could transform the surface into a mass of white crystals (which would be rough and non-functional). It is best to manually program firings, the up and down schedules? That would make the result consistent no matter how heavily or lightly loaded a kiln is.
Tin Oxide is expensive, do not waste it by not mixing well
Tap picture for full size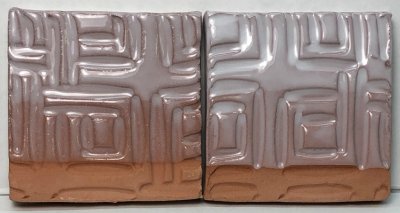 This is a cone 04 glaze on a terra cotta body. Two 300-gram test batches were made. Both have 5% tin oxide added. The one on the left was high-speed propeller-mixed for 10 seconds on a closed container. That was not enough, small agglomerates appear as white specks floating in the glass. The one on the right was mixed for 60 seconds. Now the tin particles, which are incredibly small, have been dispersed and can do their job of opacifying the glaze. Notice that 5% is not quite enough, more is needed.
Our base glazes plus opacifiers on a dark burning body at cone 6
Tap picture for full size
The body is Plainsman M390. These are commonly-used base glazes. The top one is an MgO matte, next down is a calcium matte. They react very differently to these additions. Notice also the difference when titanium dioxide is applied thickly. Tin oxide fires whiter than zircon (e.g. Zircopax). Each opacifier has issues. Tin is expensive. Titanium is difficult to mix into the slurry (screening required), not as white or opaque, variations in thickness produce more difference in results and it can turn blue. Zircon is more likely to cutlery mark, twice as much is required and it amplifies the color of any iron present.
Two cone 6 matte glazes opacified with 10% Zircopax
Tap picture for full size
The clay is a buff stoneware. The upper two samples are G2934, an MgO matte. The one on the right has 10% zircon added to opacify.
The bottom two are G1214Z1 (transparent version and opacified-with-zircon version).
What does it take to opacify a low temperature terra cotta glaze
Tap picture for full size
Tin oxide is a powerful opacifier, but the 5% in the glaze on the left is clearly not enough. 10% more zircon had to be added to produce the one on the right.
White stain. Does it work?
Tap picture for full size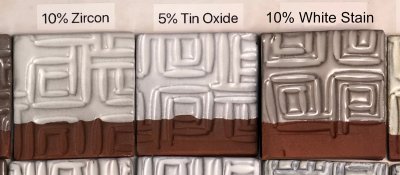 This is G2934Y matte glaze base with opacifiers added. It has been applied to a dark-burning body to demonstrate the comparative degrees of opacity. The stain is Mason 6700 white. While it does not opacify nearly as well as tin or zircon, it does produce a smoother surface.
Two stains. 4 colors. Will the guilty oxide please step forward.
Tap picture for full size
We are looking at two pairs of samples, they demonstrate why knowing about glaze chemistry can be so important. Both pairs are the same glazes: G2934 cone 6 matte and G2916F cone 6 glossy. The left pair has 5% maroon stain added, the right pair 5% purple stain. The red and purple develop correctly in the glossy but not the matte. Why? The Mason Colorworks reference guide has the same precaution for both stains: the host glaze must be zincless and have 6.7-8.4% CaO (this is a little unclear, it is actually expressing a minimum, the more the CaO the better). The left-most samples of each pair here have 11% CaO, the right-most have 9%. So there is enough CaO. The problem is MgO (it is the mechanism of the matteness in the left two), it impedes the development of both colors. When you talk to tech support at any stain company they need to know the chemistry of your glaze to help.
Adding Zircopax to G2571A dolomite matte
Tap picture for full size
On the left: G2571A dolomite matte fired at cone 10R. Right: 10% Zircopax has been added. Both are on a buff stoneware (H550 from Plainsman Clays).
Does Zircopax only whiten and opacify a clear glaze? No.
Tap picture for full size
This GLFL test for melt flow demonstrates how zircon opacifies but also stiffens a glaze melt at cone 6. Zircon also hardens many glazes, even if used in smaller amounts than will opacify.
5% tin oxide in a transparent boron cone 6 glaze
Tap picture for full size
This is a 45:27:28 Gerstley Borate:Kaolin:Silica base on a dark firing clay body. But tin oxide will do that in almost any cone 6 clear glaze (use one that fits your clay body).
Why is this transparent so full of bubbles?
Tap picture for full size
An example of how a micro-bubble population in the matrix of a transparent glaze can partially opacify it. If this glaze was completely transparent, the red clay body would show much better. However this is not the fault of the glaze. On a white body it would be more transparent. The problem is the terra cotta body. This is fired at cone 02. As the body approaches vitrification the decomposition of particles within it generate gases that bubble up in to the glaze. A positive aspect of this phenomena that this glaze could be opacified using a lower percentage of zircon.

This type of glaze responds better to opacifier additions.
What happens when you opacify a colored glaze?
Tap picture for full size
Left: G2934 cone 6 matte glaze with 3% Mason 6300 blue stain. Right: An additional 4% tin added. The thickness of application is close to the same. Notice how an opacified color does not have depth and therefore is lighter in color. Also it does not break to different shades at the edges of contours the way the transparent color does.
A good matte glaze. A bad matte glaze.
Tap picture for full size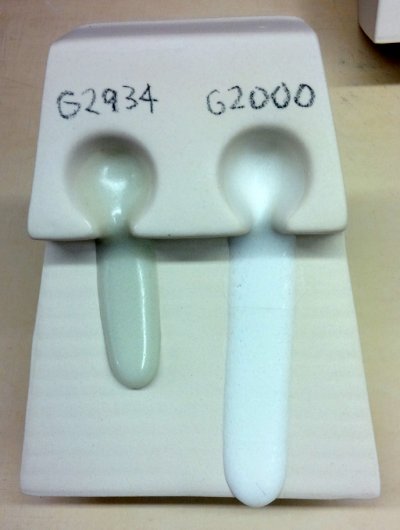 A melt fluidity comparison between two cone 6 matte glazes. G2934 is an MgO saturated boron fluxed glaze that melts to the right degree, forms a good glass, has a low thermal expansion, resists leaching and does not cutlery mark. G2000 is a much-trafficked cone 6 recipe, it is fluxed by zinc to produce a surface mesh of micro-crystals that not only mattes but also opacifies the glaze. But it forms a poor glass, runs too much, cutlery marks badly, stains easily, crazes and is likely not food safe! The G2934 recipe is google-searchable and a good demonstration of how the high-MgO matte mechanism (from talc) creates a silky surface at cone 6 oxidation the same as it does at cone 10 reduction (from dolomite). However it does need a tin or zircon addition to be white.
Adding an opacifier can produce cutlery marking!
Tap picture for full size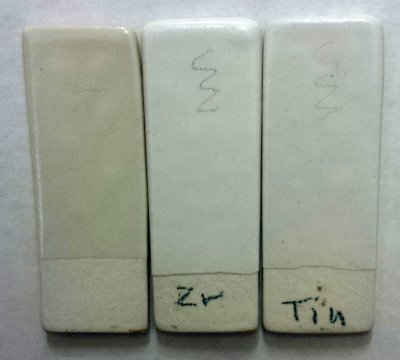 G2934 cone 6 matte (left) with 10% zircopax (center), 4% tin oxide (right). Although the cutlery marks clean off all of them, clearly the zircopax version has the worst problem and is the most difficult to clean. To make the best possible quality white it is wise to line blend in a glossy glaze to create a compromise between the most matteness possible yet a surface that does not mark or stain.
The action of Zircopax vs Tin Oxide at cone 10R
Tap picture for full size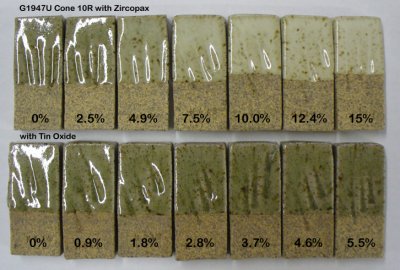 On Plainsman H443 iron stoneware in reduction firing. Notice Tin does not work. Also notice that between 7.5 and 10% Zircopax provides as much opacity as does 15% (Zircon is very expensive).

A hazard of using titanium opacifier in a glaze
Tap picture for full size
On a clay test tile this titanium opacified cone 6 oxidation glaze, G1214Z1, looks great. But it is important to recognize that its variegated fired appearance is a combination multiple factors: The chemistry of the glaze, the titanium, quality laydown, the PLC6DS firing schedule, the red M390 clay body and variations in the thickness-of-application. However, the last four of those factors changed with the mug on the right! It is made from buff-burning M340! There are drips from uneven drainage during glazing. The slow cool C6DHSC firing schedule. Notice how it is actually going transparent where very thick. An even laydown was not achieved since the slurry was not properly mixed, it contains calcined kaolin and requires special attention to achieve a thixotropy.
Inbound Photo Links

Zircopax, tin oxide, titanium as opacifiers in four base glazes
Links
Glossary
Base Glaze
Understand your a glaze and learn how to adjust and improve it. Build others from that. We have bases for low, medium and high fire.
Glossary
Variegation
Ceramic glaze variegation refers to its visual character. This is an overview of the various mechanisms to make glazes dance with color, crystals, highlights, speckles, rivulets, etc.
Glossary
Transparent Glazes
Every glossy ceramic glaze is actually a base transparent with added opacifiers and colorants. So understand how to make a good transparent, then build other glazes on it.
Glossary
Colorant
In ceramics and pottery, colorants are added to glazes as metal oxides, metal-oxide-containing raw materials or as manufactured stains.
Glossary
Boron Blue
Boron blue is a glaze fault involving the crystallization of calcium, boron and silicate compounds. It can be solved using ceramic chemistry.
Glossary
Cutlery Marking
Ceramic glazes that mark from cutlery are either not properly melted (lack flux), melted too much (lacking SiO2 and Al2O3), or have a micro-abrasive surface that abrades metal from cutlery.
Glossary
Majolica
Majolica is white opaque glazed red earthenware clay having colored overglaze decoration. But if you know more about what it is technically you will have more control of your product.
Glossary
Opacity
Opacity of ceramics glazes is normally achieved by adding an opacifier like tin oxide or zircon. However, there are chemical profiles that can turn transparent glazes milky and make it cheaper to opacify them.
Typecodes
Opacifier
Opacifiers are powders that turn transparent glazes opaque by various chemical and physical mechanisms (and combinations of mechanisms).
Properties
Glaze Opacifier
Properties
Glaze Variegation
Projects
Properties

Materials
Titanium Dioxide
A super white powder used in ceramic glazes to variegate, opacify and moderate color.
Materials
Tin Oxide

By Tony Hansen
Follow me on

Got a Question?
Buy me a coffee and we can talk
---


https://digitalfire.com, All Rights Reserved
Privacy Policy