Silicone sealer for porous ceramic for outdoor use
This is a common sealer available at a hardware store. I have dipped the terra cotta tile and it has dried. The surface of the dipped portion is smoother. It also has a slight sheen and better red color. This sealer even makes it possible to use a porous clay body for outdoors, terra cotta bricks have long be protected against freeze-thaw spalling using products like this.
Related Pictures
Acid products are available to remove efflorescence from ceramic surfaces
Tap picture for full size
Products like this are available at hardware stores. After you have removed the surface scum, be sure to seal it using a sealer (also available at hardware stores).
Mod Podge clay sealer
Tap picture for full size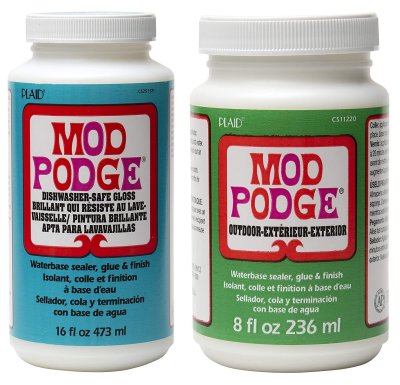 Available at Walmart, Amazon, Michaels and others. It was water-based, non-toxic, "top-rack dishwasher safe" and dries to a hard finish. This makes it potentially useful to seal porous ceramic such as terra cotta and dolomite or talc white-burning bodies, even functional ware.
Links
Articles
Outdoor Weather Resistant Ceramics
How can you be sure that the porosity of your fired ceramic ware is low enough to prevent freeze-thaw breakdown in the winter?
Typecodes
Clay sealers
Many ceramics are either porous by nature or by necessity. For example, stonewares need to be non-vitreous enough that they do not warp or blister on firing. Red earthenwares must be porous in order to have the red color (they go brown when fired higher). White talc or dolomite low-fire clay bodies always have high porosity. Bricks must have minimal firing shrinkage, which guarantees substantial porosity. Even porcelains can blister and it is common to cut back on feldspar to give them more margin for overfiring - that brings porosity. If water penetration must be prevented all of these need to be sealed, these are some of the methods.
Glossary
Efflorescence
A common problem with dry and fired ceramic. It is evident by the presence of a light or dark colored scum on the dry or fired surface.
Got a Question?
Buy me a coffee and we can talk
---


https://digitalfire.com, All Rights Reserved
Privacy Policy