Manually programming a Bartlett V6-CF hobby kiln controller
I document programs in my account at insight-live.com, then print them out and enter them into the controller. This controller can hold six, it calls them Users. The one I last edited is the one that runs when I press "Start". When I press the "Enter Program" button it asks which User: I key in "2" (for my cone 6 lab tests). It asks how many segments: I press Enter to accept the 3 (remember, I am editing the program). After that it asks questions about each step (rows 2, 3, 4): the Ramp "rA" (degrees F/hr), the Temperature to go to (°F) to and the Hold time in minutes (HLdx). In this program I am heating at 300F/hr to 240F and holding 60 minutes, then 400/hr to 2095 and holding zero minutes, then at 108/hr to 2195 and holding 10 minutes. The last step is to set a temperature where an alarm should start sounding (I set 9999 so it will never sound). When complete it reads "Idle". Then I press the "Start" button to begin. If I want to change it I press the "Stop" button. Those ten other buttons? Don't use them, automatic firing is not accurate. One more thing: If it is not responding to "Enter Program" press the Stop button first.
Related Pictures
At what point is a self-supporting cone bent to the correct degree?
Tap picture for full size and resolution
Orton says "90 angular degrees is considered the endpoint of cone bending". First, let's assume the normal: Examination of cones on kiln-opening to verify controller operation. Consider the cone on the left: The tip is touching. But it is also beginning to buckle, which means it was touching for a while before the firing ended. Who knows how long! The second one is not touching but has still fallen a little too far. Why do we say that? The third one, positioned on the Orton guide, has reached the recommended 90 degrees. This demonstrates a good reason why self-supporting cones are much better than standard ones: They are not touching when considered done. And standard cones, when sent in a 3/4" plaque, have a less consistent bending behaviour.
Bloating with multiple bodies at cone 6: Why is this happening?
Tap picture for full size and resolution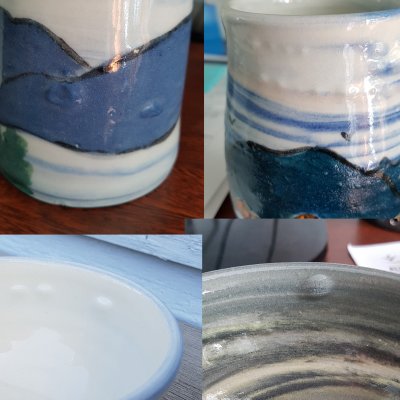 The problem occurred with standard Plainsman M340, M390, M350, M370 and P300. The stonewares have porosities of 2-3%, the M370 1% and the P300 0.5%. Thus, all of these have comfortable margins for overfiring. The G2926B glaze, used on all of them, does seal the surface pretty early so it can contribute to over-fired ware bloating sooner than typical. But the problem here is the cone-fire modes on hobby kiln controllers. For this kiln, the cone 6 program goes to 2236F. That's cone 7. Adding the error of the thermocouple and the misinformation from poorly set cones the temperature overshoot could be more. That means this ware is likely just over-fired. Manually programming your kilns in consort with calibration using self-supporting cones, that is the way to get control. Then you will also be able benefit from the firing schedules like the drop-and-soak PLC6DS and slow-cool C6DHSC.
When the cone does this I need to adjust the program
Tap picture for full size and resolution
This is a cone 04. It is bent too much, the kiln has over-fired a little (cone 03 was also bent somewhat). The built-in firing schedule goes to 1945, that would be much more over-fired than this was (and the built-in ones do not soak, drop-and-soak or slow cool). It only takes a minute to edit the program I made, all I have done is drop the step-three temperature to 1930 (it was 1935). I adjust my schedule fire-up-to temperature as needed, I cannot imagine not doing this.
Are you using your expensive kiln like a pop-up toaster?
Tap picture for full size and resolution
Put the pots in, select a cone, press start. It is time to rethink that approach! The Bartlett Genesis kiln controller is standard equipment on hobby and production electric kilns now. It is not meant to be run like a toaster! Good glazes are about much more than recipes, they are about firing schedules. None of the built-in "toaster schedules" have hold times on any segments, drop-and-hold sequences or controlled cools. Or even fire-to-cone accuracy. Yet such are a must for defect-free glazes, enhancing the effects of reactive glazes that must develop crystallization or variegation or firing accurately. It is easy to program: Tap the blue edit button to edit a program, tap a column of any segment to edit its value. Tap a segment number to delete or duplicate it. Search "bartlett genesis controller" on YouTube for videos on creating and editing a schedule.
Why is the clay blistering on this figurine?
Tap picture for full size and resolution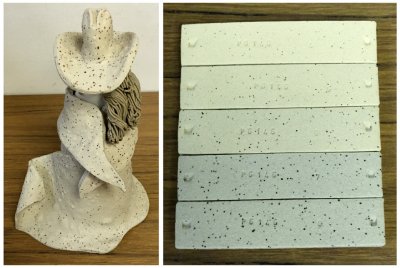 This is an admirable first effort by a budding artist. They used a built-in cone 6 program on an electronic controller equipped electric kiln. But it is overfired. How do we know that? To the right are fired test bars of this clay, they go from cone 4 (top) to cone 8 (bottom). The data sheet of this clay warns not to fire over cone 6. Why? Notice the cone 7 bar has turned to a solid grey and started blistering and the cone 8 one is blistering much more. That cone 8 bar is the same color as the figurine (although the colors do not match on the photo). The solution: Calibrate the kiln sitter by using a self-supporting cone.
Low fire ware cracking during firing. Why?
Tap picture for full size and resolution
Most low-fire bodies contain talc. It is added for the express purpose of increasing thermal expansion. The natural quartz particles present do the same. These are good for glaze fit but bad for ware like this. There are also sudden volume changes associated with cristobalite, but it forms (from quartz) at stoneware temperatures so should not be a concern in terra cotta. You could fiddle with the clay recipe or change bodies, but better to change the firing schedule. While stoneware dunting happens between 950-1150F on the way down, this could be happening anywhere. A simple fix is to slow down the entire cooling cycle. Learn to program your kiln. Use a conservative cooling rate of about 200F/hr (even slower at 1150-950F). No electronic controller? Learn a switch-setting-schedule to approximate this down-ramp (buy a pyrometer if needed).
Links
Firing Schedules
Bartlett Slow Bisque Cone 04
80F/hr to 250F, 200/hr to 1000, 100/hr to 1100, 180/hr to 1676, 80/hr to 1926
Firing Schedules
Bartlett Slow Glaze Cone 6
400F/hr to 1982F, 120F/hr to 2232, no holds or controlled cool
Firing Schedules
Bartlett Fast Glaze Cone 6
570F/hr to 1982F, 200/hr to 2232, no holds, no control cool
Firing Schedules
Bartlett Fast Glaze Cone 05
Two steps, 570F/hr to 250F below end then 200F/hr to finish
Firing Schedules
Bartlett Fast Bisque Cone 04
120F/hr to 250F, 300/hr to 1000, 150/hr to 1100, 180/hr to 1695, 108/hr to 1945
Firing Schedules
Bartlett Slow Glaze Cone 05
Three steps, 400F/hr to 250F below end then 120F/hr to finish
Firing Schedules
Cone 03 Fast Fire

Firing Schedules
Plainsman Cone 6 Electric Standard
Used in the Plainsman lab to fire clay test bars in our small kilns
Firing Schedules
Low Temperature Drop-and-Hold

Firing Schedules
Cone 6 Drop-and-Soak Firing Schedule
350F/hr to 2100F, 108/hr to 2200, hold 10 minutes, freefall to 2100, hold 30 minutes, free fall
Firing Schedules
Plainsman Cone 6 Slow Cool
350F/hr to 2100F, 108/hr to 2200, hold 10 minutes, fastdrop to 2100, hold 30 minutes, 150/hr to 1400
Media
Manually program your kiln or suffer glaze defects!
To do a drop-and-hold firing you must manually program your kiln controller. It is the secret to surfaces without pinholes and blisters.
Glossary
Drop-and-Soak Firing
A kiln firing schedule where temperature is eased to the top, then dropped quickly and held at a temperature 100-200F lower.
Glossary
Firing Schedule
Designing a good kiln firing schedule for your ware is a very important, and often overlooked factor for obtained successful firings.
Glossary
Kiln Controller
In ceramic kilns the firing schedule is typically managed automatically by an electronic controller. But that may not mean that ware gets automatically fired to the correct temperature and atmosphere.
Articles
Electric Hobby Kilns: What You Need to Know
Electric hobby kilns are certainly not up to the quality and capability of small industrial electric kilns, being aware of the limitations and keeping them in good repair is very important.
Got a Question?
Buy me a coffee and we can talk
---


https://digitalfire.com, All Rights Reserved
Privacy Policy