A down side of high feldspar glazes: Crazing!
This reduction celadon is crazing. Why? High feldspar. Feldspar supplies the oxides K2O and Na2O, they contribute to brilliant gloss and great color (at all temperatures) but the price is very high thermal expansion. Any glaze having 40% or more feldspar should turn on a red light! Thousands of recipes being traded online are high-feldspar, some more than 50%! There are ways to tolerate the high expansion of KNaO, but the vast majority are crazing on all but high quartz bodies. Crazing is a plague for potters. Ware strength suffers dramatically, pieces leak, the glaze harbours bacteria, crazing invites customers to return pieces. The simplest fix is to transplant the color and opacity mechanism into a better transparent, one that fits your ware (in this glaze, for example, the mechanism is simply an iron addition). Fixing the recipe may also be practical. A 2:1 mix of silica:kaolin has the same Si:Al ratio as most glossy glazes, this glaze could likely tolerate a 20% addition of that quite easily. That would reduce running, improve fit and increase durability. If the crazing does not stop the next step is to substitute some of the high-expansion KNaO, the flux, for the low-expansion MgO, that requires doing some chemistry in your insight-live.com account.
Related Pictures
ChatGPT is completely wrong about the cause of glaze crazing!
Tap picture for full size and resolution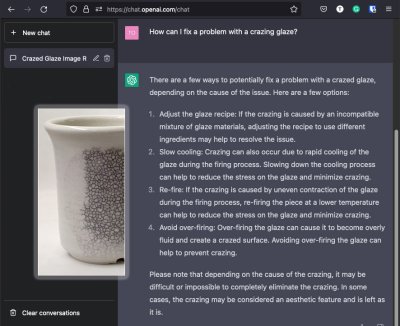 Today, ChatGPT is parroting common wrong suggestions about the cause and solution of the serious issue of crazing. Yet it trained on thousands of internet pages about the subject! Crazed functional ware is defective, and customers will return it. So fixing the problem is serious business, we need correct answers. Consider ChatGPT's suggestions: #1 is wrong. There is no such thing as an "incompatible mix" of ceramic materials. Crazing is an incompatibility in thermal expansions of glaze and body, almost always a result of excessive levels of high-expansion K2O and Na2O in the chemistry of the glaze. The solution is reducing them in favor of other fluxes (the amount in accordance with the degree of COE mismatch). #2 is wrong, firing changes don't fix the incompatibility of thermal expansions. #3 is wrong, refiring makes the crazing go away but not the stress of the mismatch, it will for sure return. #4 is completely wrong. Firing higher takes more quartz grains into solution in the melt and should reduce the COE and thus improve the fit. And melt fluidity has nothing to do with crazing. Furthermore, if a glaze does not run off the ware, it is not overfired.
Links