Insight-Live Shares (also referencing this recipe)
These add technical detail, development info, variations and improvements.
G2571A - Cone 10 Silky Dolomite Matte Base Glaze
Modified: 2019-06-19 10:37:09
A cone 10R dolomite matte having a pleasant silky surface, it does not cutlery mark, stain or craze on common bodies
Notes
A standard Plainsman Clays cone 10R dolomite matte glaze used for many years. Colorants and opacifiers can be added to create a wide range of beautiful classic earthy reduction effects. The bamboo effect, made by the addition of 3.5 rutile and 10 Zircopax, is probably the most popular.

Many dolomite (or talc) matte glazes do not have a proper chemistry balance and do not melt to a stable glass; crazing, cutlery marking and staining are common problems. This one, by contrast, has a very silky surface yet exhibits none of these problems. An alternative recipe (but very similar chemistry) using Ravenscrag Slip is also available.

If you do not have Gerstley Borate or Wollastonite, click the link below to watch a video on how to substitute these for a frit and calcium carbonate.
Related Information
Two cone 10R bamboo glazes. One stains, one does not. Why?
These mugs are Plainsman H443. The bamboo glaze on the left (A) has 3.5% rutile and 10% zircopax added to the base G2571A dolomite matte. The one on the right (B) has the same addition but in a base having slightly less MgO and slightly more KNaO. B stains badly (as can be seen from the felt marker residue that could not be removed using lacquer thinner). Why does A stain only slightly? It has an additional 4% Gerstley Borate (GB). GB is a powerful flux that develops the glass better, making the surface more silky. The differences in the recipe provide another advantage: (A) has a much lower thermal expansion and is less likely to craze.
Two great dolomite matte cone 10R recipes on iron stoneware
GR10-J Ravenscrag silky matte (right) and G2571A matte (left) on a dark burning iron speckled stoneware at cone 10R. Surfaces have identical feel (the chemistries are very close). The former fires a little darker color because of the iron contributed by the Ravenscrag Slip.
Two G2571A Bamboo color versions at cone 10R
These mugs are Plainsman H450. Both have a black engobe (L3954N) applied to the insides and half way down the outside during leather hard stage (the insides are glazed with Ravenscrag silky matte and G1947U over the black engobe). The bamboo glazes can thus be seen over the black (upper half) and the raw buff body (lower). The bamboo glaze on the left has 1% iron added to the base G2571A recipe. The one on the right has 3.5% powdered rutile and 10% zircopax added.
G2571 Cone 10R silky matte glazed mug
The inside is pure Ravenscrag Slip.
A refined-material cone 10R dolomite matte (left) vs. one made using Ravenscrag Slip
GR10-J Ravenscrag silky matte (right) and G2571A matte (left) on a buff stoneware at cone 10R. Surfaces feel identical, the slightly darker color is due to iron content in the Ravenscrag. The former was formulated to mimic the latter using as much Ravenscrag Slip as possible yet still maintain the same chemistry.
A tin oxide addition can improve the visual of a cone 10R bamboo
This is the G2571A base dolomite matte recipe. The specimen on the left adds 4% tin and 1% iron oxide. The one on the right has 4% tin oxide and 0.5% iron oxide.
The Best Cone 10R Dolomite Matte base recipe
This is G2571A cone 10R dolomite matte glaze with added 1% cobalt oxide, 0.2% chrome oxide. The porcelain is Plainsman P700, the inside glaze is a Ravenscrag Slip clear. This recipe can be googled, it has been available for many years and was first formulated by Tony Hansen. This base is very resistant to crazing on most bodies and it does not cutlery mark or stain. It also has very good application properties.
What would 10% zircon do in a cone 10R dolomite matte?
Left: An example of G2571A cone 10R magnesia matte. Right: with 10% added zircopax (zirconium silicate). The zircopax version is a very bright pasty white compared to the original.
How to turn a dolomite matte white glaze into a bamboo matte
Make cone 10R bamboo colors using the GR10-J Ravenscrag silky matte base recipe (right) and adding 1% iron (left), (0.5% centre). These samples are porcelain. This iron addition also works using the G2571A matte base recipe.
How do you turn a base cone 10R dolomite matte into this beautiful tan?
You add up to 5% manganese dioxide. The base recipe is G2571A. The clay body is a buff burning stoneware having iron speckle. The quality of the surface is excellent and it is durable.
This cone 10R dolomite matte white inside is also the base for the brown and blue outside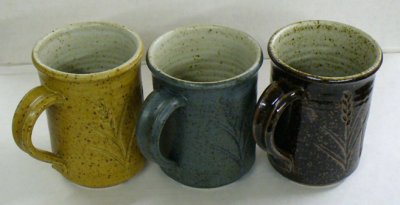 This is the G2571A glaze recipe. It has proven reliable and functional over many years on a wide range of clay bodies in the Plainsman Clays studio. By itself, it is a great liner glaze. It does not cutlery mark or stain or craze and it great to use. And it accepts colorants very well.
The dramatic effect a cone 10R iron stoneware can have on a dolomite matte glaze
This bamboo glaze (made by adding 4% tin and 1% iron oxide (left) and 0.5% iron oxide (right) to the G2571A base recipe) amplifies the iron speckle in the body beneath (Plainsman H443). Unfortunately this looks good and but is not very functional. The body is quite porous (5% water absorption), this is necessary for the mottled brown visual effect.
Cutlery marking is directly related to the chemistry of the glaze
This is an example of cutlery marking in a cone 10 silky matte glaze lacking Al2O3, SiO2 and having too much MgO. Al2O3-deficient glazes often have high melt fluidity and run during firing, this freezes to a glass that lacks durability and hardness. But sufficient MgO levels can stabilize the melt and produce a glaze that appears stable but is not. Glazes need sufficient Al2O3 (and SiO2) to develop hardness and durability. Only after viewing the chemistry of this glaze did the cause for the marking become evident. This is an excellent demonstration of how imbalance in chemistry has real consequences. It is certainly possible to make a dolomite matte high temperature glaze that will not do this (G2571A is an example, it has lower MgO and higher Al2O3 and produces the same pleasant matte surface).
Opacifying a reduction dolomite matte
Opacifying a cone 10 reduction magnesia matte glaze. On the left: G2571A dolomite matte, a popular recipe (from Tony Hansen). Right: 10% Zircopax has been added. Both are on a buff stoneware (H550 from Plainsman Clays).
Ravenscrag dolomite matte
GR10-J Ravenscrag dolomite matte base glaze at cone 10R on Plainsman H443 iron speckled clay. This recipe was created by starting with the popular G2571 base recipe (googleable) and calculating a mix of materials having the maximum possible Ravenscrag Slip percentage. The resultant glaze has the same excellent surface properties (resistance to staining and cutlery marking) but has even better application and working properties. It is a little more tan in color because of the iron content of Ravenscrag Slip (see ravenscrag.com).
15 inch reduction fired bowl by Tony Hansen
Made in 1982. Clay is Plainsman H443 fired at cone 10R. Glaze is G2571A with 0.25% chrome oxide, 1.0% cobalt oxide and 0.25% manganese granular.
Handbuilt vase with thrown neck by Tony Hansen
Made around 1980. Clay is Plainsman H440G. Fired to cone 10R. Glaze is rutile blue (G2571A with rutile and a little cobalt added).
G2571A at 1.75 specific gravity still works, but goes on very, very thick
Do not use this glaze unless the specific gravity is optimal. For bisque ware, that will be about 1.43-1.45 (and flocculated to gel slightly). If the SG is too high it will go on too thick. If it is too low, it will shrink too much during drying (and likely cause crawling).
Looking for a non-crazed non-cutlery marking cone 10R dolomite matte?
This is G2571A cone 10R dolomite matte on an ironware body made from native North Carolina clays. Few glazes have the pleasant silky feel that this has yet are still functional. The feldspar content in the body has been tuned to establish a compromise between the warmer color low percentages have with the higher strength that higher percentages impart. Careful porosity tests were done and recorded in an account at insight-live.com. The objective was to bring the body close to 3% absorption.
Three cone 10R mugs that have the same liner glaze.
The liner is G2571A dolomite matte.
One simple addition makes Ravenscrag Slip into a fabulous silky matte glaze: 10% talc
The clays are Plainsman H450 and H550. Firing is cone 10 reduction. A 50:50 mix of roasted and raw Ravenscrag slip was used. L3954N black engobe was applied at leather hard stage (on the insides and partway down the outsides). We call this recipe GR10-C Ravenscrag Talc Matte, it is on the insides of both and on the outside of the one on the left. The outside of the other is G2571A Bamboo, it is also an excellent matte base. The silky matte surfaces produced by these two are both functional (they are very durable and do not stain or cutlery mark). And they are very pleasant to the touch.
Links
Glossary
Base Glaze
Understanding your transparent glaze and learning how to adjust its melt fluidity, thermal expansion, color response, etc is a base on which to build all your other glazes.
Glossary
Phase Separation
Phase separation is a phenomenon that occurs in transparent ceramic glazes. Discontinuities in the internal glass matrix affect clarity and color.
Glossary
Bamboo Glaze
A high temperature reduction glaze made by adding a small amount of iron oxide to a magnesia matte base glaze
Glossary
Matte Glaze
Random material mixes that melt well overwhelmingly want to be glossy, creating a matte glaze that is also functional is not an easy task.
Articles
How to Liner-Glaze a Mug
A step-by-step process to put a liner glaze in a mug that meets in a perfect line with the outside glaze at the rim.
Articles
Concentrate on One Good Glaze
It is better to understand and have control of one good base glaze than be at the mercy of dozens of imported recipes that do not work. There is a lot more to being a good glaze than fired appearance.
Articles
G1947U/G2571A Cone 10/10R Base Matte/Glossy Glazes
These starting recipes use no frits and work in oxidation/reduction and are inexpensive to make. They can be used as bases for the whole range of typical cone 10 pottery glazes (celadon, tenmoku, oatmeal, white matte, brown crystal).
Firing Schedules
Plainsman Cone 10R Firing
Six-step oxidize-at-end schedule to 2372F
Media
Use Insight-live to substitute materials in a recipe
We will substitute wollastonite for whiting and a frit for Gerstley borate in the G2571A cone 10 matte while maintaining the chemistry of the original recipe.
URLs
https://plainsmanclays.com/products/g2571a
G2571 Dolomite matte recipe at PlainsmanClays.com

Recipes
G1947U - Cone 10 Glossy Transparent Base Glaze
Reliable widely used base glaze for cone 10 porcelains and whitewares. The original recipe was developed from a glaze used for porcelain insulators.
Recipes
GR10-J - Ravenscrag Cone 10R Dolomite Matte
Plainsman Cone 10R Ravenscrag Slip based glaze. It can be found among others at http://ravenscrag.com.
XML to Paste Into Desktop Insight
<recipes>XML not functional: We are working on this problem.</recipes>
By Tony Hansen

---
---


https://digitalfire.com, All Rights Reserved
Privacy Policy