Substitute Ferro Frit 3134, using glaze chemistry, in three glaze types
Can't get frit 3134 for glaze recipes? Can you replace it with frit 3124? No, 3124 has five times the amount of Al2O3 (the second most important oxide in glazes) and half the amount of B2O3 (the main melter). This ten-minute video presents a glaze chemistry approach that is easier to do than you probably think. On three different recipe types, you will learn to source the needed oxides from two other Ferro frits, 3110 (or Fusion F-75) and 3195 (Fusion F-2) and end up with at least 15% kaolin in each (to suspend the slurry). Each requires a unique approach. Two of the calculations produce improved slurry properties and one yields a recipe of significantly lower cost. If you have a recipe that needs this, get an insight-live.com account, enter it there and I can help you do the calculation.
Related Pictures
Click here for case-studies of Insight-Live fixing problems
Tap picture for full size
You will see examples of replacing unavailable materials (especially frits), fixing various issues (e.g. running, crazing, settling), making them melt more, adjusting matteness, etc. Insight-Live has an extensive help system (the round blue icon on the left) that also deals with fixing real-world problems and understanding glazes and clay bodies.

Is Ferro Frit 3124 a viable substitute for Frit 3134
Tap picture for full size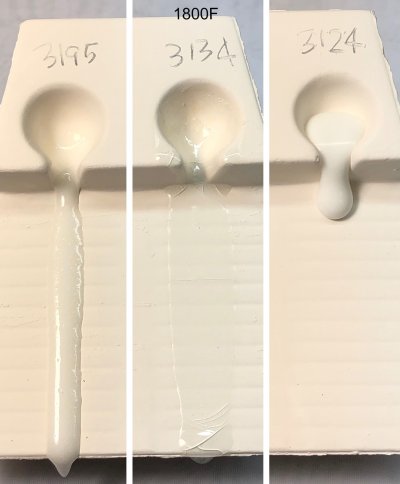 This is a GLFL test comparing the melt flow of the three materials at 1800F. Frit 3124 is barely out of the starting gate and the other two have crossed the finish line! With frits chemistry is a big deal, they are all about supplying oxides to the melt. Frit 3134 is low-alumina/high-boron, 3124 is medium-alumina/low-boron and 3195 is medium-alumina/high-boron. Boron is the melter. Alumina thickens the melt and hardens the glass. Just from this it appears that Frit 3195 is a better starting point for calculations to replace frit 3134.
These common Ferro frits have distinct uses in traditional ceramics
Tap picture for full size
I used Veegum to form 10 gram GBMF test balls and fired them at cone 08 (1700F). Frits melt really well, they do have an LOI like raw materials. These contain boron (B2O3), it is a low expansion super-melter that raw materials don't have. Frit 3124 (glossy) and 3195 (silky matte) are balanced-chemistry bases (just add 10-15% kaolin for a cone 04 glaze, or more silica+kaolin to go higher). Consider Frit 3110 a man-made low-Al2O3 super feldspar. Its high-sodium makes it high thermal expansion. It works really well in bodies and is great to make glazes that craze. The high-MgO Frit 3249 (made for the abrasives industry) has a very-low expansion, it is great for fixing crazing glazes. Frit 3134 is similar to 3124 but without Al2O3. Use it where the glaze does not need more Al2O3 (e.g. already has enough clay). It is no accident that these are used by potters in North America, they complement each other well (equivalents are made around the world by others). The Gerstley Borate is a natural source of boron (with issues frits do not have).
Links