A way to get crystal clear glaze on terra cotta: Lead bisilicate
The mug on the left is a brush-on version of a boron-based clear glaze for cone 05. Three coats were applied and the often-encountered clouding occurred. The one on the right is an 85:15 lead bisilicate:kaolin mix. Three coats were also applied. It is an absolutely "knock your socks off" crystal-clear hyper-glossy surface that transmits the terra cotta color beautifully. And my lead testing kit passes it with no detectable lead release. Underglaze brushwork here we come! I have sought this effect for decades, this is it! Recent realizations about the slipware tradition in the UK (and their standard use of this same glaze) motivated me to get some of the frit. All I could get was a sample of the frit shards, but these milled down to a powder easily in our ball mill.

Of course, to be safe, I would still glaze the insides of pieces with a boron clear, likely as thin a layer as possible of G1916Q (with 2% added iron as a fining agent for the micro-bubbles). And, I will obviously fire these lead glazed pieces with the kiln exhaust system turned on.
Related Pictures
Is it impossible to get a good clear over-glaze for cone 6 brush decorated stoneware?
Tap picture for full size and resolution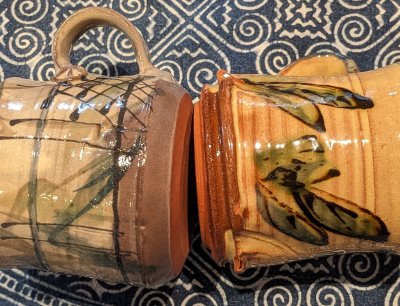 The mug on the right is terra cotta slipware firing at cone 04 using underglazes and a leaded transparent over-glaze (lead glazes are still commonly used in many parts of the world and considered safe). Mug on the left: This potter wants to use the same technique on cone 6 stoneware. Like pretty well all cone 6 recipes, this transparent depends on a boron frit to melt it. The result is micro-bubble clouding and boron blue when only slightly too thick. Also surface defects, washing out of colors and bleeding of brushwork. Actually, these commercial underglazes are an issue, by cone six they melt and diffuse into the clear overglaze. So is it possible to glaze-fire cone 6 stoneware and achieve results like the one on the right? At this time I do not know how! The path could be stained non-melting underglazes, separate body and glaze firings (the latter being much lower) and a transparent brushing glaze whose thickness and laydown can be carefully controlled.
Lead testing a lead bisilicate frit
I have soaked an aluminum lead bisilicate frit in vinegar overnight. To test whether it is leaching I will pour the vinegar leachate into a test tube, soak a Q-Tip in the sensor solution and dip it into the vinegar. If it turns black we have lead in the leachate!

Keep in mind something important here: While it is true that the vastly increased surface area of the frit contributes to its failing the leaching test another important factor is that the frit glass had no opportunity to be annealed - it was crash-cooled by being quenched in water. Annealing and associated toughening of the surface is a by-product of a glaze cooling slowly in a periodic kiln.
2% iron oxide in a glossy terra cotta glaze gives better color, less clouding
Tap picture for full size and resolution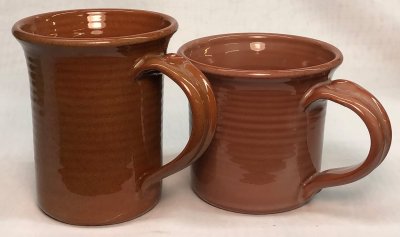 Both pieces are the same clay body, Plansman L215. Both are fired to cone 03. Both are glazed using G1916Q recipe. The glaze on the piece on the left has 2% added iron oxide (and sieved to 80 mesh). Each particle or agglomerate of iron (which is refractory in this situation) acts to congregate the micro-bubbles so they can better exit the glaze layer. Notice also how much richer the color is as a result. The piece on the right, without the added iron oxide, is neither as red nor as transparent. Both of these mugs, by the way, are glazed on the bottom and were fired on stilts.
Boron blue in low fire transparent glazes
Tap picture for full size and resolution
This high boron cone 04 glaze is generating calcium-borate crystals during cool down (called boron-blue). This is a common problem and a reason to control the boron levels in transparent glazes; use just enough to melt it well. If more melt fluidity is needed, decrease the percentage of CaO. There is a positive: For opaque glazes, this effect can actually enable the use of less opacifier.
A cure for long-time Gerstley Borate sufferers
Tap picture for full size and resolution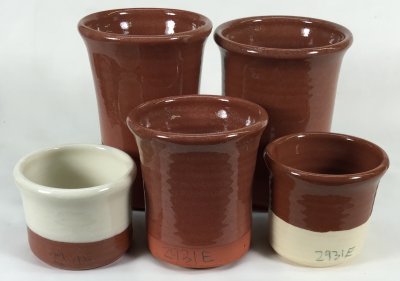 These are various different terra cotta clays fired to cone 04 with a recipe I developed that sources the same chemistry as the popular G2931 Worthington clear (50:30:20 GB:Kaolin:Silica) but from a different set of materials. The key change was that instead of getting the B2O3 from Gerstley Borate I sourced it first from Ulexite (G2931B) and then from a mix of frits (G2931K). All pieces were fired with a drop-and-hold firing schedule C03DRH. Fit was good on many terra cottas I tried (pieces even surviving boiling:icewater stressing). Where it did not fit I had thermal expansion adjustability because more than one frit was sourcing the boron. Frits are so much better for sourcing B2O3 than Gerstley Borate (the latter is notorious for turning glaze slurries into jelly!). Of course, a little glaze chemistry is needed to figure out how to convert a recipe from Gerstley Borate bondage to frit freedom, but there is lots of information here on how to do that.
Links