Fining Agent
"Fining" is a term used in winemaking where it is common to add bentonite or kaolin, as the tiny particles settle they act as coalescing points for undesired particles, these thus settle with them. This concept also has an application for ceramic glazes where tiny bubbles, even microscopic, are the impurity to be removed. Of course, the fining must be done while the glaze is molten and the particles around which bubbles coalesce must not melt themselves. This process improves the transparency of the fired glaze by decreasing the bubble population, fewer large bubbles enable much better clarity than millions of micro-bubbles that form clouds. The fining process can also increase bubble size enough that many more will break at the surface (the melt heals to reflatten it). A thinner glaze layer helps to dissipate more bubbles at the surface.

All transparent glazes are subject to the problem of bubbling (including commercially prepared products). The problem is most serious when underglaze decoration becomes obscured by micro-bubble clouds in the transparent overglaze. Dark burning bodies generate the most bubbles and present the greatest problem to achieving transparency in a covering glaze.

We, and customers, have had success with two agents: Zircon and iron oxide (red or yellow) in 1 and 2% additions. Although alumina is a potential fining agent, we have not had success with it. Of course, iron impacts color, turning a transparent amber or muddying the color of added stains, so its use appears to be limited to low fire red burning bodies. If you have success with other materials please contact us so we can update this page.

Related Information
Iron oxide as a fining agent to debubble a low fire transparent
Tap picture for full size
These terra cotta clays were bisque fired at cone 04 and glaze fired to 04 using the 04DSDH schedule. The glaze is G1916Q, an expansion-adjustable cone 04 clear. That schedule alone is often enough to get transparent, defect free glazes in many situations. But not in this case. The solution was to add a fining agent. In this case we added 2% red iron oxide (to the top glaze). The particles of iron floating in the melt acted as a congregating points for bubbles, helping them to escape. And we got a bonus: a more interesting aesthetic. A 1% addition also worked, but not as well (we have settled on 2% iron and screening the glazes to 100 mesh). Screening out the larger particles slightly degraded the fining performance (so we have to accept the tiny specks). Iron does not always workin other situations. Other fining agents we have used at cone 6 do not work in this situation (e.g. 2% Zircopax, Alumina). Of course, this glaze will fire amber on a white body.
Zircopax as a fining agent to de-bubble a stained glaze
Tap picture for full size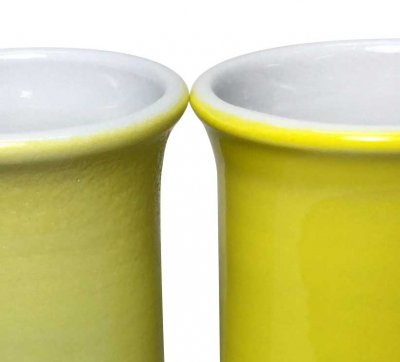 The cone 03 porcelain cup on the left has 10% Cerdec encapsulated stain 239416 in the G2931K clear base. The surface is orange-peeled because the glass is full of micro-bubbles that developed during the firing. Notice that the insides of the cups are crystal-clear, no bubbles. So here they are a direct product of the presence of the stain. The glaze on the right has even more stain, 15%. But it also has a 3% addition of Zircopax (zircon). Suppliers of encapsulated stains recommend a zircon addition, but are often unclear about why. Here is the reason: It is a "fining agent".
G1916Q transparent on terra cotta body at cone 06, 05, 03
Tap picture for full size
The body is Plainsman L215. We used the 04DSDH firing schedule. The glaze is inexpensive to make so we have a 2 gallon bucket. It has good dipping much like a stoneware glaze so it is easy to apply quickly and evenly. For most terra cottas, body strength increases dramatically by cone 03. However the most transparent and glassy glaze surface happens at cone 06. Terra cotta bodies need to be bisque fired fairly low (e.g. cone 06) to have enough porosity to work well with dipping glazes. After cone 06 they generate increasing amounts of gases (as various particle species decompose within), for this reason the glazes can have more micro-bubble clouding or tiny dimples in the surface. This glaze has 2% iron oxide added as a fining agent to remove the bubbles. That iron also reddens the color and variegates the surface somewhat. Even though the surface character at cone 03 is not a smooth, it has a natural charm, and the color is very rich. And that piece has stoneware durability and strength.
G1916Q glaze fired at cone 03 and 04 on a terra cotta clay body
Tap picture for full size
The body is Plainsman L215. Both were thinly applied and fired using the 04DSDH schedule. The glaze has 2% iron oxide added and sieved to 80 mesh, this reddens the color and acts as a fining agent to reduce micro-bubble population. The one fired to cone 03 (left) is considerably stronger, better surviving the stress of successive impacts with a hammer. However, it has minute dimples in the surface, likely because it is having to clear bubbles originating from decomposition occurring in the body below (as it fires well above bisque temperature). The mug on the right fired about 40F cooler, between cone 04 and 05, only slightly above bisque. The glaze surface is much better, almost crystal clear. Since the glaze fits well the mug has surprising strength, better even than a stoneware piece with a poorly fitted glaze. This one survived about ten whacks before a piece broke out! A big advantage of cone 04 and cooler is that ware can be fired on stilts, meaning you can glaze the whole thing, leaving no bare clay exposed.
Alberta Slip GA6-B base darkened with iron oxide
Tap picture for full size
Fired to cone 6 using the C6DHSC schedule. Top: GA6-B. This recipe is 80% Alberta slip and 20% Ferro Frit 3195 (we used to use frit 3134 but have found frit 3195 works much better). Bottom: We added 1, 2, 3 and 4% iron oxide. At about 2%, the color matches the rich reddish effect you would get if you used an 80:20 Albany:3195 recipe (without an iron addition). An added benefit is that the iron acts as a fining agent to remove micro-bubbles to achieve better transparency.
Red stain in matte and glossy bases. Which looks best?
Tap picture for full size
The silky matte. 11% Mason 6021 encapsulated stain has been added to each. The one on the left is G2926B glossy base (it also has 2% zircopax as a fining agent for the micro-bubbles). But in the matte base on the right, G2934Y, no zircopax is necessary. It produces a stunning surface using this and other stains (including orange, yellow, black, purple), very pleasant to touch.
Adding iron to a clear glaze has cleared the micro-bubbles!
Tap picture for full size
The glaze on the right is a transparent, G2926B, on a dark burning cone 6 body (Plainsman M390). On the left is the same glaze, but with 4% red iron oxide added. The entrained microbubbles are gone and the color is deep and much richer. It is not clear how this happens, but it is some sort of "fining" and is certainly beneficial. In other circumstances, we have seen big benefits with only 2% iron added.
Links
Glossary
Glaze Bubbles
Suspended micro-bubbles in ceramic glazes affect their transparency and depth. Sometimes they add to to aesthetics. Often not. What causes them and what to do to remove them.
By Tony Hansen
Follow me on

Got a Question?
Buy me a coffee and we can talk
---


https://digitalfire.com, All Rights Reserved
Privacy Policy