Commercial glazes on decorative surfaces, your own on food surfaces
These cone 6 porcelain mugs are hybrid. Three coats of a commercial glaze painted on outside (Amaco PC-30) and my own liner glaze, G2926B, poured in and out on the inside. When commercial glazes (made by one company) fit a stoneware or porcelain (made by another company), it is often purely an accident! So test thoroughly or just use them on the outsides. For inside food surfaces make or mix a liner glaze already proven to fit your clay body, you have to option to make it as a dipping glaze or brushing glaze. One that is sensible enough to fit common sense recipe limits and not have an unbalanced chemistry. And you can use quality materials that you know deliver no toxic compounds to the glass and that are proptioned to deliver a balanced chemistry.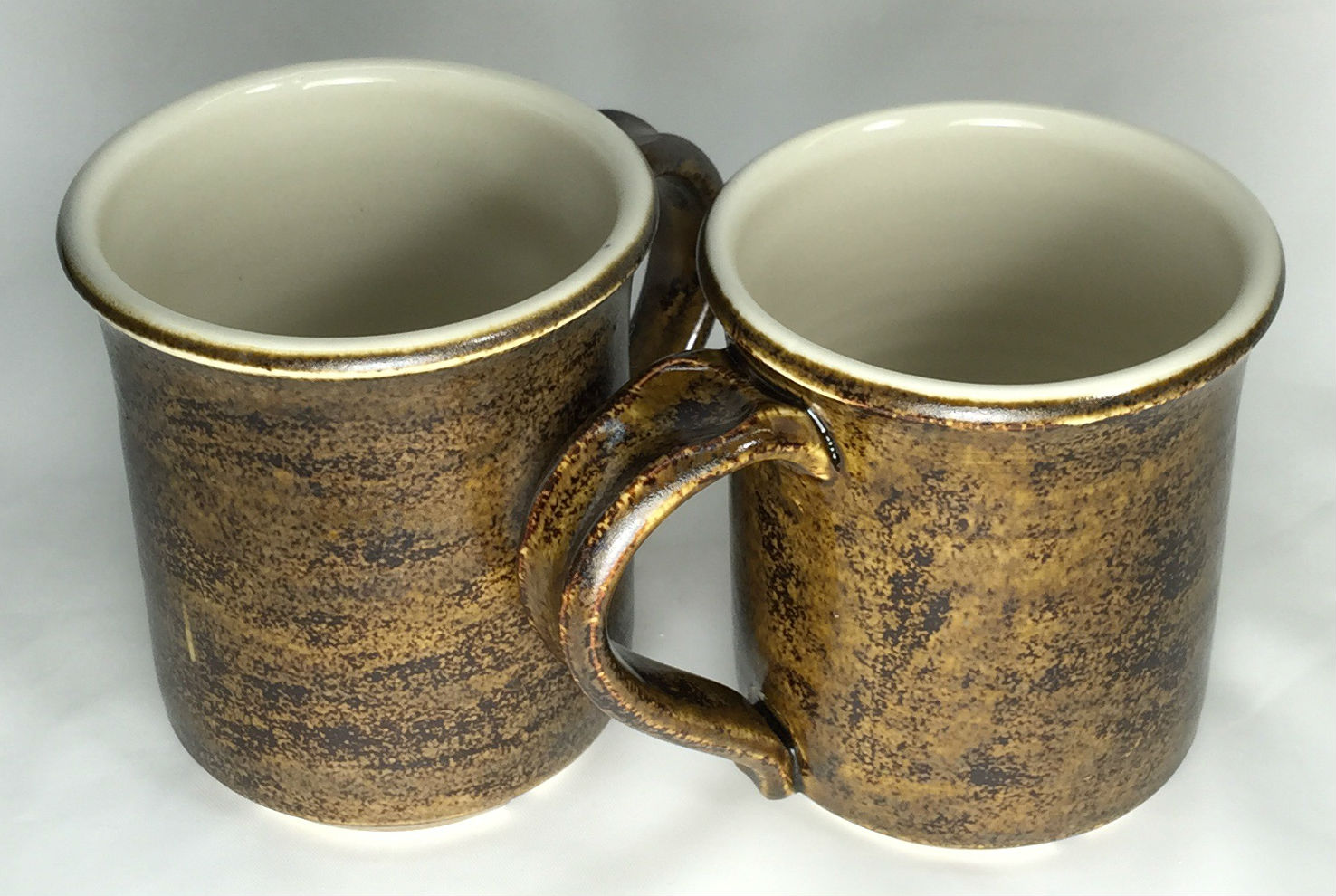 Related Pictures
Commercial supposedly safe glazes leaching. I liner glaze is needed.
Tap picture for full size
Three cone 6 commercial bottled glazes have been layered. The mug was filled with lemon juice overnight. The white areas on the blue and rust areas on the brown have leached! Why? Glazes need high melt fluidity to produce reactive surfaces like this. While such are normally subject to leaching, supposedly the manufacturers were able to tune the chemistry of each to make them resistant. But the overlaps mingle well (because of the fluidity), they are new chemistries, less stable ones. What is leaching? Cobalt! Not good. What else? We do not know, these recipes are secret. It is better to make your own transparent or white liner glaze (either as a dipping glaze or brushing glaze). Not only can you pour-apply it and get very even coverage, but you know the recipe and have the control to adjust it to fit your clay body.
Two black cone 6 glazes recipes. One leaches metals. Why?
Tap picture for full size
We tested susceptibility to leaching of a stained glaze (top two) and another colored with raw metal oxides (bottom two) using the GLLE test (they were left overnight in vinegar and lemon juice). The top two are G3914A (GA6-B Alberta Slip base with an addition of only 4% Mason 6600 black stain). There is no sign of leaching (Drano and bleach likewise did not affect it). The bottom two are G2926B transparent with 10% manganese dioxide and 5% copper oxide added (a common way to get black). The G2926B transparent base is proven, its surface shows no signs of gloss-loss in any testing we have done. But with manganese and copper added it is a very different story. Not only was this not nearly as black, but the vinegar and lemon juice matted and blued the top sections. Obviously, a ceramic stain added to the Alberta Slip GA6-B base is a far better way to make a leach-resistant black. Is it better than adding the black stain to G2926B? Yes, because far less is needed since the GA6-B base already has plenty of pigmentation.
It is possible to spot a leaching glaze just by looking at it!
Tap picture for full size
This glaze looks too matte, too metallic, too crystalline. This picture was sent to me by a worried person who had bought it and noticed it discolouring on the inside. The potter may very well have considered this safe just because it was fired to cone 10. It is common among potters to overload glazes with raw metal oxide blends, often 15% or more (e.g. manganese, copper, iron, nickel, cobalt). These percentages cannot be held in solution in the melt as it cools and solidifies, so they precipitate out and crystallize, especially if the glaze is not melting well or has insufficient SiO2. The crystalline forms of these metals might look nice to some people, but the glaze is likely to leach them. It is better to use a ceramic stain to create a black like this, adding it to a stable matte base glaze (one that melts well and has sufficient SiO2 and Al2O3 to create a durable glass). The concept of a limit recipe is helpful in eyeballing recipes for their likelihood of leaching.
Metal leaching from ceramic glazes: Lab report example
Tap picture for full size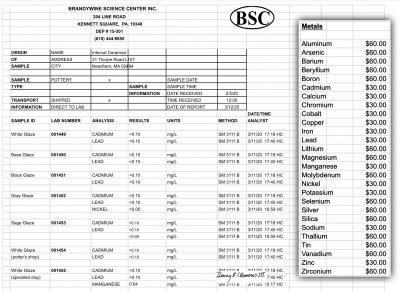 This lab is certified by the US Department of Environmental Protection (DEP) for drinking water and waste water analysis. They also provide pottery glaze leaching analyses (an acid solution is kept in contact with the glaze then analysed for trace levels of specific metals). Each suspected metal to be tested for entails a separate charge ($30-60 in this case, could be less for you). That means that testing one glaze for several metals could cost $200. How to make sense of these numbers? Google the term: "heavy metals drinking water standards", and click "Images" to find charts with lots of data. Searching pages for this term will find books having detailed sections on each of the metals. Typically you are only interested on one metal in a specific glaze (often cobalt or manganese). There are ways to sleep better (about the likelihood your glazes are leaching metals) if you cannot do this: Do a simple GLLE test. And avoid the online trafficking in hazardous recipes. Better to find a quality base glaze (matte and transparent) that works well on your clay body. Then add colorants, opacifiers and variegators; but doing so in a conservative manner.
Imagine realizing that pottery you're selling is all going to craze!
Tap picture for full size
Every single piece you have been making is all eventually going to craze! Do you refund all the customers? All because you trusted a liner glaze recipe found online. At a reputable site. This recipe is called "Classic White". And it has "classic crazing". On going back to the source web page you find there is no mention of even the possibility of crazing. Then you type the recipe into your account at Insight-live.com and are horrified to see how high the thermal expansion calculates to (see red circles on picture). Then you realize that, based on simple recipe limits, you could have steered clear of this just by looking at it. Then you find there are other well-documented base glossy and matte recipes that do not craze (like G2934 and G2926B). Even if they do they are adjustable to enable fixing the issue. And you can even blend them to create any degree of satin desired. And they use a mix of tin oxide and Zircopax to avoid crawling. And they are durable, don't cutlery mark, don't leach, don't run, don't settle in the bucket.
Links