GA6-B - Alberta Slip Base Glaze 2
Modified: 2019-04-09 12:05:25
An amber-colored glaze that produces a clean, micro-bubble-free transparent glass. Works well on brown and red burning stonewares.
Notes
An alternative recipe to GA6-A (uses Ferro Frit 3195 instead of 3134). It fires to a more brilliant glossy surface.

This fires to a lower thermal expansion (by virtue of higher B2O3, Al2O3 and SiO2 levels) so will solve crazing issues on most bodies on which the GA6-A version crazes.

The chemistry in this is not compatible with the rutile blue version.
Related Information
Same glaze/body. One fired flawless, the other dimpled, pinholes. Why?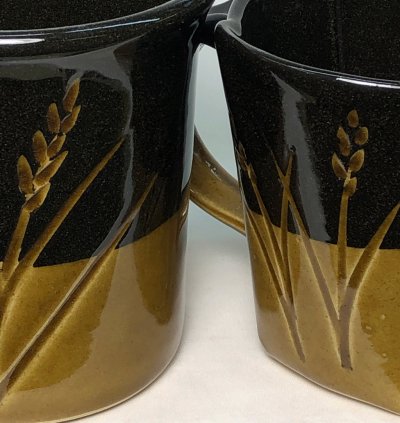 The difference is a slow-cool firing. Both mugs are Plainsman M340 and have a black engobe inside and partway down on the outside. Both were dip-glazed with the GA6-B amber transparent and fired to cone 6. The one on the right was fired using the PLC6DS drop-and-hold schedule. That eliminated any blisters, but some pinholes remained. The one on the left was fired using the C6DHSC slow-cool schedule. That differs in one way: It cools at 150F/hr from 2100F to 1400F (as opposed to a free-fall). It is amazing how much this improves the brilliance and surface quality (not fully indicated by this photo, the mug on the left is much better).
GA6-B Alberta Slip base on a black
Glaze is GA6-B Alberta Slip rutile blue base. Fired at cone 6. "Mother Nature's porcelain" has 6% Mason 6600 black stain. This glaze is an amber transparent and on the black porcelain produces a blacker deeper color than a typical transparent.
Black engobed M340 stoneware with GA6-B Alberta Slip glaze
Hand built. Cone 6 drop-and-hold PLC6DS firing. The engobe is the L3954B base recipe with added Mason 6600 black stain, it was applied at the leather hard stage inside and part way down the outside. The GA6-B glaze enhances the black under it. By Tony Hansen.
Buff M340 stoneware mug with natural slip glazes
Inside is GR6-A (Ravenscrag Slip with 20% Ferro Frit 3134). Outside GA6-B (Alberta Slip with 20% Ferro Frit 3195). Cone 6 drop-and-hold PLC6DS firing schedule. By Tony Hansen.
Alberta Slip fluxed with frit 3195 vs. FZ-16
Fired at cone 6 using the C6DHSC schedule. On Plainsman M340 and Buffstone. Left: Alberta slip with 20% Ferro frit 3195 (GA6-B). Right: Alberta Slip with 20% Fusion Frit FZ-16 (G3903). This Fusion zinc frit is a super-melter, much better than 3195. A picture cannot do this glaze surface justice! The zinc brings out the red coloration much better. Frit FZ-16 is not readily available, we are hoping companies will eventually stock it. And it produces a more brilliant glassy surface that highlights thickness variations even better. Adding a little extra iron oxide (e.g. 1-2%) would make the effect even richer.
Alberta Slip GA6-B base darkened with iron oxide
Fired to cone 6 using the C6DHSC schedule. Top: GA6-B. This recipe is 80% Alberta slip and 20% Ferro Frit 3195 (we used to use frit 3134 but have found frit 3195 works much better). Bottom: We added 1, 2, 3 and 4% iron oxide. At about 2%, the color matches the rich reddish effect you would get if you used an 80:20 Albany:3195 recipe (without an iron addition). An added benefit is that the iron acts as a fining agent to remove micro-bubbles to achieve better transparency.
G3903 vs. GA6-B Alberta Slip base recipe
The G3903 uses Fusion Frit FZ16, the champion melter of all the frits we have used. It produces a surface so brilliant it is hard to believe the frit is not leaded. It is a zinc frit.
Links
XML to Paste Into Desktop Insight
<recipes>XML not functional: We are working on this problem.</recipes>
By Tony Hansen

---


Copyright 2008, 2015, 2017 https://digitalfire.com, All Rights Reserved