Limit Recipe
This term refers to critical thinking ability that potters and technicians can develop to recognize recipes having obvious issues and merit, simply by seeing the materials and percentages.
Details
There are a proliferation of pottery glaze recipes online, many of which just don't work for functional ware. Or which impact the safety, strength and quality of your ware. There are some simple things to know that enable identifying obvious issues, especially potential toxicity and crazing.

The concept of a limit recipe is akin to a limit formula (except it is applied on the physical material level rather than on the oxide chemistry). We expect the percentages of material types to fall within certain ranges for typical glossy and matte functional or service glazes. If they are not red flags should pop up. Consider some examples:

Glazes need clay to suspend the slurry (and supply Al2O3 to the chemistry). Clays also harden as they dry. If a glaze has only 5% clay, something is wrong, it is just going to be a powder on drying. All functional glazes need plenty of Al2O3, and kaolin is it's main supplier (ball clays also), so there is no reason for it to be low. What if a recipe has 40% kaolin, e.g. a matte? Then it will shrink excessively and crack on drying (and then crawl on firing). Lots of materials can supply some of the Al2O3 so there is no reason for high percentages of kaolin or ball clay.

SiO2 is the building block of all glazes. Most combinations of materials do not supply enough so most recipes contain silica. 10-30% is normal. If there is none the glaze will likely over melt and craze. If there is 40% it won't melt enough.

Middle and low temperature glazes need significant boron (B2O3) to melt them. It comes from Gerstley borate and frits. What if a glaze has none of these, how will it melt sufficiently? Perhaps it employs zinc or lithium as melters. But these are troublesome, are you ready for that?

It is very common to see high feldspar percentages (up to 70%) in stoneware glazes. 30% is normal, 50% is not. Excessive feldspar means crazing.

Does a recipe contain "borax frit"? That is like a cake recipe containing "a grain". There are hundreds of borax frits, they serve temperature ranges from cone 010 to 10, which one? Some contain 2% B2O3, others 30%. The other 98% or 70% could be anything.

Does it contain a feldspar you don't have? Is the chemistry available or is it at least know if it is a potash for soda feldspar that you could substitute. Does it contain a kaolin and ball clay that you do not have? Is it really worth buying these if the recipe has other obvious issues?

Does it contain materials you have never heard of? Is there information there to explain their purpose?

It is normal to see 1% cobalt, it is a powerful colorant. And super expensive. But if there is 5% that is crazy. 3% copper oxide is normal, 10% is not. Carbonate colors (like copper, cobalt) are trouble, they gas during firing and produce blisters, the oxide forms are better. Stains are better yet.

Barium carbonate at 5% might be OK, but 20% is going to produce a toxic glaze. Lithium carbonate likewise.

High percentages of calcium carbonate or dolomite? They gas like mad, can you source CaO and MgO from wollastonite and talc instead?

Are you going to do multi-layering? You cannot just take any recipe found online and expect it to be suitable for multi-layering or as a first-coat dipping glaze.

Don't waste time. It is crazy to have a dozen completely different recipes in your operation. Learn from what commercial glaze manufacturers do. They create a base transparent and add colors, opacifiers and variegators. They use frits and stains, they are so much less troublesome and safer than raw fluxing materials (like lithium carbonate, calcium carbonate, zinc oxide, strontium carbonate, barium carbonate) and raw metallic carbonates and oxides (like copper, cobalt, chrome, iron). Worry about finding ways to save money later, by adjusting a working recipe.

Predict glazes likely to craze, leach, run, settle, crystallize, pinhole, blister.

Under construction.
Related Information
An example of how much Gerstley Borate LOI can affect a glaze
Fired at cone 6. The samples on the bottom tiles are from ten-gram balls that have melted down. These glazes have the same chemistry, but the one of the left sources its B2O3 from Gerstley Borate (which has a high LOI). The one on the right gets it from a frit. Because the fritted version has less gases of decomposition to expel, the glass is much smoother. Curiously, the fritted version is flowing less and the red color has been lost. Why? This could be because the Al2O3, which stabilizes glazes against excessive fluidity, is being dissolved into the melt better and more available for glass building.
The first of 15 "Fool-Proof Recipes" wrecked my kiln shelf!
This is recommended in the booklet "15 Tried and True Cone 6 Glaze Recipes". This melt flow tester compares it with a typical cone 6 glossy, G2926B. This recipe is 90% Frit 3110 and 10% kaolin and their booklet recommends adding stains to it. But anyone knowing a little about this frit knows it would run off this flow tester even before bisque temperatures. It is crazy to recommend this. Even as a crackle. For cone 6 it needs to be diluted much more, not just with kaolin but also silica. I knew this would run but I underestimated its melt fluidity. I put a large tile below the tester to catch overrun, yet the melt ran off that and a big three-cm-wide blob melted through the kiln wash and so far into my zircon shelf I cannot chip it off! I cannot imagine how many people have tried this on vertical surfaces and had the same thing happen. The lesson: Use common sense when looking at recipes, then you don't even need waste time testing them. Even if their authors did not!
Knowing about recipe limits would save you the work of testing this glaze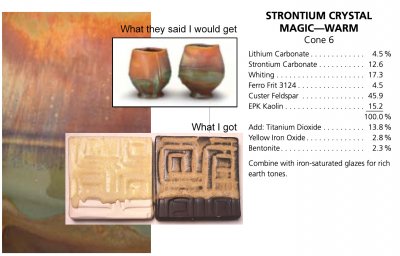 This is an example of a recipe being trafficked online that raises red flags just looking at it. The first red flag: There is no silica! That means this is a low fire glaze masquerading as middle temperature, so it is going to run during firing (run a lot). It will also mean poor durability. There is a ton of feldspar, that means a high level of sodium. Without low-expansion MgO to counterbalance it's high thermal expansion the glaze is likely going to craze badly. The mechanism of the crystallization is titanium over-supply, this has triple the maximum I would ever put in a glaze. The crystallization happens during cooling in the kiln (producing the visual effect being sought). But the the surface produced will cutlery mark and stain, probably very badly. Given the unbalanced chemistry this has, any colorant added will likely be leachable! I tested it and all my fears were realized. My slow-cool firing made the surface so dry it was very unpleasant to touch. Maybe this needs fast cooling. But who knows, there are no notes. This does not appear to belong on any functional ware, inside or outside. Someone noted that people use this to produce layering effects (see links). That begs documentation on how that wold work. Without gum would it lift and crawl as layers are added over it. Would you have to overlay every square inch? Would it still craze? All the how-to information needed to make it work are more important that the recipe itself.
The next time I buy a bunch of materials to test an undocumented online recipe, slap me!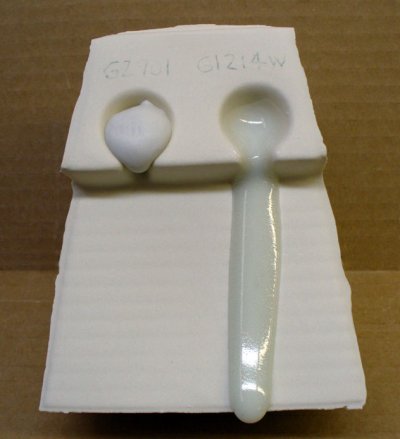 Look at recipes before wasting time and money on them. Are they serious? This is a cone 6 GLFL test to compare melt-flow between a matte recipe, found online at a respected website, and a well-fluxed glossy glaze we use often. Yes, it is matte. But why? Because it is not melted! Matte glazes used on functional surfaces need to melt well, they should flow like a glossy glaze. How does that happen? This recipe has 40% nepheline syenite. Plus lots of dolomite and calcium carbonate. These are powerful fluxes, but at cone 10, not cone 6! To melt a cone 6 glaze boron, zinc or lithia are needed. Boron is by far the most common and best general purpose melter for potters (it comes in frits and gerstley borate, colemanite). Other melters used less often are zinc and lithium (or the fritted forms). The lesson: Look at recipes before trying them, we use the term limit recipe to describe the skill of being able to eye-ball a recipe and quickly assess if it is ridiculous or not.
Is it possible to spot a leaching glaze just by looking at it?
Often the answer is yes. This glaze looks too matte, too metallic, too crystalline. This picture was sent to me by a worried person who had bought it and noticed it discolouring on the inside. The potter may very well have considered this safe just because it was fired to cone 10. It is common among potters to overload glazes with raw metal oxide blends, often 15% or more (e.g. manganese, copper, iron, nickel, cobalt). These percentages cannot be held in solution in the melt as it cools and solidifies, so they precipitate out and crystallize, especially if the glaze is not melting well or has insufficient SiO2. The crystalline forms of these metals might look nice to some people, but the glaze is likely to leach them. It is better to use a ceramic stain to create a black like this, adding it to a stable matte base glaze (one that melts well and has sufficient SiO2 and Al2O3 to create a durable glass). The concept of a limit recipe is helpful in eyeballing recipes for their likelihood of leaching.
EU Food Contact testing limits are changing - 2021
The SMGs (specific migration limits) on lead and cadmium are being reduced and requirements added for compliance on other metals. Testing must be in accordance with European Standards: EN 1388-1 and EN 1388-2. The migration of elements into a food simulant (4% acetic acid) is measured, by accredited methods according to EN ISO/IEC 17025:2005, using FAAS (flame atomic absorption spectrometry). It is a rapid and generally robust interference-free technique having simple external standardization with matrix-matched solutions. Exposure assessment is performed taking into account actual reference doses introduced by the European Food Safety Authority (EFSA) and the Joint FAO/WHO Expert Committee on Food Additives (JECFA). How can one deal with this? Check the limit recipe, leaching and toxicity topics. For maximum assurance, develop your own base recipe and variegate that.
The traffic in glaze recipes will burn your success!
They might look great on a fancy website, but what are the chances they will actually work in your circumstances? Very low. After trying many glazes you may think you have found one that works. But does it really? Or is it erratic and unreliable? Difficult to use. Does it leach or craze or shiver or pinhole or blister? Or give you other problems? Be critical and cautious about recipes you find.
Trafficked online recipes waiting for a victim to try them!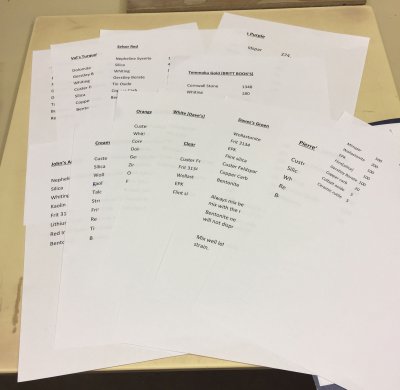 You found some recipes. Their photos looked great, you bought $500 of materials to try them, but none worked! Why? Consider these recipes. Many have 50+% feldspar/Cornwall/nepheline (with little dolomite or talc to counteract their high thermal expansion, they will craze). Many are high in Gerstley Borate (it will turn the slurry into a bucket of jelly, cause crawling). Others waste high percentages of expensive tin, lithium and cobalt in crappy base recipes. Metal carbonates in some encourage blistering. Some melt too much and run onto the kiln shelf. Some contain almost no clay (they will settle like a rock in the bucket). A better way? Find, or develop, fritted, stable base transparent glossy and matte base recipes that fit your body, have good slurry properties, resist leaching and cutlery marking. Identify the mechanisms (colorants, opacifiers and variegators) in a recipe you want to try and transplant these into your own base (or mix of bases). And use stains for color (instead of metal oxides).
We fight the dragon that others do not even see
There are thousands of ceramic glaze recipes floating around the internet. People dream of finding that perfect one, but they often only think about the visual appearance, not of the usability, function, safety, cost or materials. That resistance to understanding your materials and glazes and learning to take control is what we personify as the dragon. Using the resources on this site you could be fixing, adjusting, testing, formulating your own glaze recipes. Start with your own account at insight-live.com.
Links
Glossary
Limit Formula
A way of establishing guideline for each oxide in the chemistry for different ceramic glaze types. Understanding the roles of each oxide and the limits of this approach are a key to effectively using these guidelines.
Glossary
Dipping Glaze
In traditional ceramics and pottery dipping glazes can be of two main types: For single layer and for application of other layers overtop. Understanding the difference is important.
Glossary
Brushing Glaze
Hobbyists and increasing numbers of potters use commercial paint-on glazes. It's convenient, there are lots of visual effects. There are issues compared to dipping glaze. You can make your own.
Glossary
Ceramic Stain
Ceramic stains are manufactured powders. They are used as an alternative to employing metal oxide powders and have many advantages.
Glossary
Mechanism
Identifying the mechanism of a ceramic glaze recipe is the key to moving adjusting it, fixing it, reverse engineering it, even avoiding it!
Glossary
Food Safe
There is an increasing awareness of the food safety of glazes among potters. Be skeptical of claims of food safety from potters who cannot explain or demonstrate why.
Glossary
Glaze Recipes
Stop! Think! Do not get addicted to the trafficking in online glaze recipes. Learn how they work. Understand them. Then make your own or adjust/adapt what you find online.
Glossary
Frit
Frits are used in ceramic glazes for a wide range of reasons. They are man-made materials of controlled chemistry with many advantages or raw materials.
Glossary
LOI
Loss on Ignition is a number that appears on the data sheets of ceramic materials. It refers to the amount of weight the material loses as it decomposes to release water vapor and various gases during firing.
Glossary
Triaxial Glaze Blending
In ceramics many technicians develop and adjust glazes by blending two, three or even four l materials or glazes together to obtain new effects
Articles
Trafficking in Glaze Recipes
The trade is glaze recipes has spawned generations of potters going up blind alleys trying recipes that don't work and living with ones that are much more trouble than they are worth. It is time to leave this behind and take control.
By Tony Hansen

---
---


https://digitalfire.com, All Rights Reserved
Privacy Policy