Pour Glazing
A method of applying glaze evenly and quickly to pottery.
Key phrases linking here: pour glazing, pour glazed, pour-glazed - Learn more
Details
In recent years hobby and even professional potters are been switching to buying bottled glazes and applying them by brush. They deem this worthwhile for the convenience and the greater variety of visuals achievable (as opposed to mixing one's own). However application by pouring is particularly advantageous for certain shapes of ware (e.g. bowl and vase exteriors, flatware), to apply cover glazes (e.g. flat colors, transparents, whites) or for frequently used recipes (e.g. rutile blues, stained base recipes).

Smaller functional ware is particularly well suited to this technique. Pieces can simply be pour-filled and dumped out to get an even coverage on the inside surface.
Related Information
Pour Glazing a Large Terra Cotta Vase
Much better than trying to paint to glaze on from little jars!
Liner Glazing a porcelain mug
The process of applying a liner glaze to a piece (by pouring), applying wax emulsion and terminating it at the rim, then immersing the outside of the piece into a dipping glaze to apply another color to the outside.
Applying an engobe by pouring or spraying
Tap picture for full size
An example of an engobe (slip) applied to dry ware and then fired at cone 2. The one of the left has been poured, the right sprayed. Control of the thickness of engobes is important, thus the specific gravity and viscosity of the slurries are very important. Engobes are invaluable since a red or brown burning body can be made to fire white like porcelain (enabling much better glaze surface quality).
Commercial glazes on decorative surfaces, your own on food surfaces
Tap picture for full size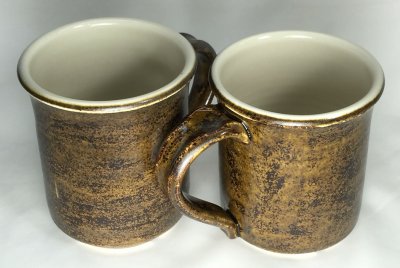 These cone 6 porcelain mugs are hybrid. Three coats of a commercial glaze painted on outside (Amaco PC-30) and my own liner glaze, G2926B, poured in and out on the inside. When commercial glazes (made by one company) fit a stoneware or porcelain (made by another company), it is often purely an accident! So test thoroughly or just use them on the outsides. For inside food surfaces make or mix a liner glaze already proven to fit your clay body, you have to option to make it as a dipping glaze or brushing glaze. One that is sensible enough to fit common sense recipe limits and not have an unbalanced chemistry. And you can use quality materials that you know deliver no toxic compounds to the glass and that are proptioned to deliver a balanced chemistry.
By Tony Hansen
Follow me on

Got a Question?
Buy me a coffee and we can talk
---

https://digitalfire.com
, All Rights Reserved
Privacy Policy