200 mesh
In ceramics, this refers to the particle size of a powder. A 200 screen has 200 wires-per-inch. The openings between the wires measure 74 microns (the width of a typical human hair). While 40 mesh (an opening of 425 microns) is fine enough to remove organic material, rocks and coarse sand from a clay, a 200 sieve will remove all the sand and iron impurities (except for those producing the very tiniest of fired specks).

"200 mesh" is commonly employed is a label attached to air-separated mineral powders used in ceramics. Generally it refers to the coarsest particles present, if the material is passed through a 200 mesh sieve only a small amount of residue should be present. Frits are generally 200 mesh.

200 mesh material is generally suitable for making fine stonewares and whitewares. But for white porcelains, finer materials are needed. 200 mesh silica many not be fine enough for glazes, especially low fire, since not all of the coarser particles will go into solution in the melt.

Related Information
The difference between Silica 90 and Silica 45 will affect the glaze melt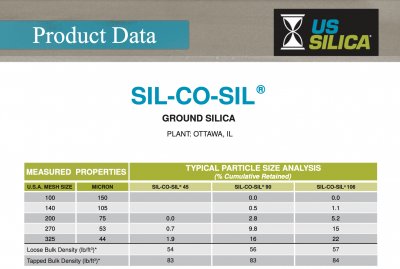 Quartz particles have a high melting point, they must enter the glaze melt by being dissolved by it (usually the last particles to do so). Obviously the silica should be as fine as possible to increase its surface area to be more readily dissolved. The more that dissolves the closer the physical properties of the fired glaze will be its theoretical (e.g. degree of melting, thermal expansion, transparency, durability). This brand of silica, #90 (likely 45 microns) classifies as 200 mesh even though 2.8% remains on the 200 mesh screen. Not surprisingly, their #45 grade retains 1.9% on the 325 mesh screen. However, the most significant aspect is how much of the #90 is on the 325 and 270 mesh screens: 26%. The #45 grade only has 2.6! This is a huge difference and shows the value of using the finer material. It would take a typical ball mill hours to make this difference.
We thought we were using 200 mesh silica until we did this test
On the left is the 200 mesh (75 microns) oversize from 100 grams of US Silica #45 (45 micron) silica: 3 grams. On the right is the material from grade #95: 26 grams! A US standard sieve 140 mesh has an opening of 105 microns, 200 mesh is 74 microns and 325 mesh is 44. Clearly, if you want minus 200 mesh material, the #45 grade is the one to use.

How long do you need to ball mill a glaze?
You can measure to see. How? Wash a measured amount through a 200 mesh screen and note the amount of residue. These two show the oversize on a 200 mesh screen of 100 grams of glaze slurry. On the left: Unmilled. On the right: Milled 1 hour. Clearly it needs more than 1 hour in this mill. A factor here is the high percentage of silica in this recipe. And the fact that US Silica #95 rather than #45 was used.
325 mesh
A 325 screen has 325 wires-per-inch (the finer of the two screen closeups shown here). Those are grains of salt on it (45 micron openings, a typical human hair is 60 microns wide). A 40 mesh screen is much coarser, it has 425 micron openings (that is a particle of quartz trapped in an opening). A minus 45 mesh powder will be too fluffy to drop through a 325 screen. But particles smaller than 45 microns in a slurry will pass. To get a slurry through a screen this fine one needs to take special measures. I needs to have a high water content so it is fluid. Using a soft brush definitely helps. And a source of vibration. And it is necessary to clean the screen often to remove trapped oversize material. 325 mesh screen fabric is fragile and a sieve like this needs to be treated with care. These cost hundreds of dollars.
Links