Plaster table
Every serious potter needs a plaster table. The bigger the better. Plaster is porous, it can absorb alot of water. You can pour a clay slurry onto plaster and it sucks out the water. It is magic. And clay does not stick to plaster, so it is a perfect surface for wedging. And for setting freshly-thrown ware (to pull water out of the thicker, and thus slower-drying base).

Below are a series of pictures showing how I re-poured the 350 lb plaster slab into a frame that my father made for Luke Lindoe many years ago. That frame showed no signs of rot, he had treated it with a preservative. The construction is ingenious, the 1x12 outer cap is fastened very securely to the 4x4 legs and the inner 2x4s are secured to it. It is very strong, it withstood alot of my banging on it with a big hammer and chisel to get the old slab out of there. This type of frame gave me a lot of flexibility during the pour. I was able to do it alone in a couple of hours. I poured 2-bag batches in succession, the previous just barely setting before I poured the next. I had a 20 gallon plastic container on wheels, so I could power-mix it (using a propeller mixer) by our dust hood and wheel in to the table and use a bucket to empty it into the frame.
Related Information
Plaster table frame
The old, worn-out plaster slab has been removed (using a sledge hammer) and everything cleaned up. One cardboard insert has been put in place.
Detail of the corner construction of the plaster table frame
4x4 legs. 1x12 side. 2x4 cross members.
Inside detail of the construction of the plaster table frame
2x4s are nailed to the 1x12s along the length to support the 2x4 cross members.
A table frame almost ready to fill with a 7-bag plaster mix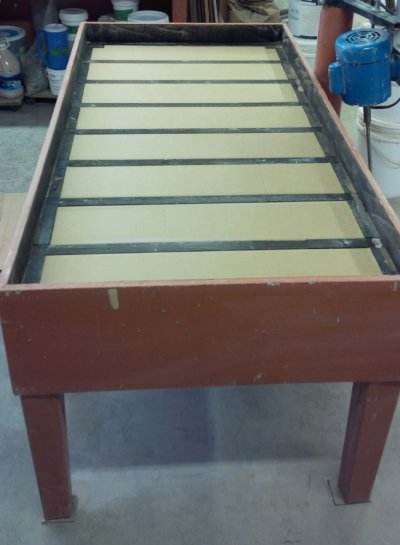 A plaster table wooden frame with cardboard retainers stapled in place and ready for the plastic liner. This will hold a 350 pound plaster slab. That slab will absorb 100 lbs of water from a slurry.
Plaster table frame with cardboard liners around the outer edge
These liners have been covered in plastic tape. They extend 3/4 inch above the outside wooden frame. The plaster slab must rise above the frame.
Underside of plaster table frame with cardboard retainers in place
Each has been cut and folded to size and stabled in place. These will bear the weight of the plaster when poured.
Plaster table frame with plastic in place, ready to pour
The plaster will push the plastic into place tightly against the frame.
Plaster table poured and read to dry
The drying will take a couple of weeks. It can be accelerated using fans. The table is now very heavy, it cannot be easily moved. The plaster has found its own level, slurry poured onto it will not run in any particular direction.
Make a super durable mobile plaster table
This is an example of a plaster table on wheels (made using angle iron). 150 lbs plaster and 92 lbs water were poured onto the plastic (which was supported by cardboard attached below). This one uses Duramold pottery plaster.
Pour the slurry on a plaster table to dewater it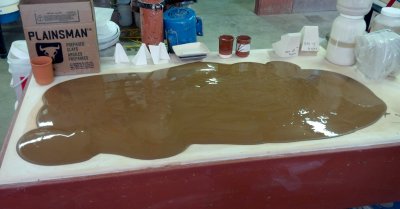 This table weighs 400 lbs dry and it can remove the water in an hour. If you need to make a plaster table you can find photos here on how to do it.
Plaster bats are indispensable to the potter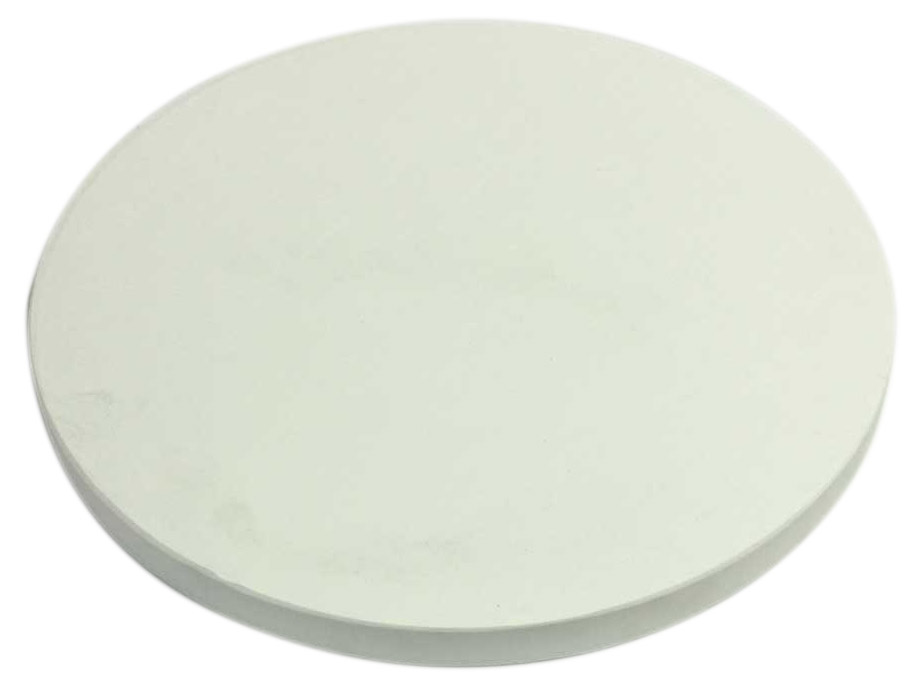 Although there are reasons to use various types of bats in ceramic production (e.g. wood, plastic, masonite), for throwing pieces that are too big or fragile to lift immediately, a plaster bat is the best solution. This is especially so for porcelaineous clays that are difficult to dry. The main reason for this to minimize drying cracks. The plaster pulls water out of the base of the piece in the hours it sits after throwing. That solves a fundamental problem, for example, with making large platters and bowls. On a wooden bat the rims of these need to be dried until the walls are stable enough to support the weight upside down. By the time that happens the rim is well ahead of the base and a gradient has been set up that can case a drying crack across the base later. These are fairly expensive, but it is easy to make your own.
Links