Characterization
In ceramics, this normally refers to the process of doing physical or chemical testing on a raw material to accurately describe it in terms of similar ones.
Details
When ceramic materials are "understood" it is possible to control the properties of the bodies and glazes they are used in. Characterizing them is about understanding them. It is about being able to describe what a materials is in terms that will enable a user to determine its suitability (often compared to alternatives rather than in absolute terms). Product data sheets highlight properties of a material that are of interest to its users. It is common for the same material to be sold to different markets and be characterized in a unique way for each one (emphasizing only pertinent properties). All of this being said, we believe that data sheets full of numbers are not an inadequate way to understand a material, especially a clay. These numbers often seem a poor description for a material that can take many years to learn to use. Attempting to compare different materials by these numbers alone can be a frustrating experience. At times it even appears that companies do not really understand a product they themselves are manufacturing for ceramics!

In glazes, the focus is normally on the chemistry of the materials since this has the biggest effect on fired properties. Frits, for example, find their entire merit in their chemistry and switching from one to another is all about how similar that chemistry is (or your ability to do glaze chemistry to juggle recipe ingredients to compensate for a new material that does not have the same chemistry). Feldspars are a similar story. But in clay bodies, the physical and fired properties are much more easily related to the physical properties of the materials in their makeup.

The ceramic world functions on "recipes" and often much less effort is put into understanding them that should be. An example of this is the pursuit of substitutes for materials in recipes. These substitutes can be straight -forward (e.g. switching one source of silica to another) but they often come with a complicated list of trade-offs. For example, switching from a English kaolin to an American one in a porcelain recipe might seem simple but it is not, these are quite different materials. One needs to consider impacts on body plasticity, degree of maturity (with associated fired hardness and durability, stickiness, fired color, translucency, effect on thermal expansion and drying performance).

Substituting materials becomes more complicated for secondary clays. These have chemistries, but often the chemical makeup is more difficult to connect with the physical and firing behaviour. This is often because the materials are not finely ground and their powders have populations of a variety of difficult mineral particles (which interact in complex ways). It is common for people to substitute materials in recipes simply because they have similar-sounding names! Red-burning clays can be particularly problematic. At high temperatures red-burning stonewares depend on a recipe that contains mostly refractory materials and a controlled amount of flux (e.g. a feldspar or high-feldspar clay). The color is achieved by finding a balance between an adequate degree of vitrification (for fired density and strength) but not too much (or the clay turns brown). If a refractory red burning clay (in the recipe) is switched from low fire red (e.g. a terra cotta material like RedArt) then the red color will be lost (the body will fire brown).

The most practical way to characterize clay materials is by:
-Firing test bars at various temperatures to profile the color, fired shrinkage and porosity (e.g. the SHAB test).
-Measuring the dry strength, dry shrinkage and drying performance (e.g. the DFAC test).
-Measured the particle size distribution (e.g. the SIEV test).
-Making ware using the material pure.

While the chemistry of glaze materials is their most important characteristic, it is also important to consider their other properties (this can be a determining factor in a choice). For example, feldspar and kaolin source Al2O3, but the kaolin suspends the slurry and hardens the glaze so at least 15% of it is needed. Calcined alumina also sources Al2O3 but its physical form is highly refractory and it does not dissolve into the melt readily. Talc and dolomite both source MgO, wollastonite and calcium carbonate both source CaO, but the first two have a lower LOIs.
Related Information
Testing your own native clays is easier that you might think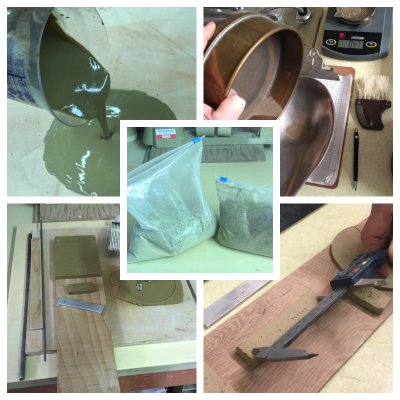 Some simple equipment is all you need. You can do practical tests to characterize a clay in your own studio or workshop (e.g. our SHAB test, DFAC test, SIEV test, LDW test). You need a gram scale (accurate to 0.01g) and set of calipers (check Amazon.com). Some metal sieves (search "Tyler Sieves" on Ebay). A stamp to mark samples with code and specimen numbers. A plaster table or slab. A propeller mixer. And, of course, a test kiln. And you need a place to put, and learn from, all the measurement data collected. An account at insight-live.com is perfect.
The top pile of clay can make one million coffee mugs. The bottom one can glaze ten million!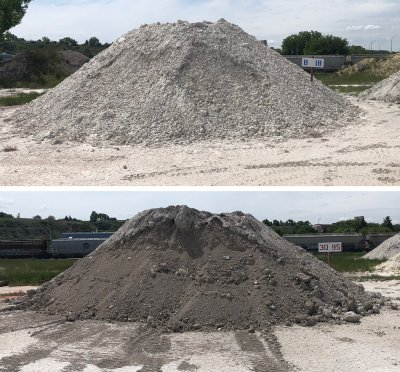 These are raw clays behind the Plainsman Clays plant. The top one is a middle temperature stoneware. All it needs is a little bentonite (about 2-3%) to be a plastic, smooth, vitreous throwing body. If it was not mature at cone 6, that would be easy to fix by the addition of a little feldspar. Any fired-speck-producing impurities can be removed by using a propeller mixer to slurry it and then putting it through a screen (e.g. 60 mesh). After dewatering on a plaster table I am ready-to-go. And that bottom pile? That is the main ingredient in Ravenscrag Slip. All it needs is some feldspar and frit to be a base glaze at cone 6. It is non-plastic and easy to screen (although not really needed since it has few particulate impurities). Likely there are clays in your area you could use to make your own clay bodies and glazes also. The key is to characterize the material first so you know what type of body it would be best for and what to add to get it there.
How do you decide what temperature to fire this terra cotta at?
Let's suppose you need strength and density for utilitarian ware. These SHAB test bars characterize a terra cotta body, L4170B. While it has a wide firing range its "practical firing window" is much narrower than these fired bars and graph suggest. On paper, cone 5 hits zero porosity. And, in-hand, the bar feels like a porcelain. But ware will warp during firing and transparent glazes will be completely clouded with bubbles (when pieces are glazed inside and out). What about cone 3? Its numbers put it in stoneware territory, water tight. But decomposition gases still bubble glazes! Cone 2? Much better, it has below 4% porosity (any fitted glaze will make it water-tight), below 6% fired shrinkage, still very strong. But there are still issues: Accidental overfiring drastically darkens the color. Low fire commercial glazes may not work at cone 2. How about cone 02? This is a sweet-spot. This body has only 6% porosity (compared to the 11% of cone 04). Most low fire cone 06-04 glazes are still fine at cone 02. And glaze bubble-clouding is minimal. What if you must fire this at cone 04? Pieces will be "sponges" with 11% porosity, shrinking only 2% (for low density, poor strength). There is another advantage of firing as high as possible: Glazes and engobes bond better. As an example of a low fire transparent base that works fine on this up to cone 2: G1916Q.
Links
Articles
Low Budget Testing of the Raw and Fired Properties of a Glaze
There is more to glazes than their visual character, they have other physical properties like hardness, thermal expansion, leachability, chemistry and they exhibit many defects. Here are some simple tests.
Articles
How to Find and Test Your Own Native Clays
Some of the key tests needed to really understand what a clay is and what it can be used for can be done with inexpensive equipment and simple procedures. These practical tests can give you a better picture than a data sheet full of numbers.
Articles
Formulating a body using clays native to your area
Being able to mix your own clay body and glaze from native materials might seem ridiculous, yet Covid-19 taught us about the need for independence.
Glossary
Physical Testing
In ceramics, glazes and bodies have a chemistry, a mineralogy and a physical presence. All of these need to be understood to adjust and fix issues.
Glossary
Glaze Chemistry
Glaze chemistry is the study of how the oxide chemistry of glazes relates to the way they fire. It accounts for color, surface, hardness, texturem, melting temperature, thermal expansion, etc.
Glossary
Clay body
A term used by potters and in the ceramic industry. It refers to the earthenware, stoneware or porcelain that forms the piece (as opposed to the engobe and covering glaze).
By Tony Hansen

---
---


https://digitalfire.com, All Rights Reserved
Privacy Policy