Slurry Up
The process of slurrying a clay body powder and dewatering it on a plastic slab or table.
Details
In ceramics this expression is a verb referring to preparation of a plastic clay body by weighing out the materials in the recipe, blending the powders, propeller-mixing them with water to make a slurry and then pouring that slurry on to a plaster table. Having the materials and equipment to prepare small amounts of clay bodies in this manner greatly enhances your ability to develop and adjust your own clay bodies.

Plastic bodies prepared in this manner require no deairing and no aging (if the propeller mixer is powerful enough to put plenty of energy into wetting the surfaces of all the clay particles). Even mixes with significant bentonite will mix well when done in this way since the bentonite particles are separated by the particles of the other materials in the recipe, this prevents lumps that form when trying to slurry pure bentonite.

Of course the term "slurry up" can also refer to mixing batches of casting slip, engobe, slip and even glaze.
Related Information
The recipe mixing area of Tony Hansen
This is my lab work area of mineral, frit, chemical, stain and metal oxide powders for mixing test glazes and clay bodies. Not shown is my propeller mixer, perhaps the most important piece of equipment we have. And my plaster table for dewatering clay body slurries. Building up something like this, over time, is practical for any serious potter, most of these powders are inexpensive. Within minutes I can plan and enter a recipe into my Insight-live.com account, give it a code number, print it and weight it out.
Pouring the slurry on a plaster table to dewater it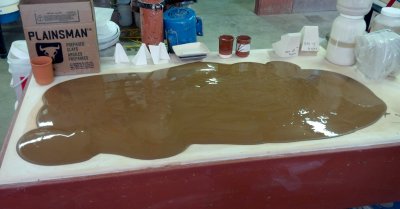 Pottery plaster is highly absorbent, it can remove the water from this thick slurry, made from a 5 kg powder mix, in an hour. Slurries of higher water content dewater much quicker, a 1 kg mix can be ready in minutes. This table weighs 400 lbs dry, but smaller ones are equally practical for smaller test batches. Plaster tables are much more practical in arid climates, it is dry here so one this size can supply enough clay for production of a potter. In wetter climates ductwork can be installed within the plaster and air pressure can be used to dewater the table. If you need one of these, photos are linked to our plaster table article.
Testing your own native clays is easier that you might think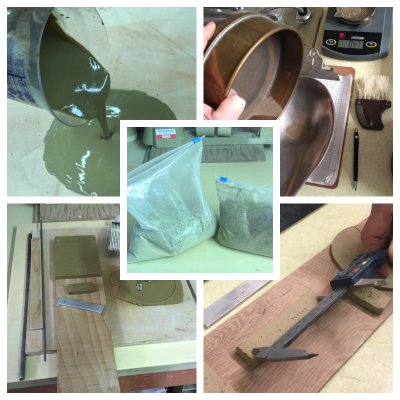 Some simple equipment is all you need. You can do practical tests to characterize a clay in your own studio or workshop (e.g. our SHAB test, DFAC test, SIEV test, LDW test). You need a gram scale (accurate to 0.01g) and set of calipers (check Amazon.com). Some metal sieves (search "Tyler Sieves" on Ebay). A stamp to mark samples with code and specimen numbers. A plaster table or slab. A propeller mixer. And, of course, a test kiln. And you need a place to put, and learn from, all the measurement data collected. An account at insight-live.com is perfect.
A must-have: Laboratory variable speed propeller mixer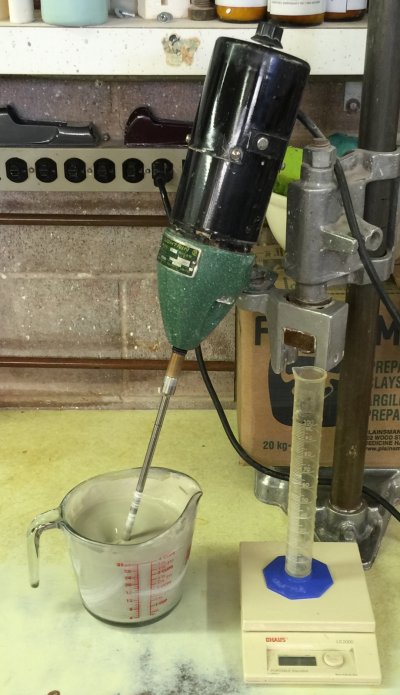 If you are at all serious about testing glazes and clay bodies, you need one of these. There are other methods, but nothing else comes close to this. It is the most valuable and frequently used tool in any ceramic bodies and glazes testing lab or classroom. These are expensive new, this Lightnin 1/20 hp variable speed cost more than $1000 many years ago, now it could be $4000! But you can get them used on ebay.com. I adapted a mount (to give it vertical adjustment) from a hardware store. Propellers are also expensive, but you can design and 3D print them yourself or have them printed at a place like shapeways.com.
By Tony Hansen

---
---

https://digitalfire.com
, All Rights Reserved
Privacy Policy