Slurry Up
The process of slurrying a clay body powder and dewatering it on a plastic slab or table.
Key phrases linking here: slurry it up, slurried up, slurry up, slurry-up - Learn more
Details
In hobby ceramics and pottery, this expression is a verb referring to the preparation of a plastic clay body by weighing out the materials in the recipe, blending the powders, propeller-mixing them, and then dewatering the slurry (usually by pouring it onto a plaster table). Having the materials and equipment to prepare small amounts of clay bodies in this manner greatly enhances your ability to develop and test clay bodies (or even supply a production process if a plaster table is available).

Mixes that contain significant bentonite present special challenges when mixing with water. Some of these are so difficult that even high-speed propeller mixers cannot adequately remove agglomerates in slurries containing them. To deal with this it is very important that the powder batches be thoroughly mixed first before being added to the water (e.g. being vigorously shaken together in a plastic bag). This separates the bentonite particles, distributing them among the other materials in the recipe, thus preventing agglomerates from forming in the water. Mixes containing superfine materials like Veegum present another issue: They turn to jelly during mixing and can require much more water (perhaps double or even triple) in order to be fluid enough to move freely. If dewatering is needed it will obviously require much more time.

Watch for lumps, graininess and other signs of incomplete mixing in your slurries. Well-mixed ceramic slurries made from fine powders are creamy and silky smooth. If not then something is wrong. Blender mixing works extremely well for small batches and will create expectations when making larger batches.

Plastic bodies prepared in this manner require no deairing and no aging, the slurry mixing accomplishes both. If your plaster table is not waterlogged it can actually be faster to dewater slurries of higher water content, they spread out more thinly on the plaster and release their water more readily. Dewatering speed can also be improved by scraping up the clay, using a rubber rib, after the water sheen has disappeared, and turning it over and spreading it out.

Of course the term "slurry up" can also refer to mixing batches of casting slip, engobe, slip and even glaze.

Related Information
Testing your own native clays is easier than you think
Tap picture for full size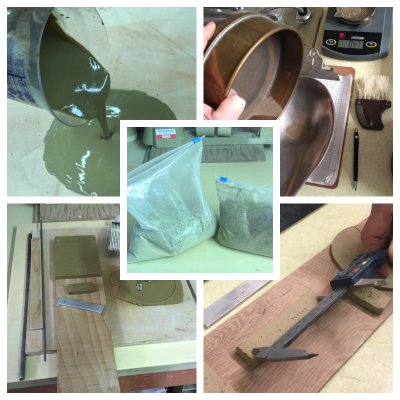 Some simple equipment is all you need. You can do practical tests to characterize a local clay in your own studio or workshop (e.g. our SHAB test, DFAC test, SIEV test, LDW test). You need a gram scale (preferably accurate to 0.01g) and a set of callipers (check Amazon.com). Some metal sieves (search "Tyler Sieves" on Ebay). A stamp to mark samples with code and specimen numbers. A plaster table or slab. A propeller mixer. And, of course, a test kiln. And you need a place to put all the measurement data collected and learn from it (e.g. an account at insight-live.com).
Pouring the slurry on a plaster table to dewater it
Tap picture for full size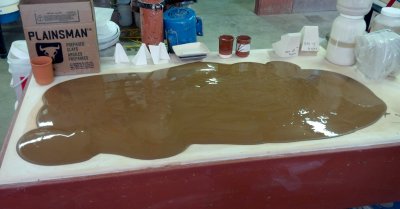 Pottery plaster is highly absorbent, it can remove the water from this thick slurry, made from a 5 kg powder mix, in an hour. Slurries of higher water content dewater much quicker, a 1 kg mix can be ready in minutes. This table weighs 400 lbs dry, but smaller ones are equally practical for smaller test batches. Plaster tables are much more practical in arid climates, it is dry here so one this size can supply enough clay for production of a potter. In wetter climates ductwork can be installed within the plaster and air pressure can be used to dewater the table. If you need one of these, photos are linked to our plaster table article.
The recipe mixing area in the Plainsman Clays lab
Tap picture for full size
This is my lab work area of mineral, frit, chemical, stain and metal oxide powders for mixing test glazes and clay bodies. Not shown is my propeller mixer, perhaps the most important piece of equipment we have. And my plaster table for dewatering clay body slurries. Building up something like this, over time, is practical for any serious potter, most of these powders are inexpensive. Within minutes I can plan and enter a recipe into my Insight-live.com account, give it a code number, print it and weight it out.
A must-have: Laboratory variable speed propeller mixer
Tap picture for full size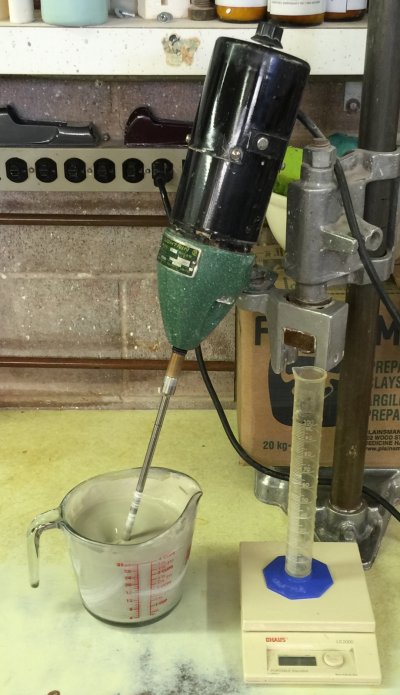 If you are at all serious about testing glazes and clay bodies, you need one of these. There are other methods, but nothing else comes close to this. It is the most valuable and frequently used tool in any ceramic bodies and glazes testing lab or classroom. These are expensive new, this Lightnin 1/20 hp variable speed cost more than $1000 many years ago, now it could be $4000! But you can get them used on ebay.com, it uses a 7.9mm dia (5/16") shaft. I adapted a mount (to give it vertical adjustment) from a hardware store. Propellers are also expensive, but you can design and 3D print them yourself or have them printed at a place like shapeways.com.
Get a kitchen blender for mixing ceramic slurries
Tap picture for full size
Blender mixing is invaluable in slurry preparation in small scale ceramics and testing. It is quick and so effective that not only are particle surfaces wetted much better but clay particles can actually be reduced in size (literally ground finer). Slurry rheology is also stabilized. For example, thixotropy can often be achieved naturally, without any additives. Materials that are otherwise impossible to mix into a slurry (e.g. bentonite, Veegum, CMC gum) are no problem. Even slurry-processed porcelains benefit, not only being more plastic, but firing to a more homogeneous surface and to greater density. Just visually, it is easy to see how much improved this MNP slurry is (a local clay with porcelaneous properties). It was mixed using our propeller mixer and seemed OK (on the left). But the improvement after only 20 seconds in the blender (right) is amazing.
A practical dust box is better than a dust hood, you can make this one
Tap picture for full size
An example of a custom-made dust collection hood in our repackaging and lab recipe mixing area. The slots along the front suck particles into the duct directly away from the operator's face. Suction comes from a centrifugal exhaust fan downstream where the pipe exits the building, it is driven by a 3/4hp motor (these fans are best at sucking, not blowing, so they need to be located at the exit). About 40 feet of 8 inch heating pipe connects from the hood to a fitting that expands to 12 inches going into the fan. The sliding damper above the hood enables stopping all airflow (to prevent heat loss during cold days). Notice it is located above the scale and heat sealer where most dust is generated during weighing and packaging.
Sanding the surface of a plaster table to keep it absorbent
Tap picture for full size
The water that a plaster table absorbs from clay slurries contains soluble salts. They penetrate into the plaster and then come back out to the surface as the water evaporates, forming a hard and less absorbent layer. Variable absorbency in a plaster surface can easily be observed as it is cleaned with a sponge and water. Fortunately, that layer is very thin and can be removed by sanding. Plaster is durable and can serve for decades using this technique. These durable fabric sand paper screens work exceptionally well because they can be used with water and to not blind. They are available in hardware stores and sold as drywall sand screens. We have seen 150, 120 and 80 grit (the latter is the one used here).
Links
By Tony Hansen
Follow me on

Got a Question?
Buy me a coffee and we can talk
---


https://digitalfire.com, All Rights Reserved
Privacy Policy