How much feldspar should be used in a Grolleg porcelain?
These are cone 10R porcelains made using Grolleg kaolin, feldspar and silica. Plainsman P700 (left) has 20% G200 Feldspar. Coleman porcelain (popular among potters in the US) has 30% of the same feldspar. The Coleman porcelain is certainly more vitreous. In fact, it is too vitreous. It is much more likely to warp during firing. And, it is much more problematic with regard to plucking (lower left), foot rings glue to even kiln-washed shelves. But, notice that the Coleman porcelain is not any more translucent than P700 (it appears less so because I could not throw it as thin). So why is 30% feldspar even used? I have a theory: American kaolins do require 30% feldspar to vitrify at cone 10, but not Grolleg. it contains significant natural feldspar, so much so that far less feldspar is needed in the recipe. I think that, in the past, Grolleg was simply substituted for an American kaolin a standard recipe. P700 benefits in a special way by recognizing this different in Grolleg: It dedicates the 10% gain to kaolin, increasing body plasticity. On top of that it adds bentonite, producing a porcelain whose high plasticity would come as a shock to people used to the Coleman body.
Related Pictures
The translucency of Polar Ice porcelain
Tap picture for full size and resolution
Polar Ice is made by Plainsman Clays, it is by far the most expensive body they make (because of the use of New Zealand kaolin and VeeGum). I call these my "sunshine mugs". They are fired at cone 6 (2200F) with a transparent glaze on the inside (G2926B) and G2934Y yellow silky matte on the outside. This yellow glaze showcases the translucency in sunlight better than any other I have seen. The high plasticity and this "pie crust" method of making them enables thinner walls than any other method I know of, even casting. Although the walls of this piece are about 3.5 mm thick, I have achieved 2 mm using stiffer clay! Even with very thin walls the weight of the handle does not pull the lips of these into an oval-shape.
Serious cracking in a crystalline-glazed P700 Grolleg porcelain. Why?
Tap picture for full size and resolution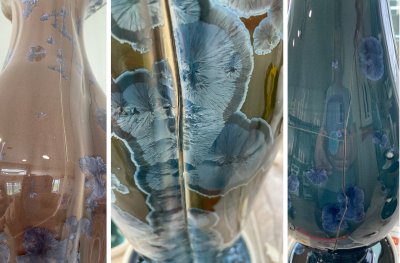 The cracks appear to have happened on heat-up (because they have widened). Bisque firing was done around cone 04. Issue 1: The cone 10 electric firing was up-ramped at 400F/hr to 2330F (so it whizzed pass quartz inversion on the way!). Issue 2: Wall thickness variations in the pieces, they produce temperature gradients that widen as firing proceeds. Issue 3: Abrupt contour changes and sharp corners, especially when coincident with thickness variations, provide failure points that rapid temperature changes exploit. Issue 4: This new body is more plastic than the previous Grolleg porcelain used, that was likely an enabler to making these thin wall sections even thinner. But remember, practically any piece (unless it has huge in-stresses from uneven drying) can exit a kiln crack-free if firing is done evenly and slowly enough. Results of past firings are the main guide to know what to do in future ones, this is now a "past firing". So the first obvious fix here is slower heat-up, especially around quartz inversion (1000-1100F). Second: more even wall thickness.
Links