Imagine realizing that pottery you're selling is all going to craze!
Every single piece you have been making is all eventually going to craze! Do you refund all the customers? All because you trusted a liner glaze recipe found online. At a reputable site. This recipe is called "Classic White". And it has "classic crazing". On going back to the source web page you find there is no mention of even the possibility of crazing. Then you type the recipe into your account at Insight-live.com and are horrified to see how high the thermal expansion calculates to (see red circles on picture). Then you realize that, based on simple recipe limits, you could have steered clear of this just by looking at it. Then you find there are other well-documented base glossy and matte recipes that do not craze (like G2934 and G2926B). Even if they do they are adjustable to enable fixing the issue. And you can even blend them to create any degree of satin desired. And they use a mix of tin oxide and Zircopax to avoid crawling. And they are durable, don't cutlery mark, don't leach, don't run, don't settle in the bucket.
Related Pictures
Commercial glazes on decorative surfaces, your own on food surfaces
Tap picture for full size and resolution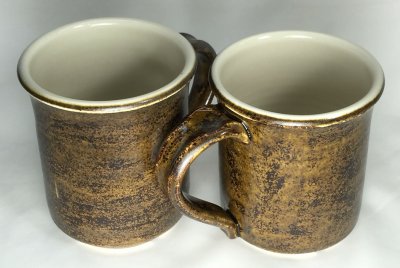 These cone 6 porcelain mugs are hybrid. Three coats of a commercial glaze painted on outside (Amaco PC-30) and my own liner glaze, G2926B, poured in and out on the inside. When commercial glazes (made by one company) fit a stoneware or porcelain (made by another company), it is often purely an accident! So test thoroughly or just use them on the outsides. For inside food surfaces make or mix a liner glaze already proven to fit your clay body, you have to option to make it as a dipping glaze or brushing glaze. One that is sensible enough to fit common sense recipe limits and not have an unbalanced chemistry. And you can use quality materials that you know deliver no toxic compounds to the glass and that are proptioned to deliver a balanced chemistry.
Links