Trafficking
At Digitalfire we use the term trafficking to describe the online trade in ceramic and pottery glazes recipes. Don't get addicted or trapped, to learn more reach the article linked below.
Related Information
Trafficked online recipes waiting for a victim to try them!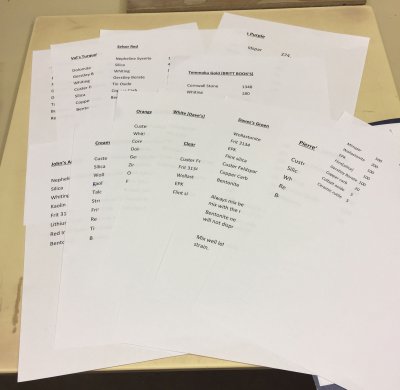 You found some recipes. Their photos looked great, you bought $500 of materials to try them, but none worked! Why? Consider these recipes. Many have 50+% feldspar/Cornwall/nepheline (with little dolomite or talc to counteract their high thermal expansion, they will craze). Many are high in Gerstley Borate (it will turn the slurry into a bucket of jelly, cause crawling). Others waste high percentages of expensive tin, lithium and cobalt in crappy base recipes. Metal carbonates in some encourage blistering. Some melt too much and run onto the kiln shelf. Some contain almost no clay (they will settle like a rock in the bucket). A better way? Find, or develop, fritted, stable base transparent glossy and matte base recipes that fit your body, have good slurry properties, resist leaching and cutlery marking. Identify the mechanisms (colorants, opacifiers and variegators) in a recipe you want to try and transplant these into your own base (or mix of bases). And use stains for color (instead of metal oxides).
Knowing about recipe limits would save you the work of testing this glaze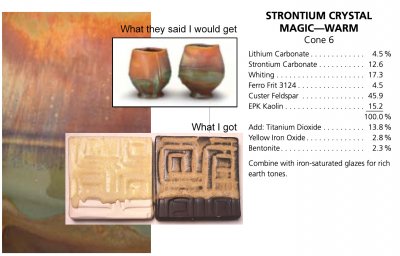 This is an example of a recipe being trafficked online that raises red flags just looking at it. The first red flag: There is no silica! That means this is a low fire glaze masquerading as middle temperature, so it is going to run during firing (run a lot). It will also mean poor durability. There is a ton of feldspar, that means a high level of sodium. Without low-expansion MgO to counterbalance it's high thermal expansion the glaze is likely going to craze badly. The mechanism of the crystallization is titanium over-supply, this has triple the maximum I would ever put in a glaze. The crystallization happens during cooling in the kiln (producing the visual effect being sought). But the the surface produced will cutlery mark and stain, probably very badly. Given the unbalanced chemistry this has, any colorant added will likely be leachable! I tested it and all my fears were realized. My slow-cool firing made the surface so dry it was very unpleasant to touch. Maybe this needs fast cooling. But who knows, there are no notes. This does not appear to belong on any functional ware, inside or outside. Someone noted that people use this to produce layering effects (see links). That begs documentation on how that wold work. Without gum would it lift and crawl as layers are added over it. Would you have to overlay every square inch? Would it still craze? All the how-to information needed to make it work are more important that the recipe itself.
Links
Articles
Trafficking in Glaze Recipes
The trade is glaze recipes has spawned generations of potters going up blind alleys trying recipes that don't work and living with ones that are much more trouble than they are worth. It is time to leave this behind and take control.
Glossary
Variegation
Ceramic glaze variegation refers to its visual character. This is an overview of the various mechanisms to make glazes dance with color, crystals, highlights, speckles, rivulets, etc.
Glossary
Triaxial Glaze Blending
In ceramics many technicians develop and adjust glazes by blending two, three or even four l materials or glazes together to obtain new effects
By Tony Hansen

---
---


https://digitalfire.com, All Rights Reserved
Privacy Policy