Digitalfire Reference Library
The Digitalfire Reference Library is a public website at http://digitalfire.com/home. It has no ads and no analytics, so no bots follow you in our out. An online library of practical technical information about traditional ceramics for hobbyists, potters, education and manufacturing. It contains thousands of evolving pages about how to adjust and fix issues with materials, recipes and procedures. It is about understanding things from the physical and process levels down to the material, mineral and chemistry levels. It has been under constant construction since the mid 90s and it's pages have been Google-top-tens since then. It is mobile-first, menu driven, interlinked, searchable and the URLs are structured in a logical hierarchy. It is backed by Insight-live.com, where enthusiasts can get an account and do the record keeping needed to learn from their testing, troubleshooting and development work.
It is authored as a database with code to translate that for public consumption. Tony Hansen first created database using DOS Foresight (which he wrote in the late 1980s). By the early 90s code was publishing the database as a PDF file (The Magic of Fire book). The authoring system evolved into the online 4Sight CMS, it had automatic publishing tools that created the thousands of pages of the library online (with tens of thousands of interlinks). Today, new publishing code creates a Bootstrap-based UI for a mobile-first experience with many new features. Throughout the time of development, Tony has published software products (desktop Insight, Foresight, Insight-live.com) giving people calculation and data management tools to make the best use of the library.
Related Information
The New 2020 Digitalfire Reference Library is Here
It has morphed into a webapp, reflexive and menu-driven (based on Twitter Bootstrap). It now employs permanent URLs. And pages have logical, and hierarchical URLs (e.g. digitalfire.com/oxide/cao, digitalfire.com/material/feldspar). It correctly forwards 5000+ old URLs. Terms from the glossary automatically hotlink throughout (as do code-numbers for recipes, tests and firing schedules). The search field in the menu bar is area-specific (or all-area at digitalfire.com/home). Still no ads and no tracking. The UI displays from server #1, it calls the database API on #2, the email system on #3, media from #4 and insight-live.com from server #5! So it is super fast, flexible and expandable. There are new areas (e.g. projects, pictures, typecodes). Media displays better. Every page still has a contact form, so you can ask any question anywhere. What till you see what's coming!
An example of a material report at the Digitalfire Reference Library
Many of the materials listed are not described well or at all by their manufacturers. This is an example of where we had to do our home work, researching and rationalizing it to determine what information is likely more and less reliable. In many cases we simply do testing in our own lab.
Here is what digitalfire.com looked like in 1997!
We already had a large library of educational material (the predecessor of the Digitalfire Reference Library). The Foresight product was the fore-runner to insight-live.com today. And it was free like today. And we were warning people about the importance of safe glazes and understanding the "why" questions about the ceramic process.
Magic of Fire book
A book published by Tony Hansen (no longer available). It explained why we need to think about materials (and the bodies and glazes made from them) as more than just powders. They have physical, chemical and mineralogical presences, a knowledge of which provides better control in ceramic production. This was the first widely read book to show how, using this knowledge and glaze chemistry, readers could solve all sorts of problems. It showcased the real value of the oxide viewpoint in ceramics and explained how to use Digitalfire Insight and Foresight software in each scenario. From 2000-2014, the book was used as courseware in universities around the world. In 2015 it was superseded by the online Digitalfire Reference Library (which is a superset of its content).
Get ready for supply interruptions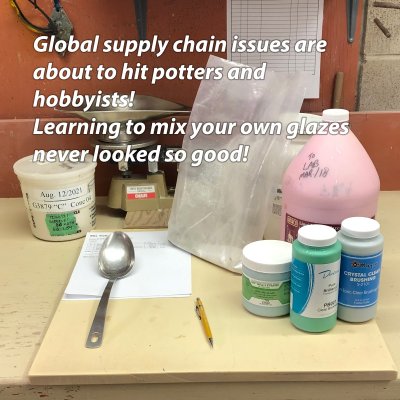 Material prices are sky rocketing. Prepared glaze manufacturers have complex international supply chains. It is only a matter of time until you are affected. We are happy to sell you bottled glazes, if we can get them! But now might be the time to start learning how to weigh out the ingredients to make your own. Armed with good base glazes that fit your clay body (without crazing or shivering) you will be more resilient to supply issues. Add stains, opacifiers and variegators to the bases to make anything you want. That being said, ingredients in those recipes may become unavailable! That underscores a need to go to the next step and "understand" glaze ingredients. And even improve and adjust recipes. It is not rocket science, it is just work accompanied by organized record-keeping and good labelling.
Links