Pierre Aupilardjuk and John Kurok firing their work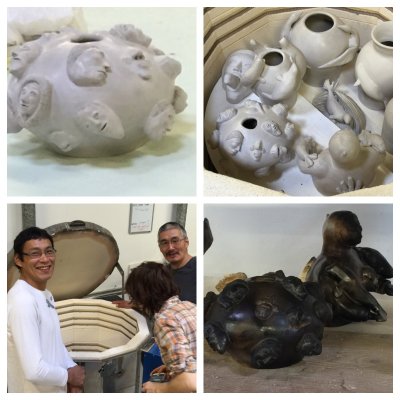 The work of Pierre Aupilardjuk and John Kurok from Rankin Inlet, Nunavut, Canada. They are visiting the Medalta International Artists in Residence program in Alberta during the fall of 2016 to demonstrate their firing technique. First they sculpt the pieces from a medium temperature stoneware (lightly grogged body), then dry and apply terra sigilata. Finally they bisque them. Next they carefully stack items into a 45 gallon drum with fine wood chips filling all spaces. The drum has an expanded metal mesh a few inches up from the bottom, this creates an air space (holes around the outside of this airspace allow air in from the bottom). They light the wood on fire at the top and put the lid on. This burns for a couple days (a hole in the lid permits enough ventilation to enable the wood to slowly burn and smoke. The black finish is glossy and clean.
The difference between vitrified and sintered
The top fired bar is a translucent porcelain (made from kaolin, silica and feldspar). It has zero porosity and is very hard and strong at room temperature (because fibrous mullite crystals have developed around the quartz and kaolinite grains and feldspar silicate glass has flowed within to cement the matrix together securely). That is what vitrified means. But it has a high fired shrinkage, poor thermal shock resistance and little stability at above red-heat temperatures. The bar below is zirconium silicate plus 3% binder (VeeGum), all that cements it together is sinter-bonds between closely packed particles (there is no glass development). Yet it is surprisingly strong, it cannot be scratched with metal. It has low fired shrinkage, low thermal expansion and maintains its strength and hardness at very high temperatures.
Bisque temperature can be lower than you think
These bowls are made from a talc:ball clay mix, they are used for calcining Alberta and Ravenscrag Slips (each holds about one pound of powder). The one on the right was bisque fired to cone 04 (about 1950F). The one on the left was fired to only 1000F (540C, barely red heat), yet it is sintered and is impervious to water (strong enough to use for our calcining operations). That means that there is potential, in many production situations, to bisque a lot lower (and save energy). Primitive cultures made all their ware a very low temperatures. Tin foil melts at 660C (1220F) yet can be used on campfires for cooking (so the temperatures of primitive wares would have been low indeed).
Related Information
Links
Glossary
Kiln Firing
All types of ceramic are fired in a kiln to cement particles together to produce a hard and water and temperature resistant product.
Glossary
Terra cotta
The term Terra Cotta can refer to a process or a kind of clay. Terra cotta clays are high in iron and available almost everywhere. While they vitrify at low temperatures, they are typically fired much lower than that and covered with colorful glazes.
Glossary
Terra Sigilatta
Terra Sigilatta is a sedimentation process used by potters to remove coarse particles from a clay powder. It enables burnishing and gloss surfaces without the use of glaze.
Glossary
Sintering
A densification process occurring within a ceramic kiln. With increasing temperatures particles pack tighter and tighter together, bonding more and more into a stronger and stronger matrix.
By Tony Hansen

---


Copyright 2008, 2015, 2017 https://digitalfire.com, All Rights Reserved