A titanium/colorant addition to a cone 10 magnesia matte glaze
These porcelain mugs have the same glaze, the one on the left was fired at cone 10R (gas), the other at cone 10 oxidation (electric). This is our standard cone 10R magnesia matte, G2571B. We have added a 5% Mason 6021 encapsulated red stain and 4% titanium dioxide (producing recipe code number G2571D). While the reduction version looked good the oxidation one turned out much more vibrant. And it feels much better, being very pleasant to touch. The marbling is a bit excessive so in G2571D1 we reduced the titanium by 1% (and increased the stain by 1%). MgO matte base recipes are very receptive to this type of adjustment and they work across a wide range (from low to high temperatures). Titanium is much better for variegating bright colored glazes than rutile, because the latter contains lots of iron that muddies the color.
Related Pictures
Multiple kinds of glaze variegation
Tap picture for full size
The inside glaze of this cone 10 reduction fired mug is a base transparent glossy, G1947U. It has no additives to color, opacify or variegate it. That being said, the speckled body is making for a more interesting aesthetic on that inside surface. The outside glaze is a far different story. It is a base - a silky matte, G2571A. But it has additions of 3% titanium dioxide and 6% Mason 6021 red stain (this version is numbered G2571D). Of course the red coloration is from the stain. But the titanium is making the visual magic here, it is both an opacifier and a variegator. It is clearly producing phase changes and crystallization. One of the glass phases is redder and more transparent (the brighter red spots). Another phase is a much lighter opaque pink.
The titanium/stain mechanism at cone 10R
Tap picture for full size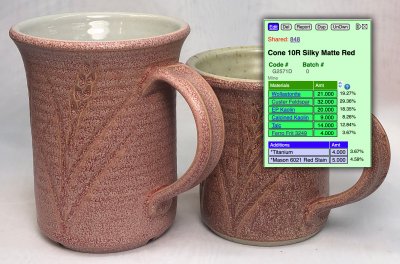 These are porcelain and stoneware mugs. The glaze is G2571D (based on the fritted G2571B version of G2571A). This project started with calculations to source boron from a frit (instead of Gerstley Borate), MgO from talc and a frit (instead of dolomite). These moves enabled eliminating raw silica from the recipe. This produced a finer silky texture and better melt fluidity (for hosting colors). Adding rutile and zircopax produced a great bamboo. But what about variegating using titanium instead of rutile (it contains no iron so colors should be brighter)? Jackpot with this red stain! The titanium has done it's job even a little too well. Cobalt and titanium also worked.
A titanium/colorant addition to a cone 6 magnesia matte glaze
Tap picture for full size
This is the G3939A recipe (a 90:10 mix of G2934 and G2926B), it normally produces a silky matte if not cooled too quickly. Shown on the left is our original addition of 8% Mason 6021 red stain and 4.5% titanium dioxide. This not only did not produce the desired marbled effect, it actually made it more glossy! A 1.5% titanium addition completely transforms it to what you see on the right. Rutile, as a source of TiO2, is often used for this, but it is high in iron and would completely muddy the red color. Pure titanium dioxide, by contrast, is iron free.
Links