Cutlery Marking
Ceramic glazes that mark from cutlery are either not properly melted (lack flux), melted too much (lacking SiO2 and Al2O3), or have a micro-abrasive surface that abrades metal from cutlery.
Key phrases linking here: cutlery marking - Learn more
Details
In glazes with this fault, rubbing a metal key, knife or spoon on the surface will leave black marks. In tolerable situations, the mark can be rubbed off easily with your finger. But when the problem is worse, it cannot be completely removed or washed off.

This is a common fault in glazes. Even commercial tableware can exhibit the issue. In stable and durable glazes, cutlery marking usually happens when the surface is not smooth (e.g. mattes). Micro-topology can be wavy, as is the case with high-MgO silky mattes, the more irregular the surface the more the marking occurs. Fixing the problem is a matter of choosing a compromise between matteness and marking (by adjusting MgO content or increasing the cooling speed of the kiln). The micro-surfaces of durable glossy glazes can also have angular protrusions because on the presense of excessive zircon particles (added for opacification), these can abrade metal and trap metal particles. The solution is to find a balance between the amount of zircon needed to opacify and the need to minimize marking.

Of course, glazes that are not completely melted will mark easily (because the surface both abrades metal and the metal itself removes fragments of glaze exposing more sharp contours). The degree to which the chemistry of a glaze is unbalanced relates to how soft and susceptible to abrading it is (adequate Al2O3 and SiO2, for example, are very important to hardness and durability). If a glaze is not adequately melting, other issues besides cutlery marking are likely more important (e.g. staining, leaching; use a GLFL melt flow test to see how fluid it actually is).

Sometimes glazes that appear poorly melted are actually the opposite, they have completely crystallized surfaces that are a product of very high melt fluidity. Crystalline mattes (e.g. those high in CaO, SrO) have surfaces covered by a fine mesh of micro-crystals, these commonly cutlery mark badly (because of the angularity of surface). These types of glazes, by design, have low Al2O3, that means they also inherently lack durability. Fixing this type of cutlery marking problem will depend on the degree to which you are willing to compromise the fired appearance (when you add Al2O3 and SiO2) or how much faster you are willing to cool the firing (so crystals have less time to grow). There are other oxides used to promote crystal growth (e.g. ZnO, Li2O), these can produce surfaces that are even more markable than CaO.

Related Information
Cutlery marking in commercial tableware
Tap picture for full size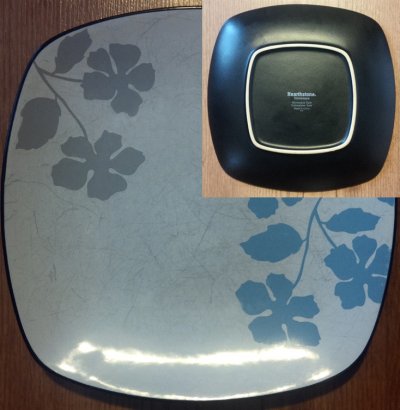 Even commercial dinnerware can suffer cutlery marking problems. This is a glossy glaze, yet has a severe case of this issue. Why? Likely the zircon opacifier grains are protruding from the surface and abrading metal that comes into contact with it.
Commercial ultra gloss glazes from IKEA are cutlery marking
Tap picture for full size
Both of these have likely seen a year of service. Both are highly opaque. While that enables a thinner application and more even colouration, the higher zircon content needed can produce cutlery marking, even though the glaze is glossy. Notice the green one is also crazing.
Adding an opacifier can produce cutlery marking!
Tap picture for full size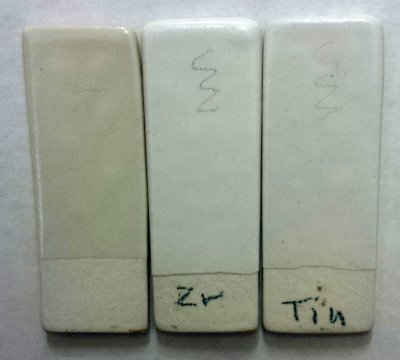 G2934 cone 6 matte (left) with 10% zircopax (center), 4% tin oxide (right). Although the cutlery marks clean off all of them, clearly the zircopax version has the worst problem and is the most difficult to clean. To make the best possible quality white it is wise to line blend in a glossy glaze to create a compromise between the most matteness possible yet a surface that does not mark or stain.
Cutlery marking on matte black glaze
Tap picture for full size
This is G2934BL glaze fired using the C6DHSC slow-cool firing schedule, this has enabled too much crystallization. This mark cannot be rubbed off, matte black glazes show the marks more than others. If I had fired it using the PLC6DS free-fall schedule, it would have been glossier. Or, I could blend in a greater percentage of the glossy black. This being said, for this type of piece some cutlery marking can be tolerated.
Yikes. Cutlery marking this bad on a popular glaze!
Tap picture for full size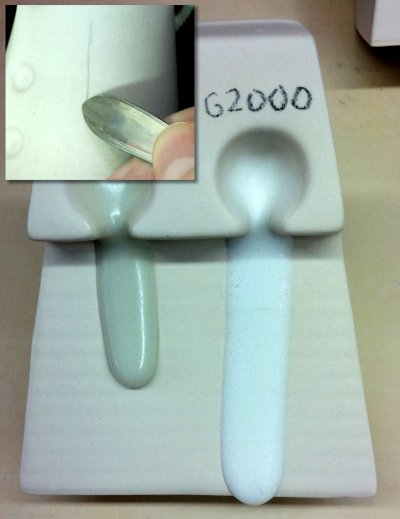 An example of how a spoon can cutlery mark a glaze. This is a popular middle temperature recipe used by potters. The mechanism of its matteness is a high percentage of zinc oxide that creates a well-melted glaze that fosters the growth of a mesh of surface micro-crystals. However these crystals create tiny angular protrusions that abrade metal, leaving a mark. Notice the other matte flow on the left (G2934), it not only has a better surface (more silky feel) but also melts much less (its mechanism is high MgO in a boron fluxed base). It is does not cutlery mark at all!
Severe cutlery marking in a glaze lacking sufficient Al2O3
Tap picture for full size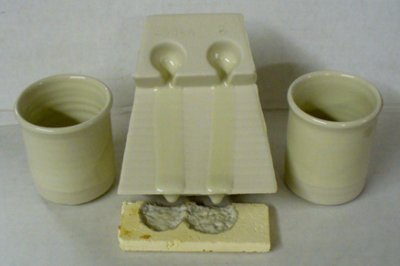 The glaze is cutlery marking (therefore lacking hardness). Why? Notice how severely it runs on a flow tester (even melting out holes in a firebrick). Yet it does not run on the cups when fired at the same temperature (cone 10)! Glazes run like this when they lack Al2O3 (and SiO2). The SiO2 is the glass builder and the Al2O3 gives the melt body and stability. More important, Al2O3 imparts hardness and durability to the fired glass. No wonder it is cutlery marking. Will it also leach? Very likely. That is why adequate silica is very important, it makes up more than 60% of most glazes. SiO2 is the key glass builder and it forms networks with all the other oxides.
Matte glaze cutlery marks. Add 10% glossy glaze to it. No marking.
Tap picture for full size
This is G2934Y (a version of the G2934 cone 6 matte base recipe that supplies much of the MgO from a frit instead of dolomite). Like the original, it has a beautiful fine silky matte surface and feels like it would not cutlery mark. But, as you can see on the left, it does! The marks can be cleaned off easily. But still, this is not ideal. The degree of matteness that a glaze has is a product of its chemistry. But can we fix this without doing any chemistry? Yes. By blending this with G2926B clear glossy (90:10 proportions) the marks are gone and the surface is only slightly changed.
Cutlery marking here is directly related to the chemistry of the glaze
Tap picture for full size
This is an example of cutlery marking in a cone 10 silky matte glaze lacking Al2O3, SiO2 and having too much MgO. Al2O3-deficient glazes often have high melt fluidity and run during firing, this freezes to a glass that lacks durability and hardness. But sufficient MgO levels can stabilize the melt and produce a glaze that appears stable but is not. Glazes need sufficient Al2O3 (and SiO2) to develop hardness and durability. Only after viewing the chemistry of this glaze did the cause for the marking become evident. This is an excellent demonstration of how imbalance in chemistry has real consequences. It is certainly possible to make a dolomite matte high temperature glaze that will not do this (G2571A is an example, it has lower MgO and higher Al2O3 and produces the same pleasant matte surface).
Inbound Photo Links

Why does VC71 not cutlery mark when it is barely melting?
Links
By Tony Hansen
Follow me on

Got a Question?
Buy me a coffee and we can talk
---


https://digitalfire.com, All Rights Reserved
Privacy Policy