Wedging manganese speckle into a cone 6 buff stoneware
This is actually quite easy to do: Just wedge the clay over the manganese spread out on the board, when the board is clean turn the slug sideways and cut and layer about 20 times (to get 1 million layers). Then wedge normally. Only 0.2% manganese is needed (as a percentage of the dry clay). Since pugged clay contains 20% water it is easy to calculate the dry weight of this piece. For example, suppose this weighs 2 kg: 80% of that is 1.6 kg or 1600g. 0.2% of 1600 is 3.2 grams. Shown is the kind of mug I get. The outside glaze is G2934Y silky matte (opacified with tin) and inside glaze is G2926BW glossy white. It was fired at cone 6 using the PLC6DS schedule.
Related Pictures
An ordinary white mug: More difficult to make than you think!
Tap picture for full size and resolution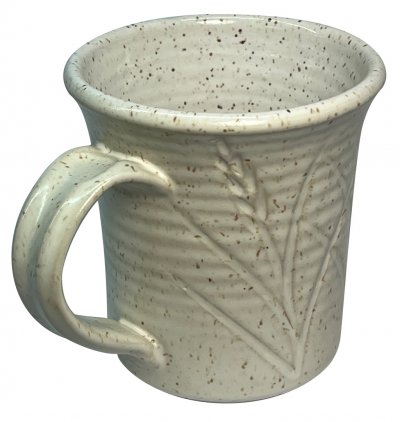 This is M340S with G2934 matte white outside and G2926B glossy white inside (both have 10% zircopax). Consider what can go wrong. Zircon glazes love to crawl. I either add CMC gum to make it a base coat (or use a combination of tin oxide and zircopax (like G3926C). The clay has granular manganese added to produce the speck, if accidentally over-fired, even half a cone, it will bloat. And the clay body: The outer glaze is ugly on dark-burning clays. And it is drab on porcelains. It does not even look good on this same body if the speckle is not there. Another difficulty: Controlling the degree of matteness. I blend in about 20% of the glossy, otherwise it would fire too matte. And the firing schedule: PLC6DS - its drop-and-hold step is critical, without it the surface would be full of pinholes. Another problem: If the kiln is heavily loaded and cools slower than the programmed ramp-down, the surface will be too matte. Finally, glaze thickness: If it is too thin it will look washed out and ugly. Too thick it will bubble and look pasty.
Manganese speckle body with many different coloured glazes
Tap picture for full size and resolution
The white and colored mugs are made using the G2934 base, the transparent and purple one using the G2926B base. These are fired to cone 6 using the PLC6DS schedule. This is M340S REV, a cone 6 buff stoneware with 0.2% 60-80 mesh granular manganese added. The body has been formulated to stop a little short of typical fired maturity to assure no blistering at cone 6 (a common issue with manganese speckle additions). Of course, one can wedge the granular material into a buff stoneware body but, again, choose one that is not too vitreous (or bloating could occur). Experiment with percentage and particle size to get the desired speckle density.
Links