Kneading clay
Wedging (or kneading) are an age-old process used to mix soft plastic clay and prepare it for use in throwing or hand building. The process is extremely effective in making the softness and color of a lump of clay completely homogeneous. Wedging can be done by hand (using many methods) or by foot (for large amounts of clay).
Related Information
Wedging clay
This is a worst-case scenario: A very stiff red clay and a very soft white clay. Wedging is so effective that it can mix these into a perfectly homogeneous mass quickly and easily on this plaster table.
16,000 layers yet still not mixed! What now?
Tap picture for full size and resolution
First I interlayered soft and stiff clay slabs (giving eight layers total). Then I repeatedly sliced it vertically, flattening the two pieces and layered them, each time doubling the number of layers. After eleven times it has 16,536 layers. Yet it is still not mixed! 30 seconds of wedging is all it takes to finish the job. Wedging is a very effective mixing technique.
Laminations in pugged clay: Wedge it or lose the ware
Tap picture for full size and resolution
These are cross-cuts from slugs of a production run of clay that was improperly pugged (inadequate vacuum). The problem is not often evident at time of extrusion but exhibits after weeks or months of storage. This clay body does not contain significant fine-grained material, but 2% talc was added to aid vitrification. The production crew claims that this talc makes it doubly important to monitor vacuum pressure at all times (or laminations will result). These are not actually a problem if you wedge the clay well. But if you do not (e.g. inserting them into a hand-extruder, pressing them in a mold) then they "build in" failure points that will initiate drying and firing cracks later. Even if pieces survive the drying and firing processes, weaknesses will persist making them more prone to failure-on-impact or stress. This being said, does that mean you do not need to wedge plastic clay bodies if they are not laminated? No. All clays laminate to some extent when pugged.
Aged commercial clay really needs to be wedged before use
Tap picture for full size and resolution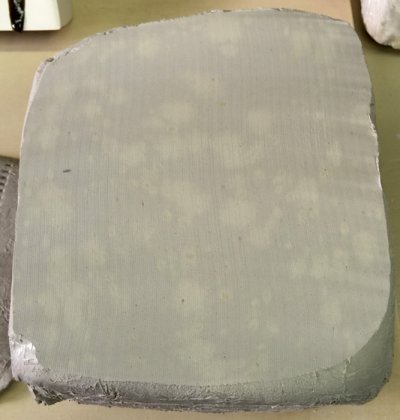 This is a cut through an eight-month-old slug of pugged clay. The cut was done near the surface. The patchy coloration is a by-product of the aging process. If a slice of this was fired in a kiln, an even and homogeneous white surface would emerge, with no hint of what you see here. A few moments of wedging will mix the matrix and ready it for wheel throwing or hand forming.
By Tony Hansen
Follow me on

Got a Question?
Buy me a coffee and we can talk
---

https://digitalfire.com
, All Rights Reserved
Privacy Policy