Two transparent glazes on the same dark burning clay. Why different?
These two glazes are both brilliant glass-like super-transparents. But on this high-iron stoneware only one is working. Why? G3806C (on the outside of the piece on the left) melts more, it is fluid and much more runny. This melt fluidity gives it the capacity to pass the micro-bubbles generated by the body during firing. G2926B (right) works great on porcelain but it cannot clear the clouds of micro-bubbles coming out of this body. Even the glassy smooth surface has been affected. The moral: Two base transparents are needed, each being able to host colors, opacifiers and variegators. But there is a caveat: Although reactive glazes leverage melt fluidity to develop interesting surfaces they are more tricky to use and do not fire as durable.
Related Pictures
An ultra-clear brilliantly-glossy cone 6 clear base glaze? Yes!
Tap picture for full size
I am comparing 6 well known cone 6 fluid melt base glazes and have found some surprising things. The top row are 10 gram GBMF test balls of each melted down onto a tile to demonstrate melt fluidity and bubble populations. Second, third, fourth rows show them on porcelain, buff, brown stonewares. The first column is a typical cone 6 boron-fluxed clear. The others add strontium, lithium and zinc or super-size the boron. They have more glassy smooth surfaces, less bubbles and would should give brilliant colors and reactive visual effects. The cost? They settle, crack, dust, gel, run during firing, craze or risk leaching. Out of this work came the G3806E and G3806F.
Bubble clouding in clear glazes on dark burning stonewares
Tap picture for full size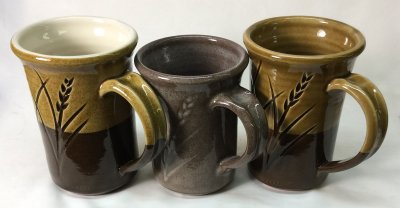 The center mug is clear-glazed, at cone 6, with G2926B (notice it is saturated with bubble clouds). This dark body, M390, is exposed inside and out (the other two mugs have the L3954B white engobe inside and midway down the outside). G2926B is an early-melter (starting at cone 03) so it is bubble-susceptible to dark-burning bodies that generate more gases of decomposition. It appears to perform well on the inside engobed surface of the mug on the left but actually, the bubbles are just less visible against the white background. The honey colored glaze on the outside mugs is GA6-B, it fires with very few bubbles and is a good choice for use on dark clay bodies.
Links