Kiln Firing
All types of ceramic are fired in a kiln to cement particles together to produce a hard and water and temperature resistant product.
Details
At it most basic level, firing is process of heating a clay (or recipe of clays and minerals) to a temperature sufficient to fuse the particles together. However today, each type of ceramic has its not only its own firing temperature, but also schedule (control of the rate of rise and fall of the kiln). In addition, the atmospheric pressure and atmosphere itself within the kiln are controlled for many types of firing, either by restricting the amount of oxygen in the chamber or replacing it entirely by another gas (like nitrogen). In addition, kilns subject the load to drafts to help even out temperature and atmosphere and carry away water vapor and products of combustion and decomposition (of bodies and glazes). Firing also varies in the types of fuel that are used (e.g. coal, gas, wood, sawdust, oil, electric) and the type of kiln (kilns vary widely in the way they deliver heat to the ware and channel it out).
Related Information
Firing an impossible-to-fire piece was possible!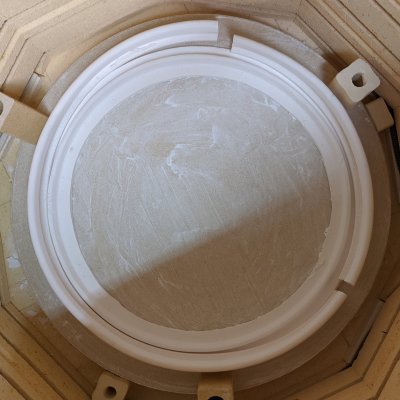 These porcelain pieces were cracking, even during very slow firings at cone 03. The radiant heat from the elements heated the outside edge first, creating a temperature gradient. That produced a firing shrinkage gradient that the piece could not absorb. Even with very slow firings and various other strategies, the potter could not solve the problem. So is it really true that anything can be fired if you can do it slow and even enough? Yes, even this. Three factors made it possible: 1) The low firing temperature. 2) Even slower firing speed (24 hours instead of 12 hours to ramp). 3) Elimination of the direct radiant heat. This clever potter fires using only the elements in the bottom one/third of the kiln (the top 2/3 elements never go on) and puts the rings only in the top 2/3 of the kiln. Again, that was possible because it is only a cone 03 firing.
Links
Glossary
Primitive Firing
The use of some traditional firing techniques is still popular among modern potters and sculptors (who are accustomed electric and gas kilns, often with computer controllers).
Glossary
Salt firing
Salt firing is a process where unglazed ware is fired to high temperatures and salt is introduced to produce a vapor that glazes the ware.
Glossary
Reduction Firing
A method of firing stoneware where the kiln air intakes and burners are set to restrict or eliminate oxygen in the kiln such that metallic oxides convert to their reduced metallic state.
Glossary
Wood Firing

Glossary
Firing Schedule
Designing a good kiln firing schedule for your ware is a very important, and often overlooked factor for obtained successful firings.
Glossary
Water Smoking
In ceramics, this is the period in the kiln firing where the final mechanical water is being removed. The temperature at which this can be done is higher than you might think.
Glossary
Candling
Refers to the practice of slow-heating a kiln during early stages to give mechanically-bound water a chance to escape.
Media
Manually program your kiln or suffer glaze defects!
By Tony Hansen



Copyright 2008, 2015, 2017 https://digitalfire.com, All Rights Reserved