Incised decoration
A type of decoration done on pottery. Designs are carved into the surface of the leather hard ware and often covered by a thickness sensitive glaze.
Key phrases linking here: incised decoration, incising, incised - Learn more
Details
In pottery and ceramics, incised decoration is carved into leather hard ware. It is often highlighted by cutting through a slip or engobe of contrasting color to the body. Incised decoration can be emphasized or highlighted using a glaze that changes color or crystallizes on the edges of carved contours (where the glaze layer is thinner). Many tools are available for this.
Related Information
Small incised Plainsman H443 bowl
Tap picture for full size
Incising a stoneware mug
This is done at the leather hard stage. The lines are in a contrasting color because a black-burning engobe was applied, by dipping, earlier. The clay is Plainsman M340. The tool being used is a Kemper R4 ribbon tool.
Incised decoration (left) vs. slip trailed decoration (right)
Tap picture for full size
Both are highlighted by Alberta Slip GA6-A glaze on these cone 6 oxidation fired mugs.
Double-slip layer incised decoration: A challenge in slip-body fitting
Tap picture for full size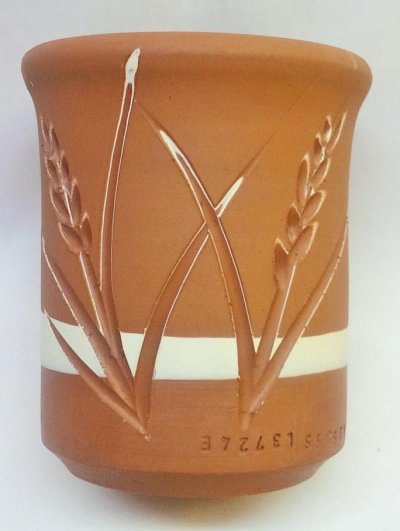 An example of a white engobe (L3685T) applied over a red clay body (L3724F), then a red engobe (also L3724F) applied over the white. The incised design reveals the white inter-layer. This is a tricky procedure, you have to make sure the two slips are well fitted to the body (and each other), having a compatible drying shrinkage, firing shrinkage, thermal expansion and quartz inversion behavior. This is much more complex that for glazes, they have no firing shrinkage and drying shrinkage only needs to be low enough for bisque application. Glazes also do not have quartz inversion issues.
M390 mugs with Alberta Slip based glazes by Tony Hansen
Tap picture for full size
These cone 6 mugs use an 80:20 Alberta Slip:Frit blend inside and out (the outside one has added rutile). Made around 2014. The incised wheat decoration as a dead giveaway that the mug is made by Tony. He has made this type of mug for decades and there is a good reason: continuity of testing. By making the same kind of ware each time he tests a clay, going through the same procedures he has done a thousand times, he can more easily spot differences in the way they perform.
Links
Glossary
Slip Trailing
A technique used by potters to decorate ware. Neutral and colored slips, clay in thick paste form, are trailed onto the ware (in raised lines and strokes) to create tactile designs.
By Tony Hansen
Follow me on

Got a Question?
Buy me a coffee and we can talk
---


https://digitalfire.com, All Rights Reserved
Privacy Policy