Why is the clay blistering on this figurine?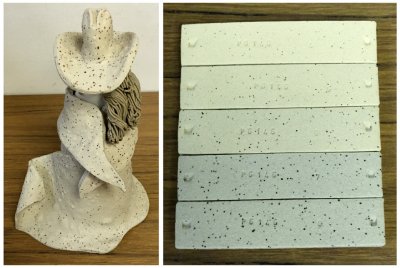 This is an admirable first effort by a budding artist. They used a built-in cone 6 program on an electronic controller equipped electric kiln. But it is over fired. How do we know that? To the right are fired test bars of this clay, they go from cone 4 (top) to cone 8 (bottom). The data sheet of this clay says do not fire over cone 6. Why? Notice the cone 7 bar has turned to a solid grey and started blistering and the cone 8 one is blistering much more. That cone 8 bar is the same color as the figurine (although the colors do not match on the photo). The solution: Put a large cone 6 in the kiln and program the schedule manually so you can compensate the top temperature with what the cone tells you.
Two electric kiln controllers firing test kilns. Why are they so different?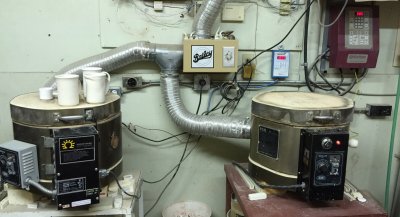 Red controller on the right: A Skutt Kilnmaster. Blue controller to the left of it: An Orton Autofire. These controllers both attach to a thermocouple in the kiln so they know the temperature. Both are external to the kilns (but there is a big difference). The controllers monitor the temperature change as they turn the power on in bursts, changing the length and frequency of the bursts to control temperature rise. The KilnMaster controller is attached to the 220V power line and the kiln power line attaches to it (there are heavy duty electrical relays inside). The blue Autofire controller connects to the switching mechanism in the other kiln (built to receive it), thus no heavy duty relays are needed within it. The KilnMaster is more flexible since it can connect to any kiln, but it is also triple the price.
Manually programming a Bartlett V6-CF hobby kiln controller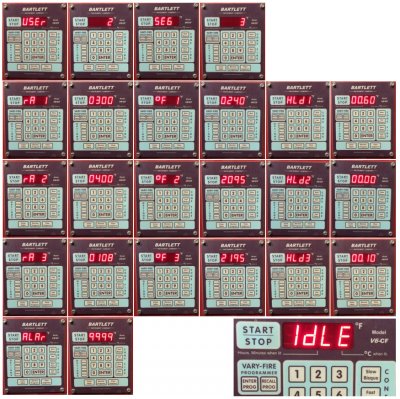 I document programs in my account at insight-live.com, then print them out and enter them into the controller. This controller can hold six, it calls them Users. The one I last edited is the one that runs when I press "Start". When I press the "Enter Program" button it asks which User: I key in "2" (for my cone 6 lab tests). It asks how many segments: I press Enter to accept the 3 (remember, I am editing the program). After that it asks questions about each step (rows 2, 3, 4): the Ramp "rA" (degrees F/hr), the Temperature to go to (°F) to and the Hold time in minutes (HLdx). In this program I am heating at 300F/hr to 240F and holding 60 minutes, then 400/hr to 2095 and holding zero minutes, then at 108/hr to 2195 and holding 10 minutes. The last step is to set a temperature where an alarm should start sounding (I set 9999 so it will never sound). When complete it reads "Idle". Then I press the "Start" button to begin. If I want to change it I press the "Stop" button. Those ten other buttons? Don't use them, automatic firing is not accurate. One more thing: If it is not responding to "Enter Program" press the Stop button first.
Program your firings manually, calibrate the final temperature
Here is an example of our lab firing schedule for cone 10 oxidation (which the cone-fire mode does not do correctly). We need it to actually go to cone 10, the only way to do that is verify with a cone (self supporting cones are the only accurate way). Then make a note in the record for that schedule in your account at insight-live.com.
A test kiln with firing controller: A necessity.
Every potter should have one of these. This one has a Bartlett Genesis electronic controller, you will never go back after having one of these. Start with a kiln like this and then graduate to having a large, second kiln. We have done 375 firings on this one in the past couple of years, it is still like new. Ongoing testing is the key to constant development of product and quality.
Programming a Bartlett Genesis kiln controller
Why program? None of the built-in schedules have hold times on any segments (these are a must for defect-free glazes). None of them have controlled cools (a must for enhancing the effects of reactive glazes that must develop crystallization or variegation and getting brilliant ultra gloss surfaces). Tap the blue edit button to edit a program, then tap a column of any segment to edit its value. Tap a segment number to delete or duplicate it. Google "bartlett genesis controller" for short videos on creating and editing a schedule.
Kiln Firing Curve Recorder - In Development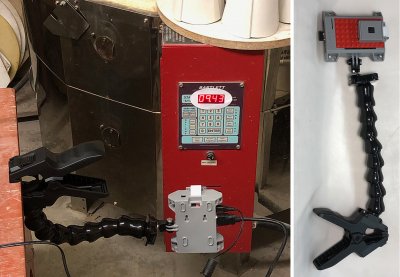 So many glazes appear as they do because of the firing schedule (especially the cooling curve). Imagine getting an awesome result out of a kiln and not knowing (or being able to replicate) the exact firing schedule that produced it. This device reads and records the temperature once per minute. It is a Raspberry Pi computer with camera, Wifi and custom software I am developing. It costs about $100 (with the Lego case and GoPro compatible gooseneck mount). Because the device is a full-power Linux web server I can login, will be able to see the list of schedules and download any into my Insight-live.com account. And then I can link that firing it to photos of glaze test results!
Related Information
Links
Glossary
Cones
Devices that melt and bend in a ceramic kiln at specific temperatures. By viewing them through a peephole the operator can tell accurately what temperature the kiln has reached.
Projects
Firing Schedules

By Tony Hansen

---


Copyright 2008, 2015, 2017 https://digitalfire.com, All Rights Reserved