The secret of this cone 6 translucency will surprise you!
Three cone 6 mugs. All have zero porosity. Why is the middle one so translucent? Three reasons.
1. It has 10% more feldspar than the one on the left and reaches zero porosity already at cone 5.
2. It employs New Zealand china clay while the one on the left contains high-TiO2 #6 Tile kaolin.
But this is also true for the one on the right. The third difference is the key.
3. The center one contains 4% Veegum T plasticizer (while the other two use standard bentonite). This is surprising when I tell you one more thing: The mug on the right also contains 3% Ferro Frit 3110. That means that the frit does not have near the fluxing power of the VeeGum!
Related Pictures
Polar Ice casting translucency
Tap picture for full size and resolution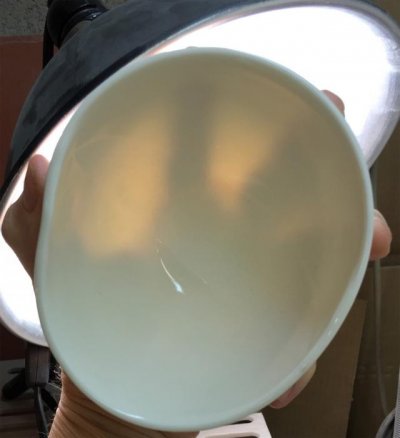 A bowl cast from Polar Ice porcelain and fired to cone 6. I has a thinner wall than the thrown pieces made from Polar Ice throwing, yet it is much less translucent. This appears to be because the VeeGum is much less.
The premium plasticizer has a premium price. Brace yourself.
Tap picture for full size and resolution

VeeGum T is expensive. Each of these boxes contains a 50 lb bag. You are looking at $6000 worth of material (in 2015)! This is enough to plasticize 450 20 kg boxes of porcelain containing 4% VeeGum. Is it worth it? Yes, this is the king of bentonites, nothing can produce a porcelain body that has the workability and translucency this can impart. Yes, translucifies. Not sure how yet but it does.
Links