LOI is not important? Think again!
This chart compares the decompositional off-gassing (Loss on Ignition) behavior of six materials used in ceramic glazes as they are heated through the range 500-1700F. It is amazing that some can lose 40%, or even 50% of their weight on firing. For example, 100 grams of calcium carbonate will generate 45 grams of CO2! This chart is a reminder that some late gassers overlap early melters. That is a problem. The LOI (% weight loss) of these materials can affect glazes (causing bubbles, blisters, pinholes, crawling). Notice talc: It is not finished gassing until 1650F, yet many glazes have already begun melting by then (especially fritted ones). Even Gerstley Borate, a raw material, is beginning to melt while talc is barely finished gassing. And, there are lots of others that also create gases as they decompose during glaze melting (e.g. clays, carbonates, dioxides).
Related Pictures
Talc was making this glaze "puffy" - here is how I fixed it.
Tap picture for full size and resolution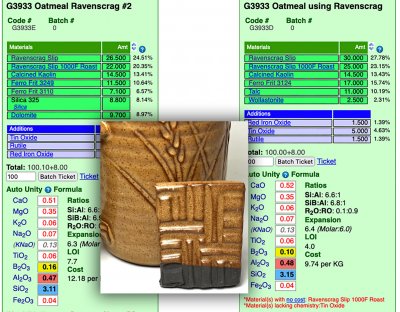 The recipe on the right employs talc to source the MgO needed to create a silky matte texture. However, talc is a late gasser, potentially able to produce micro-bubbles in the glaze after it has begun melting. The reduction in the definition of contour edges on the tile in front and the reduction in melt fluidity tipped me off. Using my account at insight-live.com I did the calculations needed to source the MgO using dolomite instead, producing recipe G3933E. While dolomite has a far higher LOI than talc it starts releasing the gasses of its decomposition much earlier and finishes well before talc. The mug in the back confirmed my suspicions, firing with a much smoother surface (and with far better definition of the incising).
Links