A plaster table: Better than a pugmill, essential for testing
This is an example of an angle iron utility table being made into a plaster table. The cardboard sides extend upward to make the slab thicker and create a buffer gap to prevent the expanding and setting plaster from pressing outward on the frame. 150 lbs plaster (92 lbs water) was poured into the plastic-lined space (the bottom cardboard sections were supported from below). In a dry enough climate, this table could make enough clay to support slurry-to-plastic production for a potter (a thicker slab and a fan would enable even more capacity). The slurry-up process is better than a pugmill for small operations. It's much cheaper and is an easier way to utilize scrap material and weigh out custom recipes. The clay quality and de-airing is better (without hard chunks and contamination common to pugmilling). The procedure generates much less dust and the tank is easily cleaned. Slurries are easily sieved, especially if you have a sieve shaker.

Related Pictures
Covid taught us about supply interruptions
Tap picture for full size and resolution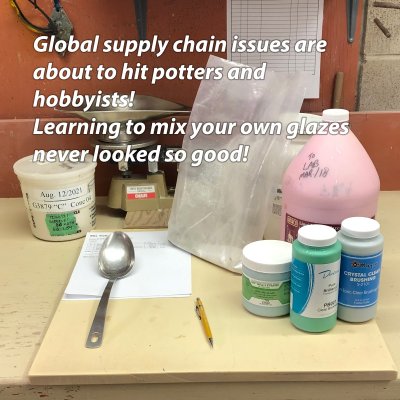 Material prices were sky rocketing (and still are). Prepared glaze manufacturers have complex international supply chains. Now might be the time to start learning how to weigh out the ingredients to make your own. Armed with good base glazes that fit your clay body (without crazing or shivering) you will be more resilient to supply issues. Add stains, opacifiers and variegators to the bases to make anything you want. That being said, ingredients in those recipes may become unavailable! That underscores a need to go to the next step and "understand" glaze ingredients. And even improve and adjust recipes. It is not rocket science, it is just work accompanied by organized record-keeping and good labeling.
Links
Glossary
Native Clay
A clay that a potter finds, tests and learns to process and use himself. To reduce the costs of importing materials manufacturers, especially in Asia, often develop processes for clays mined in their locality.
Glossary
Plaster table

Glossary
Pugmill
The practice of removing air from clay as it is pugged. Deaired clay has better forming properties and produces a smoother fired surface.
Got a Question?
Buy me a coffee and we can talk
---


https://digitalfire.com, All Rights Reserved
Privacy Policy