Sieve Shaker
While sieve shakers are common for processing powders and slurries. To slurry up a clay body, glaze or engobe it is customary to sieve it. But that can be time-consuming, especially for finer mesh sieves. A vibrating shaker changes that, doing in seconds what would either be very difficult or impossible by hand.

Deflocculated slurries (bodies, glazes and engobes) are very difficult to sieve because they can be thick and sticky. Again, a vibrating the sieve makes it possible. Flocculated slurries (e.g. engobes) are also much easier this way.
Related Information
This is what labs use to measure particle size
Tap picture for full size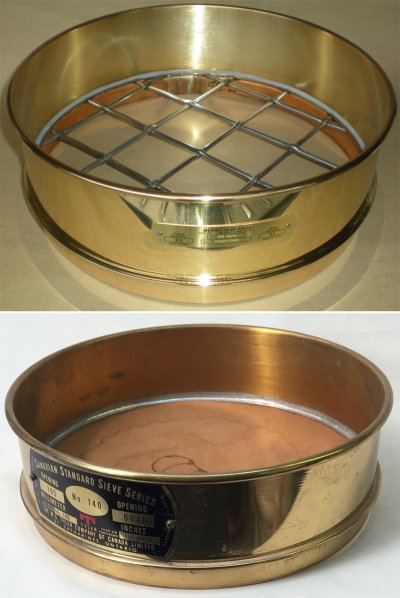 To measure particle size in a slurry or powder you need sieves. This is the most popular type used in labs. They are made from brass by a company named Tyler. The range of screen sizes for testing particle size is very wide (obvious here: the top screen has an opening of 56 mm, the bottom one 0.1 mm - the wires are almost too small to see). You can often buy these used on Ebay for a lot less than new ones, search for "tyler sieve". The finer sieves (especially 200) are fragile and more easily ripped. It is good to have a 50, 100 and 150.
A KimLab sieve bought from Amazon, is it as good as a Tyler?
Tap picture for full size
This cost about $40 and arrived in about a week. It appears to be well made. The first major issue is going to be the diameter, 7.75 inches (this does not match Tyler, they measure 8 inches). Another issue is that it is not as tall, creating a greater chance of spillover. The bottom flange is not as wide, that could be a problem if the sieve needs to stay firmly locked in place in a shaker.
A sieve shaker used on dry powder samples
Tap picture for full size
These are used in structural product industries to measure PSD and are much coarser sizes than is typical in pottery, porcelain or stoneware.
Links
By Tony Hansen
Follow me on

Got a Question?
Buy me a coffee and we can talk
---


https://digitalfire.com, All Rights Reserved
Privacy Policy