No tracking! No ads!
That's why this page loads quickly!
SignUp for Monthly Tech-Tip from Tony Hansen
Red burning, customer-found terra cotta clays charachterized
We tested four different clays (brought in by customers). One is from BC and three from Alberta. These fired sample bars show rich color, low soluble salts and high density and strength at very low temperatures. L4233 (left): Cone 06 to 3 (bottom to top). Reaches stoneware-density at cone 02 (middle bar). Plasticity is very low (drying shrinkage is only 4.5%). But, it is stable even if over-fired. L4254 (center bottom): Cone 04,02,3,4 (bottom to top). Very fine particled but contains an organic that is gassing and bloating the middle two bars. L4243: Fires lighter and looks stable here (cone 02,01,1,2 shown) but melts suddenly less than a cone above the top bar (well before vitrification is reached). L4242 (right): Hyper-plastic, with 12% drying shrinkage! Already melting by cone 02 (third from top). Achieves almost zero porosity (porcelain density) at cone 04 (#2 bar). Even when mixed with 20% kaolin and 20% silica it still hits zero porosity by cone 1. What next? I'll mix L4233 (left) and L4242 (right), that should produce stoneware density at cone 02 (about 1% porosity).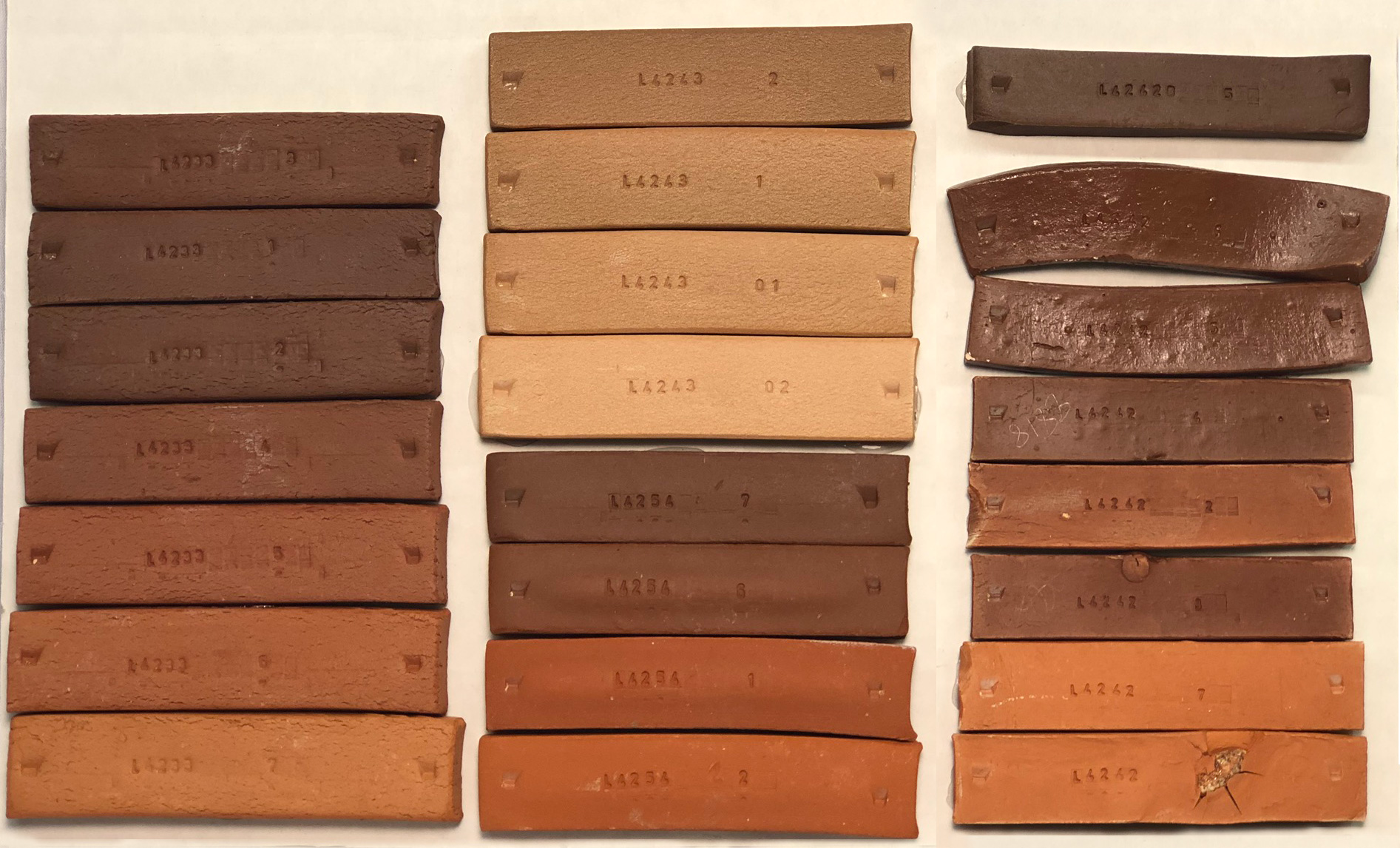 Links
Glossary
Soluble Salts
In ceramics, certain compound in clays and glazes can dissolve into the water, then on drying these are left on the surface.
Glossary
Drying Shrinkage
Clays used in ceramics shrink when they dry because of particle packing that occurs as inter-particle water evaporates. Excessive or uneven shrinkage causes cracks.
Glossary
Vitrification
The term vitrified refers to the fired state of a piece of porcelain or stoneware. Vitrified ware has been fired high enough to make it very strong, hard and dense.
Glossary
Bloating
When clay materials and bodies bubble as they melt or over fire. This normally happens in raw materials that contain particulates that produce gases during firing.
Glossary
Terra cotta
The term Terra Cotta can refer to a process or a kind of clay. Terra cotta clays are high in iron and available almost everywhere. While they vitrify at low temperatures, they are typically fired much lower than that and covered with colorful glazes.
Articles
Formulating Your Own Clay Body
Being able to mix your own clay body and glaze from native materials might seem ridiculous, yet Covid-19 taught us about the need for independence. And finding materials and making your own clay body will spin-off to your other work.
Articles
How to Find and Test Your Own Native Clays
Some of the key tests needed to really understand what a clay is and what it can be used for can be done with inexpensive equipment and simple procedures. These practical tests can give you a better picture than a data sheet full of numbers.
---
---


https://digitalfire.com, All Rights Reserved
Privacy Policy