Formulating a body using clays native to your area
Description
Being able to mix your own clay body and glaze from native materials might seem ridiculous, yet Covid-19 taught us about the need for independence.
Article
Would you like to be more independent? Understand your clay body? Employ native materials body recipes? Be able to adjust and improve them? Even formulate bodies from scratch? The first step is to find a clay in your area. Read the article (link below) on how to find and test your own native materials. Consider some of the possibilities of what you might find:

-A best-case scenario is that you find pentunse in China, a "Mother Natures porcelain". Just add kaolin and bentonite. PV Clay from California is a similar story. Also 3B clay from Plainsman Clays.

-What might appear to be a worst-case scenario is that you find a fireclay. What good would that be for pottery? Fireclays are often just the crude form of ball clays. Slurry and screen and add about 30% feldspar and you have a cone 6 stoneware. A super plastic one.

-If your clay is extremely sticky and takes a long time to dry it could be bentonitic. That means that it is best used as an additive to other clays that are less workable, to impart plasticity. Bodies made having a high percentage of bentonite can be thrown incredibly thin on the potter's wheel. But they must be dried very slowly to avoid cracking.

-If your clay is dark-colored (brown or red) then it could be a middle temperature stoneware (as demonstrated in your initial firing tests as described in the already-referenced article). Plainsman M2 is such a material. These clays are among the most sought after by stoneware potters for the beautiful natural-looking surfaces they can produce around 2200F. Because iron (which produces the brown color) is also a flux, these types of clays rarely have a firing curve the extends to cone 10.

-Dark colored clays can also be terra cotta clays. Terra cottas are also often shades of green and yellow. This demonstrates the amazing number of forms in which the iron oxide in the clays can exist, each having its own color. Terra cotta clays have a short firing range, but with modern kilns that is not a problem. Every clay has an optimal firing range at which it produces the most dense and strong fired product, terra cotta is no different. While the point of maximum density for mid and high temperature materials often never finds zero porosity, terra cotta materials often do. That is the density of glass, creating amazingly strong ware. Actually, firing shy of that, permitting some porosity, can produce beautiful red color and also very good strength. It can be rewarding and a real adventure, finding successful glazes and processes for this type of material.

-If your clay is grey or buff or even white, you may found a buff burning stoneware. These are common in nature, and obviously very useful. If they are not quite vitreous enough, a little talc (1-2%) may be all that is needed. Failing that, some feldspar should make them vitrify at cone 6. At cone 10 they could work all by themselves (Plainsman A3 is an example).

-You may be lucky enough to find a kaolin. White, not very plastic, incredibly smooth. But having plenty of gravel and sand and mineral particle impurities. These clays may not look promising at first, but try to see them for what they could be if you screen out the impurities.

-If your clay is grey, even dark grey, you likely have a ball clay. Treat it like the fireclay mentioned above. That being said, some ball clays can be quite white in color. They are a very special find, gifting plasticity and fired whiteness in the same package. Typically they just need a non-plastic filler. Since ball clays are refractory, you need to add feldspar anyway, so that does double duty as the filler and plasticity cutter. It is also likely that some quartz will be needed for glaze fit, that will further cut the plasticity and bring it into the range of what a throwing body should be.

In any of the clays above you may encounter soluble salts that cause efflorescence (an unsightly scum on the fired surface, see the article referenced below for more info).

With all of these clays you will need to slurry and dewater them for use (unless you have a clay mixer). The advantage of slurrying is that it presents the option of wet-screening to remove impurities.
Related Information
How to decide what temperature to fire this terra cotta at?
Tap picture for full size and resolution
Let's suppose you need strength and density for utilitarian ware. These SHAB test bars characterize a terra cotta body, L4170B. While it has a wide firing range its "practical firing window" is much narrower than these fired bars and graph suggest. On paper, cone 5 hits zero porosity. And, in-hand, the bar feels like a porcelain. But ware will warp during firing and transparent glazes will be completely clouded with bubbles (when pieces are glazed inside and out). What about cone 3? Its numbers put it in stoneware territory, watertight. But decomposition gases still bubble glazes! Cone 2? Much better, it has below 4% porosity (any fitted glaze will make it water-tight), below 6% fired shrinkage, still very strong. But there are still issues: Accidental overfiring drastically darkens the color. Low-fire commercial glazes may not work at cone 2. How about cone 02? This is a sweet spot. This body has only 6% porosity (compared to the 11% of cone 04). Most low-fire cone 06-04 glazes are still fine at cone 02. And glaze bubble-clouding is minimal. What if you must fire this at cone 04? Pieces will be "sponges" with 11% porosity, shrinking only 2% (for low density, poor strength). There is another advantage of firing as high as possible: Glazes and engobes bond better. As an example of a low-fire transparent base that works fine on this up to cone 2: G1916Q.
Red burning, customer-found terra cotta clays charachterized
Tap picture for full size and resolution
We tested four different clays (brought in by customers). One is from BC and three from Alberta. These fired sample bars show rich color, low soluble salts and high density and strength at very low temperatures. L4233 (left): Cone 06 to 3 (bottom to top). Reaches stoneware-density at cone 02 (middle bar). Plasticity is very low (drying shrinkage is only 4.5%). But, it is stable even if over-fired. L4254 (center bottom): Cone 04,02,3,4 (bottom to top). Very fine particled but contains an organic that is gassing and bloating the middle two bars. L4243: Fires lighter and looks stable here (cone 02,01,1,2 shown) but melts suddenly less than a cone above the top bar (well before vitrification is reached). L4242 (right): Hyper-plastic, with 12% drying shrinkage! Already melting by cone 02 (third from top). Achieves almost zero porosity (porcelain density) at cone 04 (#2 bar). Even when mixed with 20% kaolin and 20% silica it still hits zero porosity by cone 1. What next? I'll mix L4233 (left) and L4242 (right), that should produce stoneware density at cone 02 (about 1% porosity).
The top pile of clay can make one million coffee mugs. The bottom one can glaze ten million!
Tap picture for full size and resolution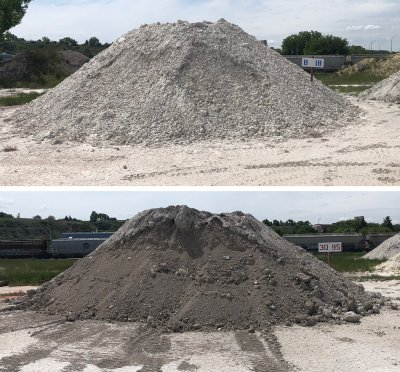 These are raw clays behind the Plainsman Clays plant. The top one is a middle temperature stoneware. All it needs is a little bentonite (about 2-3%) to be a plastic, smooth, vitreous throwing body. If it was not mature at cone 6, that would be easy to fix by the addition of a little feldspar. Any fired-speck-producing impurities can be removed by using a propeller mixer to slurry it and then putting it through a screen (e.g. 60 mesh). After dewatering on a plaster table I am ready-to-go. And that bottom pile? That is the main ingredient in Ravenscrag Slip. All it needs is some feldspar and frit to be a base glaze at cone 6. It is non-plastic and easy to screen (although not really needed since it has few particulate impurities). Likely there are clays in your area you could use to make your own clay bodies and glazes also. The key is to characterize the material first so you know what type of body it would be best for and what to add to get it there.
Two-material porcelain much better with ball clay than kaolin
Tap picture for full size and resolution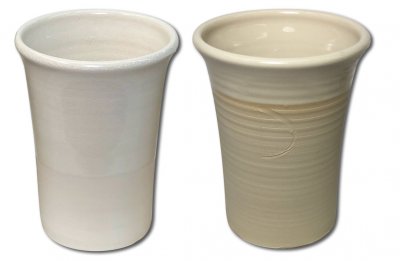 Left: 65% #6Tile kaolin and 35% nepheline syenite. It's white but crazes the glaze and has 1% fired porosity (measured in the SHAB test). Thus it does not have porcelain density. Plasticity is very good. Right: 65% M23 Old Hickory ball clay and 35% nepheline syenite. The glaze fits, the body has zero porosity (very dense) and plasticity is fantastic! The body on the left needs a 20% silica addition (to stop crazing) and 5% more nepheline (to reduce porosity to porcelain levels). But the remaining 40% kaolin will not be nearly enough for a workable plasticity (so bentonite will be needed). The body on the right does not need fixing because ball clay is easier to flux with feldspar and it contains its own natural silica.
Links
By Tony Hansen
Follow me on

Got a Question?
Buy me a coffee and we can talk
---


https://digitalfire.com, All Rights Reserved
Privacy Policy