Gillespie Borate is doing something very strange at 1700F
On the left is G2826A3, a cone 6 transparent glaze (an improvement on the 50:30:20 classic Gerstley Borate base transparent recipe substituting Gillespie Borate, reducing its percentage and increasing SiO2). Despite the improvements it exhibits this strange cracking and crawling. The G2826A1 on the right uses a frit to source the boron instead, clearly a better idea. These tiles were fired to 1700F. The problem is likely the ulexite mineral in the Gillespie Borate - it is known for this behavior of suddenly shrinking and then suddenly melting (the latter of which is just starting). Since Gillespie Borate is plastic and suspends slurries well we thought calcined kaolin would be better than raw kaolin in the G2826A3 recipe (to minimize drying shrinkage). However, it did not improve the situation. All of this being said, this recipe is still working reasonably well at cone 6 (likely stopping and holding it at 1700F exaggerates the problem).
Related Pictures
Cat litter, is it really just clay?
Tap picture for full size and resolution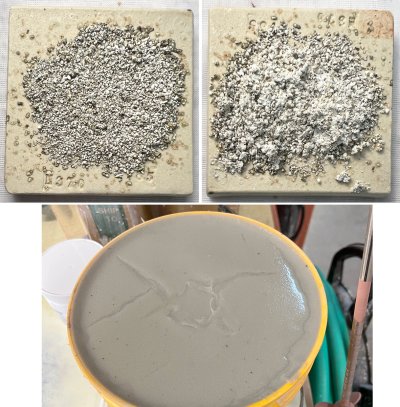 We ran the tests, assigning our code number of L4567 to the project. Of course, putting some in water was the first obvious test. As expected, it swelled in a manner similar to bentonite. Then we sieved 100g through a 50 sieve mesh removing almost exactly 50% aggregate, which looks similar to grog. We fired the aggregate to 2200F (upper left) and it is refractory, with few particles melting. Is it brick grog? No, we poured some water on the fired aggregate and it hydrated the same way limestone does (upper right). The 50% finer material was slurried and allowed to settle. It did not do so, even after a week (bottom), showing it is clearly colloidal, likely sodium bentonite. The bentonite portion fired dark brown and melting, the same behaviour as typical raw bentonite. So what is this cat litter? Dry raw bentonite grains sized to ~30 mesh mixed 50:50 with limestone aggregate of the same size.
Gerstley Borate 50:30:20 glaze. How could this have worked?
Tap picture for full size and resolution
This recipe, G2826A, a base transparent recipe having 50% Gerstley Borate plus 20% kaolin, is "jelly city". Even with 2.5g of Darvan deflocculant in this jar it is still thick enough to require pushing this tile down into it! Even then, it needs 5 seconds to build up enough thickness. And then does not even cover properly. People have suffered with this popular fluid-melt recipe for 50 years or more just to get the surface variegation it produces. They add all manner of colorants and opacifiers to it. And endure its incessant running onto kiln shelves, bubbling and clouding. It is time to just stop this "Dr. Jekyll and Mr. Hyde" of ceramic materials! And use different base transparents that employ frits to source the boron (B2O3). Same chemistry, just a better recipe: G2826A1. Then just add rutile or titanium to restore the variegation. Are you a masochist and still want to be punished? Then at least use the G2826A2 recipe with Gillespie Borate instead.
Gerstley Borate 50:30:20 glaze using Gillespie Borate instead
Tap picture for full size and resolution
This is the G2826A 50:30:20 GB:kaolin:silica base clear recipe. It is been used for decades as a base for all kinds of glazes. It starts melting early enough for use on low-temperature earthenware and is widely used in the raku process. Yet it is also common at middle temperatures (obviously care must be taken or it will run off ware onto kiln shelves when fired to cone 5-6). These tests were fired to cone 6 using the PLC6DS schedule.
The samples on the left use Gerstley Borate, on the right Gillespie Borate. The GBMF test tiles (lower left and right) reveal how much off-gassing is still happening on both when melting starts (they are full of bubbles). The GLFL test (centre) shows the melt flow of the two glazes, it is very similar (normal glazes do not run off the end of the runway like this). The two porcelain test tiles show it to fire crystal clear (there is some pooling since these were applied too thick). There is thus good reason to believe that Gillespie Borate will work well in this class of recipes.
A pottery glaze so melt-fluid it can eat through a firebrick. The fix struck boron-blue gold!
Tap picture for full size and resolution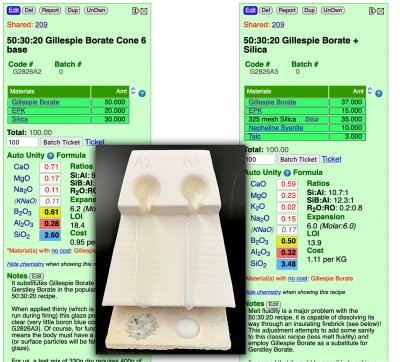 The melt fluidity tester was fired at cone 6. The glaze on the left is G2826A2, a 50:30:20 Gerstley Borate glaze historically used for reactive glazes. The one on the right is G2926A3, an adjusted version that cuts the B2O3 level and adds lots of SiO2. The result is much more sane, although still very melt-fluid glaze. This is also a lesson in the chemistry that produces boron-blue, the one on the left does not and the one on the right does. This is the most decorative boron-blue we have ever seen, especially on dark bodies. Why? High B2O3 is not the key, it is lower. CaO is lower but it was higher in the original 50:30:20 recipe and that had plenty of boron blue. The SiO2 appears to be the enabler, it is much higher. And we are using 325 mesh silica, so it dissolves in the melt better.
Links