325 mesh
325 mesh (a sieve with 325 wires/inch) is the finest particle size that most ceramic minerals can be practically processed to (premium grades).
Key phrases linking here: 325 mesh - Learn more
Details
In ceramics, this refers to the particle size of a powder. A 325 screen has 325 wires per inch. The openings between the wires measure 45 microns (half the width of a typical human hair). A 325 sieve will remove all contaminants of a clay (sand, silt, speck-producing mineral particles), 200 mesh is not fine enough to despeckle high-quality porcelains or stonewares. A natural clay, screened-as-a-slurry to 325 mesh, will be finer and smoother in the plastic form than even the finest porcelain made from industrial minerals (since only the clay portion of those is super-fine). Note that to do this, lots of water is required.

While minerals used in other industries are often ground to nano-particle sizes (less than a micron), this is not done in traditional ceramics. Natural clay particles can be as small as 1/10 of a micron, which is 450 times smaller than 325 mesh! Clay particles are generally agglomerated, while wet processing can separate them, dry grinding equipment is much more common. Inexpensive processed clays typically are in the 1-10 micron particle size range (thus easily pass a 325 screen). Passing clay slurries made from commercial materials through a 325 screen can actually be easier than 200. This is because there is a high population of particles right around 200 mesh, these quickly blind the sieve (jamming themselves in the openings) and reduce its efficiency. Of course, the plus 325 material will need to be discarded, but it is typically a small percentage.

Minerals (like feldspar, quartz, calcium carbonate, dolomite) are much harder to powderize than clays. Thus, ceramic grades of these materials are generally available as 150-200 mesh powders.
Related Information
325 mesh
Tap picture for full size
A 325 screen has 325 wires-per-inch (the finer of the two screen closeups shown here). Those are grains of salt on it (45 micron openings, a typical human hair is 50-100 microns thick). A 40 mesh screen is much coarser, it has 425 micron openings (that is a particle of quartz trapped in an opening). A minus 45 mesh powder will be too fluffy to drop through a 325 screen. But particles smaller than 45 microns in a slurry will pass. To get a slurry through a screen this fine one needs to take special measures. It needs to have a high water content so it is fluid. Using a soft brush definitely helps. And a source of vibration. And it is necessary to clean the screen often to remove trapped oversize material. 325 mesh screen fabric is fragile and a sieve like this needs to be treated with care. Laboratory quality sieves cost hundreds of dollars (but can often be found used on ebay).
A root-of-two series of test sieves
Tap picture for full size
The coarsest screen is at the top, the finest on the bottom. The top one has an opening of 425 microns (thus 425 micron and finer particles will pass through it, +425 micron particles will not). Its opening area is 180,000 square microns (425x425). Going downward, the openings have areas half that of the one above (thus, for the second, the opening area is 300x300=90,000 microns). Structural products industries, like brick, measure coarser particles than this, using 10-70 mesh. Using this series one can produce a standard measurement of the distribution of particle sizes in a material powder. The finer sieves (from 100-325) are only practical for wet processing (where the powder is water washed through the stack). In Insight-live the SIEV test (water washed) uses this series of sieves.
This is what labs use to measure particle size
Tap picture for full size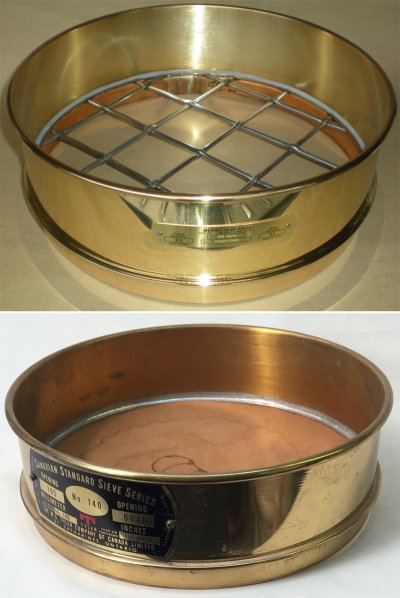 To measure particle size in a slurry or powder you need sieves. This is the most popular type used in labs. They are made from brass by a company named Tyler. The range of screen sizes for testing particle size is very wide (obvious here: the top screen has an opening of 56 mm, the bottom one 0.1 mm - the wires are almost too small to see). You can often buy these used on Ebay for a lot less than new ones, search for "tyler sieve". The finer sieves (especially 200) are fragile and more easily ripped. It is good to have a 50, 100 and 150.
Inbound Photo Links

We thought we were using 200 mesh silica until doing this test
Links
Glossary
200 mesh
200 mesh (a sieve with 200 wires/inch) is the particle size that most minerals used in the ceramic industry are processed to.
By Tony Hansen
Follow me on

Got a Question?
Buy me a coffee and we can talk
---


https://digitalfire.com, All Rights Reserved
Privacy Policy