Plaster Bat
Plaster bats are a key tool used by many potters. But their true value is not understood by most: They produce ware with much less cracking problems
Key phrases linking here: plaster bat - Learn more
Details
Plaster bats are employed primarily for making pottery on a potters wheel. Ware can then be thrown on the bat and the whole thing removed to make another piece. They need to be fairly thick to be durable enough for everyday use, thus they are quite heavy. But a benefit of the weight is that they can also absorb a lot of water. This factor makes it possible to glue bats to the wheel head using clay slip, with experience this method can work well (although involve extra cleanup).

The preference of plaster bats over wood or plastic becomes evident when pieces are lost to cracking across the base. This happens because, at some point during drying, the rim gets ahead the foot. A gradient is created and despite efforts to even out the piece by slow drying, cracking often occurs anyway. An aggravating factor for potters is that they use much more plastic clays than industry, these have significantly higher drying shrinkage. A good way to make sure all parts of a piece have close to the same water content at all stages of drying is to use plaster bats. When a piece is put into a humidity chamber or covered in cloth and plastic (after the rim has stiffened a little) the bat will do its work of sucking water out of the base. The next day the walls will have also stiffened and the piece will lift off the bat and can be turned over and trimmed.

While wooden or plastic bats are held in place by pins or interlocking arrangements, this does not work well with plaster. But there is a better solution than gluing them down to the wheel head with clay slip: The Xiem Batmate Gripper is the answer. It is sold at most pottery supply stores (google "xiem batmate" to find it). You only need one for each wheel. However, the descriptions at online retailers can be misleading, some say it is the "solution for annoying bat jitter and warping" and that placing a Batmate below your problem bats instantly makes them "become stable". This is not true, if a bat is not flat a BatMate will not stick it and it won't smooth out the jitter of a non-level bat. The real value of these is that they effectively attach flat, quality bats to the wheelhead. The plaster, if clean, sucks the water from the chamois and, in doing so, sucks itself firmly down onto the wheelhead. The only way to get it off is pry an edge upward using a putty knife.

To buy or to make? Batts cost $10 or more. A bag of plaster costs $25. A 12 inch by 1 inch thick bat weighs about 5 lbs so you can make 10 from a bag of plaster. The ones you buy may or may not be truer, more level or better finished. See the picture below for instructions on making your own.

Related Information
Why throw on a plaster bat when making larger pieces?
Tap picture for full size and resolution
To achieve more even drying. As soon as was practical after throwing (a few hours), I covered the piece with a cloth and then put a garbage bag over it. While that put the upper section a little ahead of the base in drying, over night the base caught up (the plaster sucks the water out of it, even the walls of the piece stiffen). In the morning I remove the plastic and within an hour or two it is ready to lift off the bat and turn over, shortly after that I can trim it. I secure each plaster bat to the wheel-head using a "Batmate", that works extremely well. To stick the clay to the plaster well I apply a thin layer of slip, round off the piece of clay and firmly slam it down onto the plaster (if it is not rounded it will not stick as well or may break the bat). This is quick and effective to achieve the even drying needed to avoid a drying crack. This method is especially important for large plates and bowls, which often suffer s-cracks.
When clay bodies are too sticky and plastic they do not release from bats
Tap picture for full size and resolution
This thrown vessel has sat on this plaster bat for almost 24 hours and yet still has not released. The bat was dry. It had to be slowly pried off with a flat scraper (which deformed it somewhat). When clay bodies are high in ball clay and bentonite they dry slower. If this is taken to an extreme, it can slow down production.
Making your own plaster bats is easier than you might think
Tap picture for full size and resolution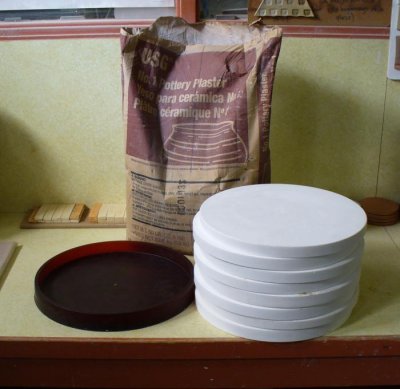 The cost of plaster bats prevents many from buying them. Using this rubber mold I have just made 8 - 12" bats and I still have 20 lbs of plaster left in the bag! The first rule for a good result: Lay it on a level level table (so the bat does not come out thicker on one side than the other). I just weigh 1600 grams of plaster, dump it in 1120 grams of water, wait 4 minutes, mix 4 minutes and pour. As soon as the water at the top disappears I dump the next batch of plaster in the water and repeat (by the time it is ready to pour I can remove the last bat from the mold). You can buy one of these rubber molds at Plainsman Clays for $75 plus shipping. Or, if you are more flexible on the size, search "round silicone cake pan" at Amazon (some of them even have glass bottoms).
BatMate plaster bat gripper
Tap picture for full size and resolution
There is a problem that prevents many people from using a plaster bat for throwing on their potters wheel: Getting them to stick. The traditional method is to glue them down using a clay slip, but bats often detach during throwing. A BatMate you sticks them much better. The material resembles a leather chamois, like those used for cleaning windows. To attach the bat first assure that the plaster is not too dry, run it under the tap for a second or two if needed. Then immerse the BatMate in water and lay it on the wheelhead, put the bat on top, center it and press it down. Within seconds it sticks hard. No amount of pushing during throwing is enough to release it. To remove it pry up an edge using a putty knife. On removal the BatMate releases from the wheelhead first, so it must be peeled from the bottom of the bat. It can be used repeatedly all day.
By Tony Hansen
Follow me on

Got a Question?
Buy me a coffee and we can talk
---

https://digitalfire.com
, All Rights Reserved
Privacy Policy