An iron crystal glaze on a buff stoneware at cone 10R
This iron crystal glaze is Ravenscrag slip plus 10% iron oxide fired to cone 10R on Plainsman H550. Since Ravenscrag slip is a glaze-by-itself at cone 10, it is an ideal base from which to make a wide range of glazes.
Related Pictures
Iron-Red high temperature reduction fired glaze
Tap picture for full size and resolution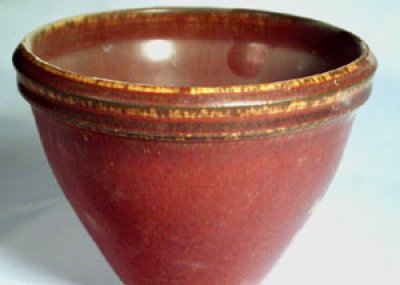 This recipe, our code 77E14A, contains 6% red iron oxide and 4% tricalcium phosphate. But the color is a product of the chemistry. The glaze is high Al2O3 (from 45 feldspar and 20 kaolin) and low in SiO2 (the recipe has zero silica). This calculates to a 4:1 Al2O3:SiO2 ratio, very low and normally indicative of a matte surface. The iron oxide content of this is half of what is typical in a beyond-tenmoku iron crystal glaze (those having enough iron to saturate the melt and precipitate as crystals during cooling). The color of this is also a product of some sort of iron crystallization, but it is occuring in a low-silica, high-alumina melt with phosphate and alkalis present. Reducing the iron percentage to 4% produces a yellow mustard color (we thus named this "Red Mustard").
Links