Fix obvious issues in Glazy recipes before even trying them
Many come to Insight-live after "Glazy recipe fails". A better way is to recognize the potential in a recipe, fix it by material logic and calculation (e.g. limit recipes), then and try it. Glazy "Red Orange #111576" is a good example. It has two things I avoid: Lithium (expense) and a high percentage of red iron (slurry gelling). It is easy to fix both. Spodumene is a better source of Li2O but it contributes lots of Al2O3 and SiO2. We can "make room" for it by replacing the feldspar with frit 3110 (the latter contributes much more sodium and much less Al2O3/SiO2 than the feldspar). Second, use black iron instead of red. The results using the C6IRED schedule are fabulous. And the cost is way down. Amazingly black iron does not gel the slurry at all! And it is not nearly as messy as the red. Like any iron red, this has a fluid melt so is running (although it is applied thickly). The thermal expansion is still quite low so it should not craze. And the LOI is much lower, that should minimize bubbling.
Related Pictures
The Iron-Red mechanism is working in one fluid melt base but not the other
Tap picture for full size and resolution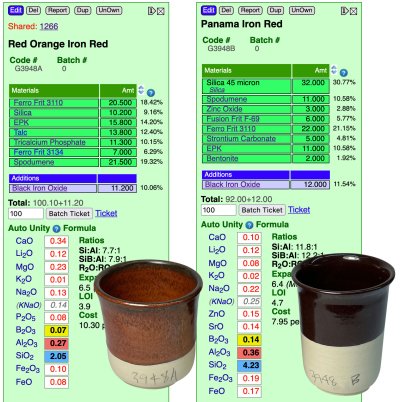 These two pieces were fired in the same kiln using the C6DHSC firing schedule. Fluid melts are an essential enabler of crystal growth during cooldown, that is what there are. Both contain significant Li2O to help the B2O3 achieve that fluid melt. Glaze #1, G3948A, has less iron than is typical yet works! Its high MgO/CaO are very likely key factors as to why. Glaze #2 has much more Na2O and it has both SrO and ZnO that #1 does not have. #2 is much higher in Al2O3 and has more than double the amount of SiO2. So which of all these factors is responsible for #2 having zero crystals? Very likely it is two important ones: The low CaO/MgO levels. And the high SiO2.
Click here for case-studies of Insight-Live fixing problems
Tap picture for full size and resolution
You will see examples of replacing unavailable materials (especially frits), fixing various issues (e.g. running, crazing, settling), making them melt more, adjusting matteness, etc. Insight-Live has an extensive help system (the round blue icon on the left) that also deals with fixing real-world problems and understanding glazes and clay bodies.

Links